LONDON — Newlywed Meghan Markle has begun her life as a full-time royal with a powerful statement about social justice and women's empowerment.
The Los Angeles native and former actress, who gained the title Duchess of Sussex when she married Prince Harry in a ground-breaking ceremony on Saturday, was added to the monarchy's official website over the weekend with a biography emphasizing her "lifelong commitment" to gender equality.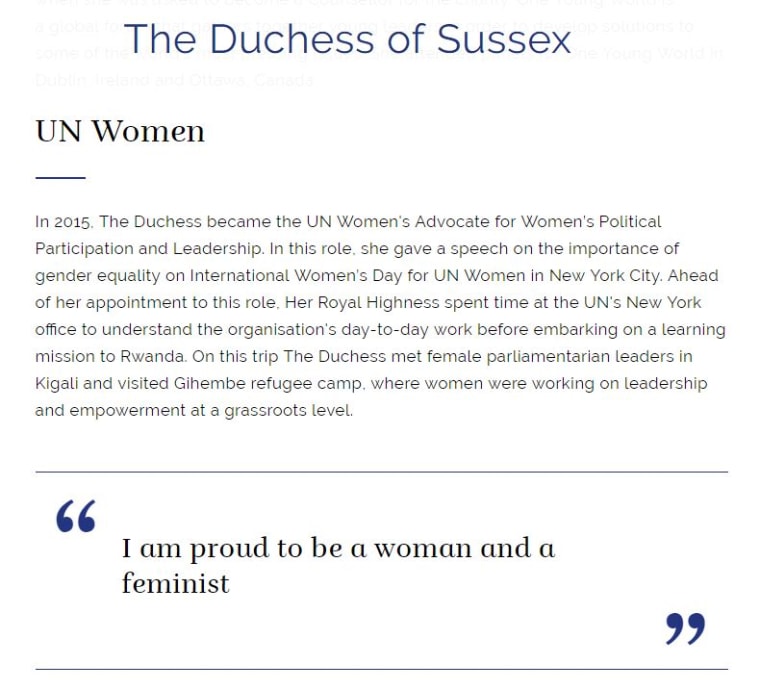 In an indication on how she intends to carry out her public role, the biography makes no mention of her Hollywood past but instead lists her work for U.N. Women and support for charities such as the Myna Mahila Foundation, which provide menstrual hygiene products and job opportunities for women in Indian slums.
It quotes her remarks to the U.N. Women conference in New York in 2015 — before she met Harry — when she opened her speech with the words: "I am proud to be a woman and a feminist."
The pair spent their first night as a married couple at Windsor Castle and are breaking with tradition by delaying their honeymoon to attend a string of royal events starting Tuesday with a Buckingham Palace garden party honoring Prince Charles.
Markle has already spoken of her desire to "hit the ground running" as she takes on royal duties. Kensington Palace officials said Monday that her bridal bouquet was laid at the Grave of the Unknown Warrior at London's Westminster Abbey.
It was one of the traditional aspects of a wedding that was otherwise notable for its modern touches and distinctly African-American flavor.
The ceremony featured a black gospel choir singing Ben E. King, the music of Etta James and a powerful sermon from a Chicago bishop quoting Martin Luther King Jr. on the "redemptive power of love."
Oprah Winfrey and Serena Williams were among the celebrity guests mingling with others including the founder of the Myna Mahila Foundation, Suhani Jalota. "I think generally Harry and Meghan are unconventional, and they were really happy and amused by the whole thing," she told Glamour magazine.
The foundation works to provide affordable sanitary pads for women in impoverished areas of Mumbai and to combat stigma surrounding menstruation. It also employs women from the city's slums to make the sanitary pads.
Its website says 15 women work on production, operations, education, distribution and sales while another 50 women distribute the sanitary pads door-to-door.
The duke and duchess urged well-wishers to send wedding donations to the charity. In 2017, Markle wrote about the stigma surrounding menstruation and lack of access to sanitary products.
Markle becomes a princess automatically by marrying Harry. As she was not born a royal, her title as princess becomes her husband's name, so she'll formally be known as Her Royal Highness Princess Henry of Wales.
Alastair Jamieson reported from London, and Daniella Silva from New York.