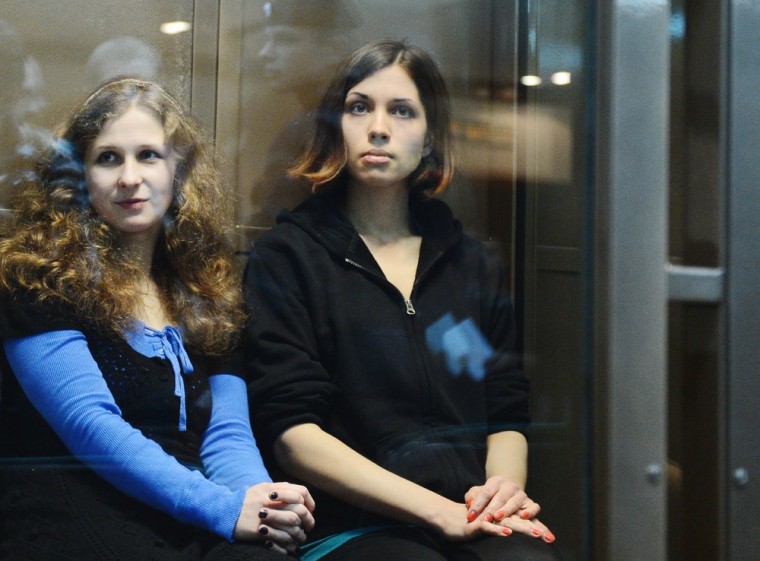 MOSCOW -- One of two jailed members of the Russian punk rock band Pussy Riot said she received death threats and complained of abuse at a prison colony where she is serving a two-year sentence for a protest against President Vladimir Putin in Moscow's main cathedral.
But Maria Alyokhina and fellow group member Nadezhda Tolokonnikova said they did not regret the protest, despite describing harsh prison conditions in interviews published on Wednesday by the opposition-leaning Novaya Gazeta newspaper.
Alyokhina, 24, who lost an appeal this month to have her sentence deferred to care for her 5-year-old son, said she was transferred to solitary confinement in November after being threatened by inmates she suspects of acting on the orders of prison officials.
"(They said) if you stay in this unit -- that's the end of you. ... Human rights are grossly violated here," said Alyokhina, who is being held at a penal colony in the Ural Mountains region of Perm.
"What is the most difficult thing? Coming to understand how this system works, how it creates a slave mentality," she said. "Ignorance, cowardice, betrayal, denunciation is the norm."
Tolokonnikova, 23, who also has a young child and is jailed in the central Russian region of Mordovia, renowned for its legacy of Soviet-era prison camps, said she has not been a victim of the same pressure as Alyokhina but described pitiless conditions of forced labor.
Like many female inmates in Russia, she works to fulfill quotas for sewing padded winter jackets, earning a salary of less than $12 per month, she said.
Both women, who were inspired by leftist philosophy to form the radical punk performance art group, complained of not having enough access to books in jail.
Three Pussy Riot members -- who until their arrest hid their identities and that of other bandmates behind trademark colored balaclavas at impromptu street performances -- were convicted of hooliganism motivated by religious hatred.
One of the three was released on appeal with a suspended sentence but Alyokhina and Tolokonnikova are less than halfway through their prison terms, which are counted from their arrests in March 2012.
Pussy Riot's raucous "punk prayer", the women flashing legs clad in brightly colored tights and brandishing an electric guitar on the altar, was criticized by Putin and cast by the Russian Orthodox Church as part of a concerted attack on the country's main faith.
The two jailed women complained that their message, part of a wave of opposition protests against Putin's decision to return for a third Kremlin term since 2000, has been twisted by Russian media.
"Russian state propaganda presented us as blasphemers, as hooligans and so on, but in reality it was an ironic and funny action, though still a desperate one," Tolokonnikova said.
"It was, so to speak, a political heartfelt cry which was still made in an ironic and funny manner."
Related:
Russian court bans 'extremist' Pussy Riot video from websites
Lawyer: Band members sent to far-flung prisons