Yevgeny Prigozhin, the leader of the violent Wagner mercenary group who in June led his fighters on an aborted mutinous march to Moscow, likely died in a jet crash in Russia on Wednesday with nine others, Russia's Federal Agency for Air Transport said.
While the agency listed Prigozhin as having been on the flight, NBC News has not confirmed that he was. But if it proves true, it is a sudden and shocking end for the onetime ally of President Vladimir Putin and global warlord, whose group fought on the front lines in Ukraine and has been linked to violence in Syria, Mali, the Central African Republic and other countries. 
A Western official told NBC News that U.S. and European allies are comparing assessments to get clarification on the crash. The remains of all 10 people on board the Embraer Legacy jet have been found, emergency services quoted by Interfax agency said.
An official passenger list posted on Telegram also included Dmitry Utkin, another senior Wagner official, which would mean the organization was effectively decapitated.
A few hours after the crash, a Telegram channel associated with the Wagner Group claimed that Prigozhin had died.
"The head of the Wagner Group, Hero of Russia, a true patriot of his Motherland, Yevgeny Viktorovich Prigozhin, died as a result of actions by traitors of Russia," according to a Telegram post from the Grey Zone, an account with more than 550,000 subscribers that has shared a lot of material related to Prigozhin in the past.
Russian officials were not immediately available for comment, but state media reported that an official investigation had been launched.
Keir Giles, a Russia expert with the international affairs think tank Chatham House, urged caution over the reports of Prigozhin's death.
"Multiple individuals have changed their name to Yevgeniy Prigozhin, as part of his efforts to obfuscate his travels," he told The Associated Press.
Prigozhin's whereabouts and fate remained mysteries since Wagner fighters captured the southern Russian city of Rostov-on-Don exactly two months ago, on June 23, and began to march on Moscow before stopping around 120 miles south of the capital. Prigozhin and Putin allegedly reached a deal brokered by Belarusian President Alexander Lukashenko. 
The agreement stipulated that Prigozhin would go into exile in Belarus and Wagner fighters — many of whom were former prisoners — either sign contracts with the Russian Defense Ministry or join him there.
The Kremlin's treatment of Prigozhin has nonetheless confounded many observers. 
In the months leading up to the mutiny that shook Putin's image as an unassailable leader, Prigozhin had mocked and criticized Russia's top military brass for their incompetence throughout the war in Ukraine, where Wagner had become an essential fighting force.
Prigozhin drew support from hardline Russian supporters of the war in Ukraine who complained Putin's invasion had not gone far enough and encouraged wider use of force, a section of society that Putin is especially vulnerable to.
Although Putin called Wagner's rebellion treason and a criminal investigation was initially launched, it did not appear that Prigozhin would face charges or any real punishment for the stunning challenge.
Still, some in the West did not doubt that a comeuppance was in store.
In response to a question by NBC News' Andrea Mitchell at the Aspen Security Forum last month, Secretary of State Antony Blinken said he would be "very concerned" if he were Prigozhin.
"NATO has an 'open door' policy," he said at a fireside chat. "Russia has an open windows policy, and he needs to be very focused on that."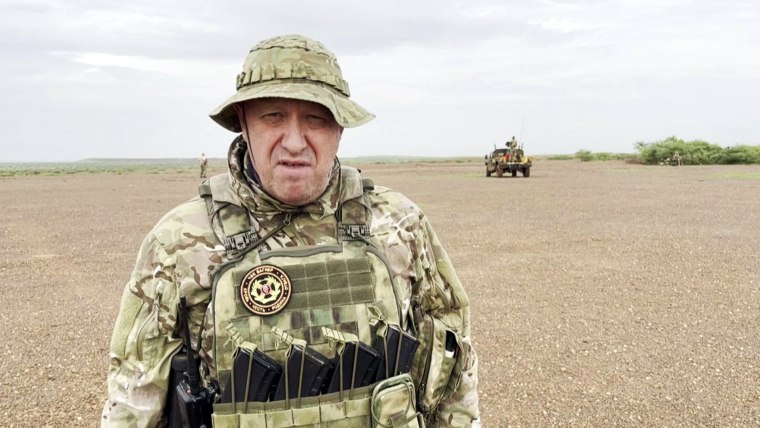 Once known as Putin's "chef" for catering state events, Prigozhin, long denied leading the Wagner Group. But after his fighters led the charge against Kyiv's troops in Ukraine, often at massive human cost, he started to embrace the public eye, donning military fatigues and appearing in videos.  
Some appeared to show him recruiting prisoners or in the thick of the action at the front line, in contrast to the city-dwelling elites he derided in some of his Telegram posts.
In a 41-second clip published Monday by several Telegram channels affiliated with Wagner, Prigozhin appeared to give his first video address since the mutiny that shook the Kremlin. 
Dressed in military fatigues and wearing a bulletproof vest featuring the Wagner logo, a person who appeared to be Prigozhin was filmed standing in a desert-like area. He vowed to make Africa "more free" and "Russia even greater on every continent."
NBC News was not able to verify the video's authenticity, as well as when or where it was shot.