The greatness of Lionel Messi has never been in doubt. But in Sunday's breathtaking World Cup final, he burnished his case as the finest to ever play the world's most popular sport — and secured his place as an eternal icon in Argentina and beyond. 
Messi, at 35, led his country to glory against France, winning soccer's ultimate prize in a pulsating match that finished 3-3 after extra time and had to be settled by a nerve-wracking penalty shootout.
The result prompted legions of fans, including former President Barack Obama, to reach the same conclusion: The spellbinding Argentine may now be soccer's undisputed "GOAT" — the greatest of all time. Messi and teammates were greeted by vast crowds as they finally brought home the trophy that had eluded him, and for decades, his country.
The Argentine team arrived on a flight to Buenos Aires early Tuesday, departing onto a waiting red carpet before thousands of fans who had camped out overnight, some holding placards reading "gracias." Millions are expected to gather for a parade through the capital's streets later.
In a country where soccer is close to a religion, the relief and joy at Sunday's victory were palpable, coming at a time of great unease and economic turmoil. Scenes of jubilation soon followed in Buenos Aires, the capital.
"Yesterday's game firmly represents what it means to be Argentine: fighting until the end, not having an easy path and suffering until the last second but learning to live with it and to give everything you have," said Maite Irigoyan, of Buenos Aires, who is studying in London.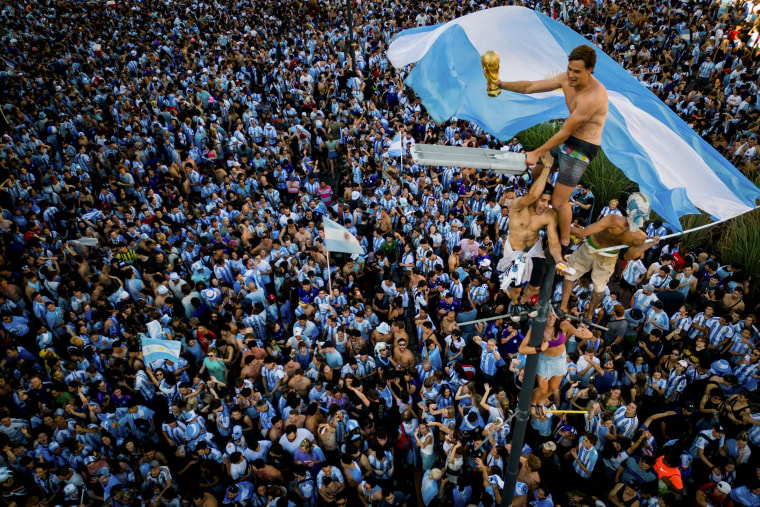 These are tough times for Argentina. Hyperinflation, poverty and corruption scandals all contribute to an uncertain and potentially volatile national environment. Many countries have similar problems, but not many on this scale: Inflation in Argentina was predicted to hit 90% before the end of the year.
Yet over the past month it has had a shared goal: seeing Messi lift the World Cup.
"Football and politics often divide our country, but when the World Cup is played, soccer unites and gives hope to the country, and we understand that all these differences do not matter, that we are all the same, we are all Argentinians," said Irigoyan, 23. 
"We had an opportunity to celebrate, to be happy again and forget about all our problems for a while."
Argentina has long been crazy about soccer, but it hasn't always been crazy about Messi.
For years he was criticized in the media and by fans for what they saw as his underperforming for the national team compared to his near-supernatural powers on the pitch in Europe. 
Messi doesn't fit the traditional image of the "pibe," a word Argentines use for their soccer stars, who so often overcome tough upbringings to bring beauty to the soccer field while still displaying the smarts and brashness of the streets.  
That attitude is exemplified by Diego Maradona, who led the country to its last World Cup win, in 1986, thanks in part to his famous "hand of God" goal against old enemy England.
Messi, who left his hometown, Rosario, as a teen to join Barcelona in the Spanish league, never quite seemed to connect with the public in his native land in the same way, until recently.
"Through it all, Lionel Messi has defied the machismo in Argentine football in his own gentle way," Brenda Elsey, a professor of history at Hofstra University and author of a book about sports in Latin America, wrote recently.
The love for Messi, now an icon in Argentina, may even rival the god-like reverence for Maradona, another mercurial attacker who wore the famous No. 10 jersey for his national team. And just like Maradona, Messi transcends national boundaries.
Ahmed Edi, of Saudi Arabia, was watching Sunday's final at a fan park event in Doha, Qatar. He said he was supporting Argentina for one reason.
"Because Messi," said Edi, 22. "I love Messi."
Argentina has amassed thousands, if not millions, of fans in places like Saudi Arabia and in South Asian countries like India and Bangladesh, thanks to an affinity that goes back at least to Maradona's 1986 triumph. The surge in support during this tournament was largely down to one man.
"I think it's, to put it simply, I really enjoy watching him play," said Pratik Bhattacharjee, 21, of Bangladesh, who is studying at Hong Kong University.
"It's just sheer brilliance. The way he plays, I don't see it in any other player. That's why I support Messi."
At times standing still or strolling, Messi can change the course of a game in a heartbeat with a pass no one else saw coming or a slaloming run that baffles viewers and opposing defenders alike.
He matches that rare style with a devastating effectiveness: Messi is Argentina's all-time leading scorer, with 98 goals in 172 games.
He added two to the tally Sunday in a final that was the stuff of sporting legend.
Even the most seasoned soccer observers were almost lost for words.
"I thought they were deserving winners in the end," said Christopher Davies, a British soccer journalist who has reported from eight World Cups, including the 1978 tournament in Argentina, which won the trophy for the first time.
He said the final Sunday was the most entertaining of them all, in no small part thanks to one man's display.
"I don't think it's possible to be better than Messi. For me no one rides him close," Davies said. 
After Sunday, across Argentina and beyond, there may be fewer who disagree.