LONDON — Amateur treasure hunters have discovered a 2,500-year-old stash of gold jewelry on an English farm, in what could be the oldest-ever such find in the country.
Friends Mark Hambleton and Joe Kania found three gold necklaces and a bracelet in December 2016 on farmland in Staffordshire, and reported the discovery to authorities.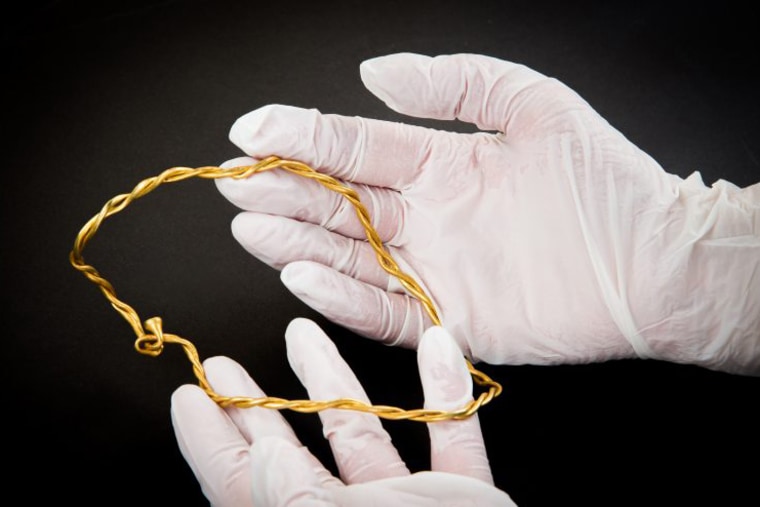 "The torcs were probably worn by wealthy and powerful women, perhaps people from the continent who had married into the local community," said Julia Farley, curator of British and European Iron Age collections for the British Museum, at the press conference unveiling the discovery on Tuesday.
A torc is a decorative open metal ring, generally worn around the neck.
"Piecing together how these objects came to be carefully buried in a Staffordshire field will give us an invaluable insight into life in Iron Age Britain," she told reporters at a press conference on Tuesday.
The "unique find" probably represented the earliest Iron Age gold work ever discovered in Britain, she said.
The items, now known as the Leekfrith Iron Age Torcs, were found about three feet apart and just below the surface of a field.
Experts say it is unclear why the items had been buried in the fashion they were. They speculated that the torcs could have been put in the ground for safekeeping, as an offering to the gods, or as an act of remembrance after their owner died.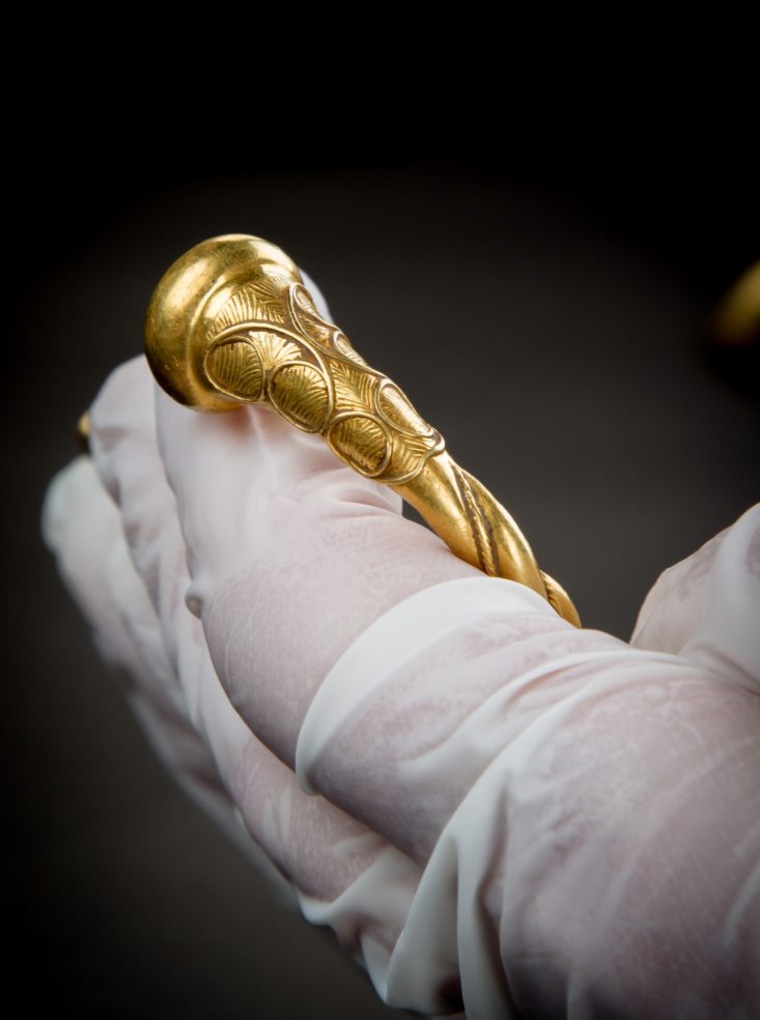 Humbleton and Kania said they had returned their metal detecting hobby, after giving it up for fishing, on the advice of Hambleton's father.
Before uncovering the torcs, Humbleton said the most the pair had ever discovered was "the odd Victorian coin," in an interview released by local authorities helping to assess the find.
The find left him facing a sleepless night, before he could hand in the artefacts.
"I kept the gold right next to my bed to make sure it was safe until we could hand them in to the experts," he said.
Related: Archaeologists Uncover Entrance to Biblical City of Gath
Authorities will now hold an inquest into the find, to determine if it qualifies as treasure. If it does, the pair could be in for a respectable payday. The torcs have not been valued yet, and the size of any payout — which would come from the items' sale to a museum — will depend on the recommendation of an expert committee.
The pair have said that they will split the any proceeds from the discovery with the owners of the land where it was discovered.