The man tapped to fix security in the prison from where notorious drug kingpin Joaquin "El Chapo" Guzman escaped last year said improvements have been made, and believes he would not be able to escape a second time.
"We have to guarantee that what happened seven months ago won't happen again," Mexico's prison commissioner, Eduardo Guerrero Duran, told NBC News Thursday. "I'm convinced that it's not going to happen again. We are learning from our errors," he said.
There are now four times as many cameras at Altiplano prison, where Guzman is currently being held, compared to when the Sinaloa Cartel leader famously escaped through a mile-long tunnel in July, Guerrero Duran said.
Related: Texts Show 'El Chapo' Wanted to Meet Actress, Not Sean Penn
There are also no more blind spots for showers and toilets, and high priority prisoners like El Chapo are frequently moved to new cells and guards are outside their cells 24 hours a day, said Guerrero Duran, whose role as commissioner puts him in charge of some 24,000 prisoners across Mexico.
"Today, our systems on protocol instructions inside the [prison] are more robust, we have heat detectors ... we have sensors of movement on the floor," he said. "These sensors are all connected to infrared cameras."
Guzman escapedon July 11 through a hole in his cell floor in a shower stall, using a 33 foot deep tunnel that had been dug beneath the facility.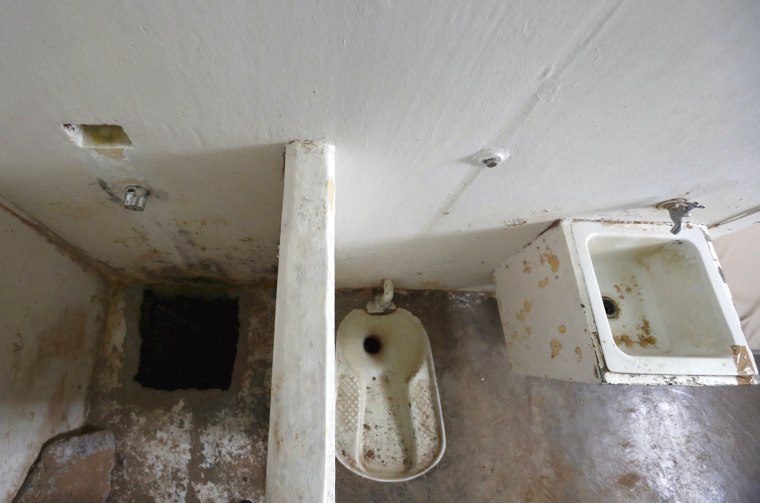 He was recaptured by Mexican marines in the town of Los Mochis early Jan. 8, after nearly six months on the run, and returned to the same Altiplano prison.
The Mexican government said it plans to begin the process of extraditing Guzman to the United States, where he faces drug charges in several jurisdictions.
Every federal prison in Mexico has gotten upgrades, and nearly all inmates have been moved to new cells, and they are being "rotated constantly," Guerrero Duran said.
Guzman himself has been moved eight times in the week since his recapture, Guerrero Duran said.
"And if we have to move them 16 times it will be 16 times," he said. "Those are security strategies that we have to be implementing."
He couldn't say whether Guzman was rotated last year. Guerrero Duran was tasked with improving security at all of Mexico's federal prisons after the escape from Altiplano.
PHOTOS: A Look Inside Tunnel El Chapo Used to Escape
The July escape was deeply embarrassing to the Mexican government. It was the second time Guzman escaped from prison — he escaped from a different prison in 2001, purportedly hidden in a laundry cart.
Guzman "is in a great state of health," Guerrero Duran said. Guzman arrived at prison with some inflammation in one of his knees but was given medication for three days to bring the swelling down, he said, but has had no other problems.
He denied that Guzman was in isolation, as Guzman's attorney has claimed, and said the drug kingpin was being treated like any other prisoner at Altiplano. No family or friends have requested to visit Guzman, Guerrero Duran said. Guzman would first have to authorize any visitors, and he has not done so, the commissioner said.
The Sinaloa cartel is considered one of the dominant cartels in Mexico. Analysts have estimated there have been at least 80,000 killings linked to organized crime in the country since 2006, according to the Congressional Research Service in the U.S.
Guzman reportedly boasted, "I supply more heroin, methamphetamine, cocaine and marijuana than anybody else in the world," according to a Rolling Stone article written by actor Sean Penn, who said he interviewed the drug lord in in October Mexico while he was on the run.
The tunnel that Guzman used to escape from prison is still underneath the facility and is intact, Guerrero Duran said.