AYUTLA, Mexico — The young man at the roadside checkpoint wept softly behind the red bandanna that masked his face. At his side was a relic revolver, and his feet were shod in the muddy, broken boots of a farmer.
Haltingly, he told how his cousin's body was found in a mass grave with about 40 other victims of a drug gang. Apparently, the cousin had caught a ride with an off-duty soldier, and when gunmen stopped the vehicle, they killed everyone on the car.
"There isn't one of us who hasn't felt the pain ... of seeing them take a family member and not being able to ever get them back," said the young civilian self-defense patrol member, who identified himself as "just another representative of the people of the mountain."
Now he has joined hundreds of other men in the southern Mexico state of Guerrero who have taken up arms to defend their villages against drug gangs, a vigilante movement born of frustration at extortion, killings and kidnappings that local police are unable, or unwilling, to stop.
Vigilantes patrol a dozen or more towns in rural Mexico, the unauthorized but often tolerated edge of a growing movement toward armed citizen self-defense squads.
"The situation Mexico is experiencing, the crime, is what has given the communities the legitimacy to say, 'We will assume the tasks that the government has not been able to fulfill,'" said rights activist Roman Hernandez, whose group Tlachinollan has worked with the community forces.
The young man and his masked cohorts stop cars at a checkpoint along the two-lane highway that runs past mango and palm trees to Ayutla, a dusty town of concrete homes with red-tile roofs where pigs, chickens and skinny dogs root in the dirt.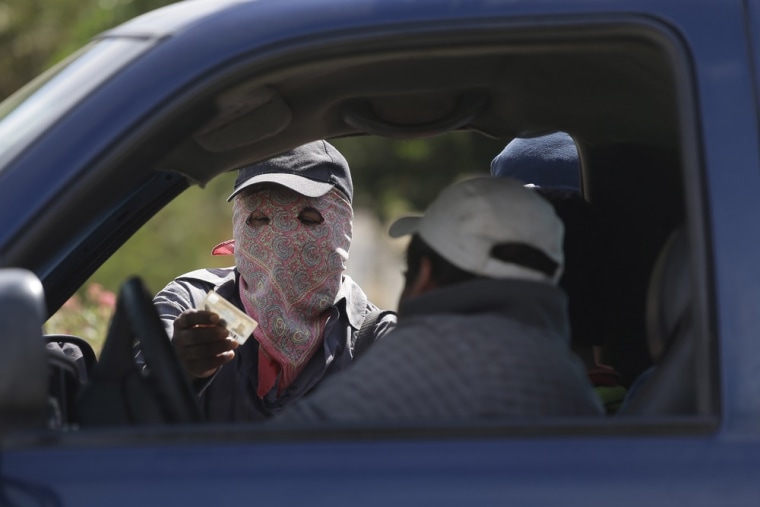 The men wear fading T-shirts and leather sandals, and most are armed with old hunting rifles or ancient 20-gauge shotguns hanging from their shoulders on twine slings as they stop cars and check IDs.
Hunting 'los malos'
The reach of drug gangs based in Acapulco, about 45 miles away, had intensified to the point that they were demanding protection payments from almost anybody with any property.
In a region where farmworkers make less than $6 per day, the situation grew intolerable.
"When they extorted money from the rancher, he raised the price of beef, and the store owner raised the price of tortillas," said a defense-patrol commander who wore a brown ski mask.
Because the patrols are not formally recognized by the government — and they fear drug cartel reprisals — most members wear masks and refuse to give their full names.
The self-defense movement has spread to other towns and villages such as Las Mesas and El Pericon. Recently Associated Press journalists saw 200 to 300 masked, armed men patrolling in squad-size contingents and manning checkpoints. Some had only machetes, most had old single-shot, bolt-action rifles.
Waving guns, they stop each vehicle, and ask for driver's licenses or voter IDs, which they check against a handwritten list of "los malos," or "the bad guys." They sometimes search vehicles and drivers.
The movement so far seems to be well accepted by local residents.
"In less than a month, they have done something that the army and state and federal police haven't been able to do in years," said Lorena Morales Castro, who waited in a line of cars at a checkpoint Friday. "They are our anonymous heroes."
Some officials, too, have cautiously approved of the do-it-yourself police. Guerrero Gov. Angel Aguirre offered to supply them with uniforms so they wouldn't be confused with masked gang members, but he also said he is trying to eliminate the need for vigilantes by beefing up official forces.
But clearly, the vigilante squads here present problems. The vigilantes in Guerrero are holding, by their own account, 44 people accused of crimes ranging from homicide to theft.
Nobody outside the village of El Zapote, where they are being kept in a makeshift jail, knows what conditions they are being held in, or what charges, if any, there are against them.
Members of the vigilante squads in Guerrero say that what counts is their relationship with the community and resistance to corruption. 
"When the people are united, it doesn't matter if it's a .22, a 16-gauge shotgun or 20-gauge. It's that when we are united, not even bullets from an AK-47 can defeat us," said the self-defense commander in Las Mesas. "They can't kill us all."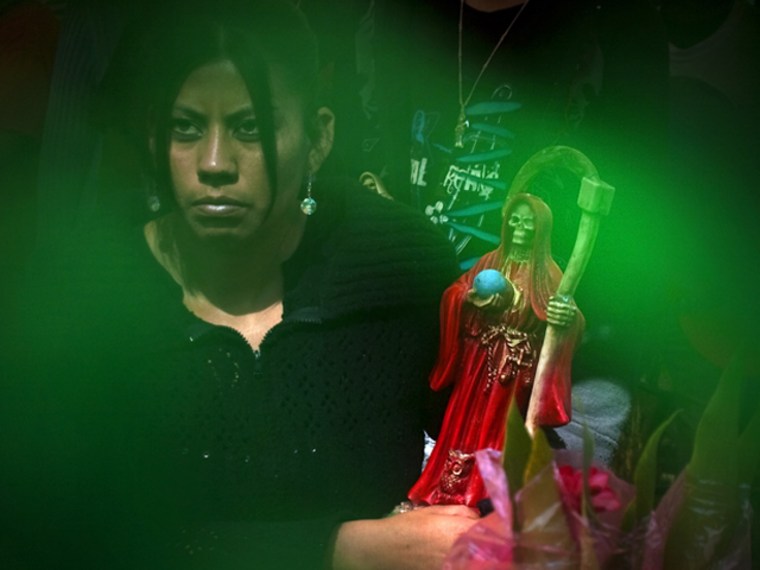 Related content:
Mexico seeks to pivot relationship with US as new president takes office
Despite constant bloodshed, Mexico is ignored during White House race