A day after a massive earthquake that's killed hundreds of people in Mexico, rescuers frantically raced to find survivors buried under rubble as families waited desperately for answers.
By Wednesday evening, the death toll had reached 230, with 100 deaths in Mexico City alone, according to Luis Felipe Puente, the coordinator of national civil defense. The capital was some 80 miles from the epicenter of the 7.1 magnitude quake in the state of Puebla.
A slew of rescue workers in hard hats desperately sought to find survivors, listening in silence for any sounds of life in the ruins of buildings and cheering when someone was found.
"The priority continues to be rescuing people in collapsed structures and tending to the injured," Mexican President Enrique Peña Nieto said in a post on Twitter Wednesday afternoon.
"Every second counts to save lives," he added.
At least 52 people had been saved by mid-afternoon, Mexico City's Social Development Department said on Twitter, adding that they would not give up.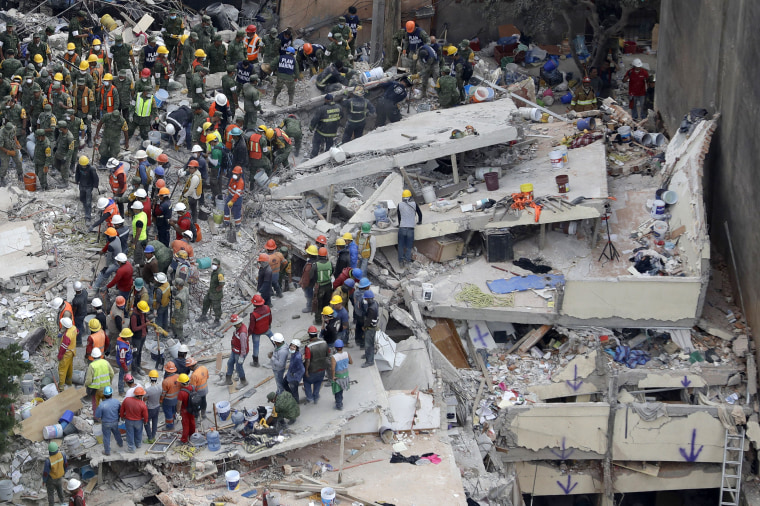 The earthquake felled at least 38 buildings in the capital alone, including the Enrique Rebsamen school —where 21 children and four adults died, according to Mayor Miguel Angel Mancera.
Related: Little Boy Describes Horrifying Escape From Collapsed School
Students and teachers were killed when the school collapsed during the middle of classes Tuesday afternoon, Mexico's Education Minister Aurelio Nuño said Wednesday morning. Eleven people were rescued from the school, but others remained missing.
Luis Carlos Tomé, a young pupil at the school, told NBC News partner Noticias Telemundo he was in English class when the ground began to shake.
"In about thirty seconds my school was down and I don't even know how I saved myself," the boy said Wednesday, while visibly shaking and crying.
In the Roma Norte district, 30 survivors were pulled from the ruins of an employment agency — but two dozen others were still missing.
Laura Rodriguez, 62, said her street was quiet one day after Tuesday's temblor.
"Unbelievable," said Rodriguez of her destroyed neighborhood of Narvarte after several buildings collapsed.
"At least one person was rescued while we were standing there," she added.
Rodriguez said a friend who lived by herself in a nearby building was among the quake's victims.
"The rescue squad found her around 3 a.m.," she said.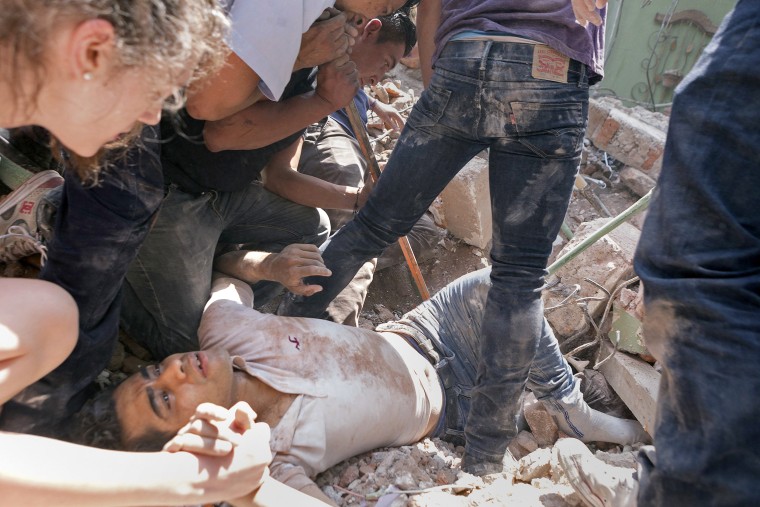 In addition to the hundred lives lost in Mexico City, 71 people were killed in the state of Morelos, 43 in Puebla, 12 in Mexico State, four in Guerrero and one in Oaxaca, according to officials.
In Atzala in the state of Pueblo, a family was killed in a church that collapsed during the middle of a girl's baptism, said Pablo Spencer, a photographer and videographer, on Wednesday.
"The majority of the roof of the church collapsed," Spencer, 34, of Puebla, said by phone in Spanish. "There were rocks the size of an automobile ... it killed nearly everyone."
The only people to survive were the girl's father, the priest of the church and an assistant to the priest, he said.
In all, 11 family members were killed in the church, the Associated Press reported.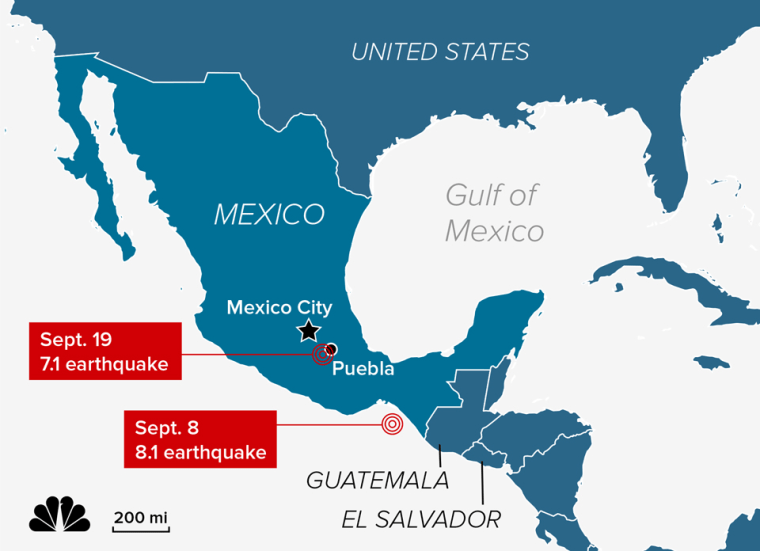 "People are sleeping in the streets, because they don't feel safe enough to be inside damaged buildings," Spencer said.
Tuesday's earthquake came on the 32nd anniversary of the deadliest earthquake in Mexico's modern history, which killed 5,000 people in 1985. And it struck less than two weeks after a magnitude-8.1 quake hit the country and killed nearly 100.
PHOTOS: Desperate Rescuers Dig Through Rubble After Powerful Mexico Quake
U.S. Secretary of State Rex Tillerson said Wednesday that President Donald Trump spoke with Peña Nieto and "expressed deep concerns" about the situation and "indicated his immediate deployment of assistance to Mexico city of search and rescue expertise team, very large team of people trained for these specific types of circumstances."
Rescues were underway throughout affected areas, with thousands of courageous volunteers climbing inside the ruins of collapsed buildings to save survivors who had been buried alive. Outside what had been a four-story building at the corner of San Luis Potosi and Medellin Streets, one volunteer waited for the signal to enter the debris pile.
"Yes, I'm willing to get inside right now," he told NBC News. "If there is somebody alive right now, we're going to get in."
Asked why he was putting his life at risk to help strangers, the man replied:
"Because I'm Mexican. Somebody is alive in there. Somebody has to do it."