The mother of three-time world champion surfer Mick Fanning revealed Monday that "time stood still" as she watched live TV coverage of her son being attacked by a shark.
Elizabeth Osborne saw her son punch the predator in its back after the shark grabbed his foot rope and pulled him underwater.
"I just couldn't believe what I was seeing," Osborne told NBC News' Australian partner Channel 7, after the incident at the J-Bay Open in South Africa on Sunday.
"Those three seconds seemed like a lifetime"
"I saw this big fin, and Mick scrambling and turning around," she said. "And then he went down and I realized then it must be a shark attack. I was absolutely terrified, I thought we'd lost him."
Despite being thousands of miles away, Osborne said her first instinct was to try to pull him out of the water.
"I jumped up and ran to the [television], thinking, 'Am I seeing this?'" she recalled. "The thought went through [my head] that I have to pull him out, just like a child, you know? But of course that was really unrealistic."
The TV audience watched in horror as a fin appeared alongside Fanning's board followed by a series of splashes. He was then dragged underwater before being obscured by a wave.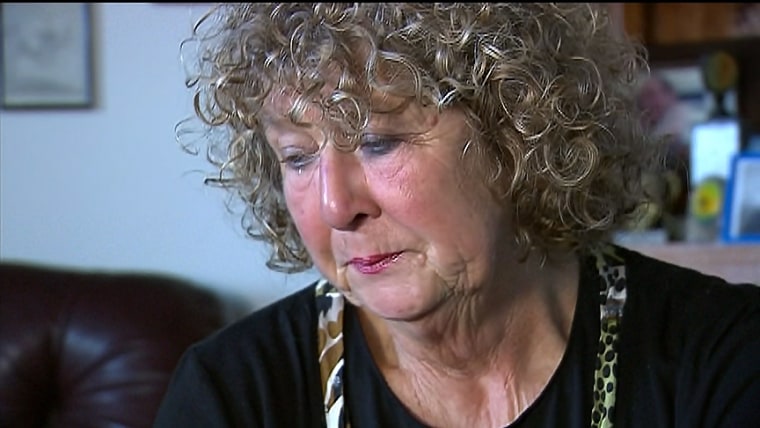 "That was the scariest part," Osborne recounted. "When he was fighting and splashing we knew he was there, but when that wave came up and we couldn't see him I just thought, 'Oh my god, where is he? Is he OK? Has he gone under?'"
Fanning was pulled out of the water just seconds later by officials, although for Osborne "those three seconds seemed like a lifetime." She said it felt like "time stood still."
The attack occurred during the final of the J-Bay Open, which was canceled following the incident. Fanning and fellow Australian Julian Wilson, the other finalist who was also in the water at the time, shared the prize money and were awarded joint second place.
Experts have credited Fanning for his reaction, suggesting that punching the animal may have saved his life. But the surfer's mother expressed gratitude to the animal.
"I have to say, I thank the shark, because he left him," Osborne said. "He didn't try to fight him, he just left."
Speaking after coming ashore on Sunday, Fanning said he would be "happy to not even compete ever again" following his ordeal.
"I just want to let all my family and friends know I'm OK. I'm just tripping out," he said.
Recounting the incident, Fanning added: "I felt like [the shark] kicked me off. It was dragging me. I felt like it was just dragging me underwater."