LAMPEDUSA, Italy – Undeterred by last week's accident that claimed the lives of at least 231 people, three more boats carrying migrants were picked up off Italy's shores early Tuesday.
Italian Coast Guard officials told NBC News that they had rescued one vessel containing 263 Syrians and Palestinians near Catania, a city on the east of the island of Sicily.
As many as 141 Syrians were rescued off Pozzallo, at the southern end of the island, and another 72 Iraqi and Afghan nationals had run adrift off the coast of nearby Siracusa.
It is unclear where the migrants will be taken, but on the Sicilian island of Lampedusa, just under a mile from where the boat carrying hundreds of people capsized after it caught fire last week, a group of around 10 migrants staged a small protest.  
Protesting against poor conditions and claiming they were forced to sleep outdoors, they blocked the entrance to the island's reception center with mattresses, officials told NBC News.   
In the Mediterranean Sea nearby, divers continued the grisly search for bodies in the wreckage of the vessel.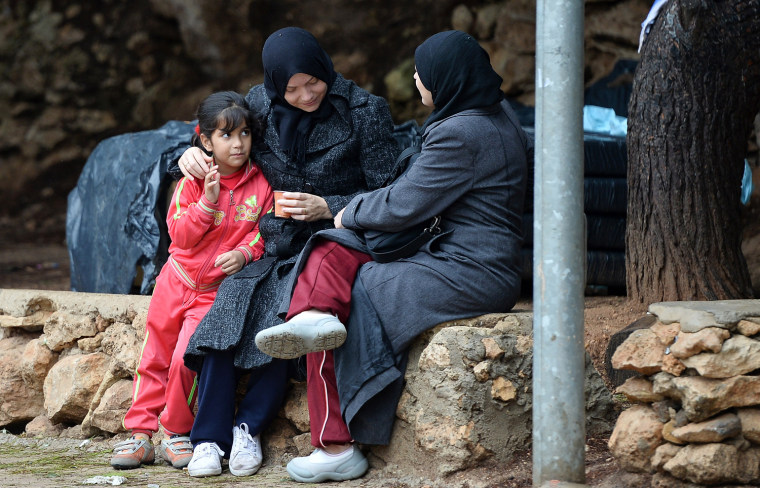 On Monday, 38 more bodies were brought up and fears are growing that the accident's total death toll could top 350.
"Some we have found with their arms outstretched. We try not to notice this kind of thing too much, otherwise the task is too difficult," police diver Riccardo Nobile told Reuters.
"We can see a woman's hair floating out of a broken porthole. But we haven't been able to get to her."
The divers are only able to remain at the sea bed for a few minutes at a time and the work has been slow.
Police said all the bodies from around the ship and on deck have now been recovered, although dozens remain inside the vessel.
"I'm sure that the most difficult part of the operation is starting now," said Coast Guard diver Rocco Pilon. "Technically it will be much more challenging." 
Italian media also reported Tuesday that the ship's captain, Bensalem Khaled, a 35-year-old Tunisian, was formally arrested on Tuesday on charges of multiple murder, causing a shipwreck and aiding clandestine immigration.
He was being held in a prison in the Sicilian city Agrigento.
As a result of the accident The European Commission is proposing that the EU launch a Mediterranean-wide search and rescue mission to intercept migrant boats.
Home Affairs Commissioner Cecilia Malmstroem  told reporters on Tuesday that she was going to ask ministers from the 28 member states to allow a major operation by the EU's Frontex border agency, "covering the whole Mediterranean, from Cyprus to Spain."
This would help better tracking, identification and rescue of migrants. her spokesman Michele Cercone said. Adding, "it could help prevent tragedies like the one in Lampedusa." 
Related: