BUDAPEST, Hungary — Hundreds of migrants and refugees gave up trying to catch a train Friday and began a desperate 300-mile walk towards Germany as European leaders faced up to a "defining moment" in the continent-wide crisis.
Thousands have been camped at Budapest's Keleti station, where authorities on Thursday halted all international departures in a bid to to stem migration towards Austria and Germany.
Refugees crammed on one train were taken to a refugee camp at Biscke, on the outskirts of the city, where they refused to get off and spent the night on board.
Fed up of waiting for an end to the impasse, some of those at Keleti station announced they were going to walk the 100 miles to Austria and then on to Germany — a further 200 miles.
"We decided to walk," said 20-year-old Mousaf from Syria, who like most refugees only wanted to give his first name. "We know exactly where we're going…it's about 100 miles…we will then go on to Germany."
The walk began at around 12:45 p.m. local time (6:45 a.m. ET). Mousaf told NBC News that the journey would be "no problem for us because we will stop every two or three hours. We are used to this as we have already crossed six countries — so we can cross another one," he said.
At Biskce, refugees were locked in a stand-off with police for a second day. Chants of "Germany, Germany!" and "No camp, No camp!" were heard from the train early Friday. Some held up signs saying: "Please, we want to go to Germany."
Amid the chaotic and desperate scenes, European leaders have been accused of not doing enough to ease the crisis.
British Prime Minister David Cameron said Friday that the U.K. had a "moral responsibility to help refugees" and announced it would be accepting 4,000 more from Syria.
But the head of the U.N. refugee agency said the European Union needed to accept 200,000 refugees.
"This is a defining moment for the European Union, and it now has no other choice but to mobilize full force around this crisis," Antonio Guterres said, adding that migration was "the biggest challenge facing countries across Europe today."
It came as Aylan Kurdi, the Syrian toddler whose drowning on a Turkish beach made headlines around the world, was buried along with his mother young brother.
Earlier on Friday at Budapest's Keleti station, thousands of people were camped out in an underpass outside the main building. Volunteers who brought food and clothes were mobbed by the crowds.
One group held up signs that read "open the borders," and "where are you, H.R.W., U.N.?," referring to the non-governmental organization Human Rights Watch and the United Nations.
A Syrian, who only gave his first name as Mejd, told NBC News he was trying to avoid going to the camp at Bicske.
"It would be like prison for us," he said. He had fled the Syrian city of Idlib because of the civil war and threat from ISIS and was trying to reach family and friends in Germany. "Hungary is only a passing point," he said.
On a nearby wall, a chalk drawing showed a helicopter dropping bombs. Underneath it read: "Syria. I will not stay here. I want to go to Germany (please)."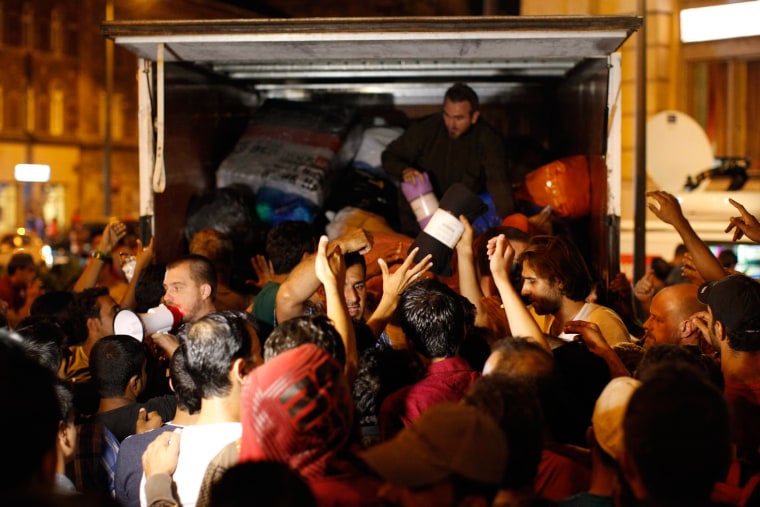 France and Germany, the latter of which accepts the majority of Europe's incomers, had already called on European countries to accept their share of refugees. French President Francois Hollande accused some countries of failing to "assume their moral burdens," Reuters reported.
Symbolizing those calling for tighter controls, Hungary's right-wing Prime Minister Viktor Orban criticized Germany's more relaxed stance and told a radio show Friday that "many tens of millions of people could come to Europe," according to Reuters.