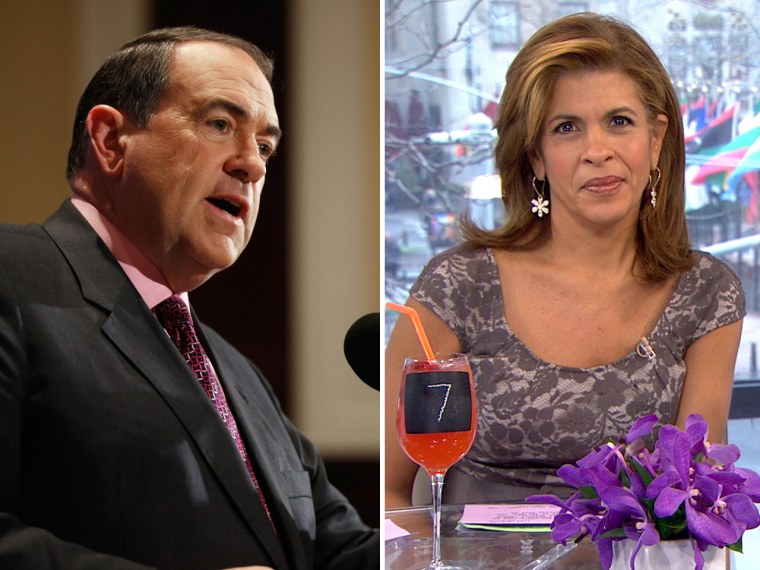 Pour out a mocktail: the Fourth Hour is finally in the home stretch of its month without on-air drinking. They've only got 7 days to go.
But of course, KLG accused Hoda of trickery, because even though it's the last Wineless Wenesday, it is a still a day that ends in Y. Would Hoda go back on her promise this far into the game?
"I think Hoda's been cheating along the way," said KLG.
Well, it is Hoda. She admitted that the peer pressure has been pretty bad, especially since she's got a book out and everybody wants to buy her a drink.
"I have not had a sip on any show!" she insisted. "But they're all pushing it."
Even Mike Huckabee, who tempted Hoda when she visited his show this week.
"The saintly Huckabee tried to do that to you?" asked KLG, shocked.
Mike had thoughtfully provided her with a glass of wine so that she felt "at home." But when Hoda picked it up (ALLEGEDLY just to sniff it), he revealed that it was "baptist wine."
"Which is grape juice," sighed Hoda.
Don't feel too bad for her -- the ladies are planning a big party next week to celebrate the end of their abstinence.
Julieanne Smolinski is a TODAY contributor who likes her wine un-baptized.
More:KLG to the New York Post: You didn't bust me for drinking
No-booze challenge, day 1: 'The show starts at 10'