Updated at 6:54 p.m. ET: WASHINGTON - The U.S. military on Monday dealt out punishment to six Army soldiers for burning Qurans at Bagram Air Base that ignited deadly protest in Afghanistan, and to three Marines for their roles in urinating on Taliban corpses.
Watch World News videos on NBCNews.com  
The Army handed out administrative discipline to four officers and two non-commissioned officers for the Quran burning but found no ill intent on the part of the soldiers so none will face criminal charges.  
The administrative punishment, however, will likely result in the end of their military careers.
The investigation against one sailor was dropped when it was determined he was simply ordered to drive the truck with the material to the burn site at the base.
The burning of the Muslim holy books in February sparked weeks of protests that led to 30 Afghan deaths. U.S. officials said at the time the books were mistakenly sent along with garbage for disposal after detainees had written messages in them.
The investigation found up to 100 Qurans and other religious materials were burned in the incinerator at Bagram Air Field on Feb. 20. 
An Army report released on the incident Monday shed new light on what happened that day.
Report: 5 soldiers involved in Quran burning
Members of the Military Police and Theater Intelligence Team had discovered that Bagram detainees were using library books to pass notes and messages. One interpreter determined that 60 percent to 75 percent of the books contained extremist content. So, soldiers were ordered to remove the books as contraband. In all, about 2,000 books, including Qurans and other religious material, were set to be destroyed. 
An Afghan National Army soldier and and interpreter warned the troops not to dispose of the religious texts, but soldiers took some 100 books to the burn pit anyway.
A local man who worked at the burn pit discovered the Qurans and other texts were burning. He grabbed a front-end loader and doused the entire burn pit to extinguish the flames.
An angry crowd of Afghans gathered around the U.S. service members who drove the truck to the burn pit and were burning the material. The U.S. soldiers all fled.
"I absolutely reject any suggestion that those involved acted with any malicious intent to disrespect the Quran or defame the faith of Islam," an investigator wrote. "Ultimately, this was a tragic incident (that) resulted from a lack of cross-talk between leaders and commanders, a lack of senior involvement in giving clear guidance in a complex operation" and "distrust among our service members and our partners."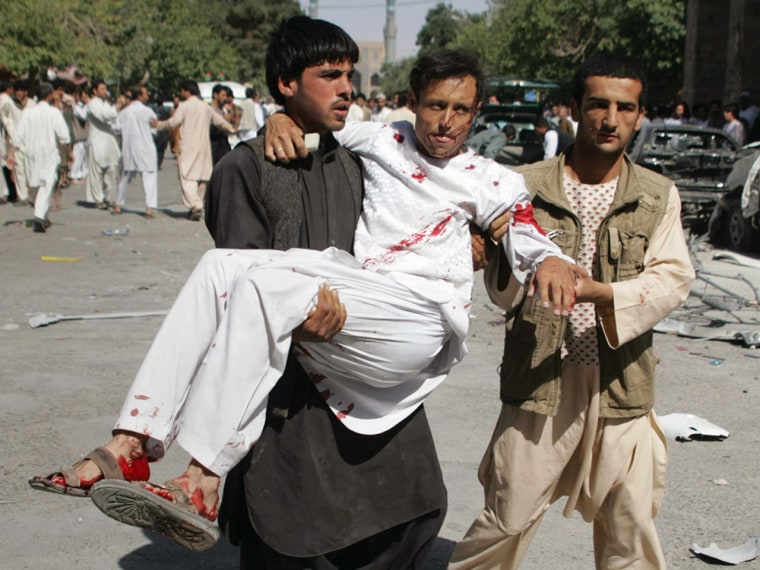 In the other case, a statement from the Marine Corps said the three Marines received the punishment for "violations of the Uniform Code of Military Justice for their role in the desecration and filming of deceased Taliban that became public in January 2012."
As part of a plea deal, three Marines pleaded guilty and will receive a permanent mark on their records that will impact any future promotions and re-enlistments.
Six more Marines are still awaiting their punishments in the urination incident, which was recorded on video. It was announced, however, that two officers will be charged with creating a command climate that led to acts of bad behavior, the Marine Corps said. It was unclear what disciplinary action the four other non-commissioned officers will face.
The three Marines were all members of the Third Battalion, Second Marine Regiment or in units that were attached to the "3/2" during their deployment. Their names were not released. 
Stay informed with the latest headlines; sign up for our newsletter
One non-commissioned officer pleaded guilty to having violated a general order by wrongfully posing for an unofficial photograph with human casualties and urinating on the body of a deceased Taliban soldier, which conduct was prejudicial to good order and discipline.
Another non-commissioned officer pleaded guilty to wrongfully posing for an unofficial photograph with human casualties and wrongfully video recording the incident. 
A staff non-commissioned officer pleaded guilty to failing to report the mistreatment of human casualties by other Marines and making a false official statement to a Naval Criminal Investigative Service investigator about the his knowledge of the video.
The incident took place during a counter-insurgency operation near Sandala, Musa Qala District in Helmand Province, Afghanistan around July 27, 2011. 
According to The Wall Street Journal, officials in Afghanistan were bracing for public demonstrations over what might be viewed as lenient punishment of the troops.
Related stories:
More world stories from NBC News: