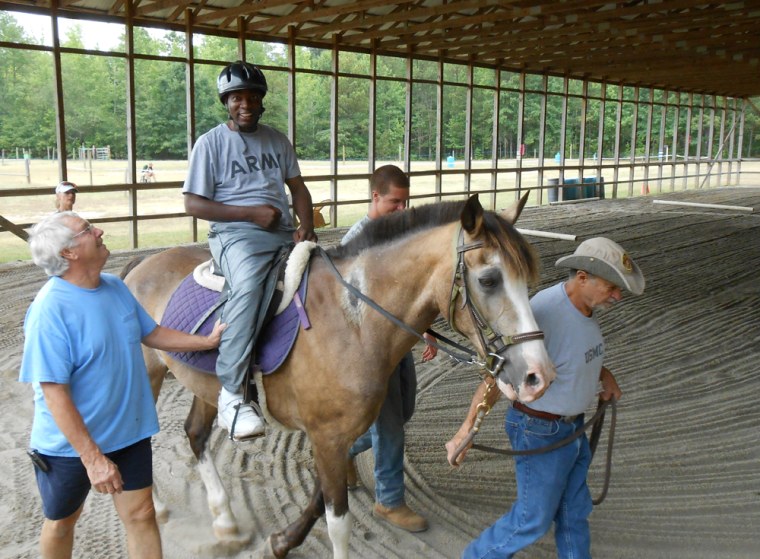 HAMPTON, Ga. – Kelvin Bonner, a military veteran, is taking a break from his studies as a criminal justice major to meet up with an old friend: Buck, a horse. The bond between human and horse is immediately apparent. Bonner lights up with a huge smile at the very sight of his four-legged friend; the reunion is clearly cherished by both parties.  
Buck lives at the Calvin Center, a retreat space outside of Atlanta that hosts conferences and summer camps for kids. It's also home to Horses & Warriors, an equestrian program that aims to help veterans overcome daily emotional and physical obstacles.
The Horses & Warriors program is run primarily by volunteers who are either veterans or active military service members. They range from a young man about to enter the Air Force, to a World War II veteran who has "piloted every plane imaginable." The volunteers are trained to handle, groom, and lead the horses. But the volunteers are not only there to physically assist the veterans; their emotional support is a significant aspect to the program.
Horses & Warriors is one of many programs throughout the United States with the mission of promoting a military community even after service. The sessions at the Calvin Center typically run in 12-week courses, twice a year. Each session usually hosts around five veterans and in total, 25 have taken part. The members of the program are referred by their doctors, but they aren't charged for any services.  Sponsorships and donations from a range of community members are relied on to keep Horses & Warriors afloat.
Before he suffered a serious injury while deployed in Iraq in 2005, Bonner had been actively serving in the U.S. Army since 1983. He served with the Army in a number of conflicts including Desert Storm, Bosnia, and Iraq. While he had never touched a horse prior to partaking in the program, Bonner quickly became accustomed to horses and now has a love for the animals.
"It's been nice to learn their different personalities, how they have good days and bad days just like humans," he said.
"There are some powerful things that happen out here," said Paul Humphreys, the Calvin Center's Program Director. "This program is about veterans helping veterans."
Horses helping people
On a recent blistering hot day in July, 13 men and women gathered in the remote town of Hampton, Ga. They opened their meeting with the Pledge of Allegiance and a prayer, followed by health updates and community news.  Finally, they chose teams and split into two groups for the day's lesson:  learning balance and control while riding.
The Horses & Warriors program focuses on the physical, social, cognitive, and emotional well-being of the veterans partaking in the program. Wounded veterans with amputations, spinal injuries, and other mobility impairments benefit from the strengthening of specific muscles, while those with psychological impairments such as PTSD gain from the decision-making, patience and satisfaction of accomplishing tasks involved with riding horses.
While some of the volunteers with Horses & Warriors are experienced riders, previous equestrian knowledge is not necessary to volunteer or even participate.
It's those lessons in overcoming obstacles that empower animal-lover Miriam Birdsong and her horse, Anniken. Birdsong, a Hospital Corpsman in the Navy, is currently studying theology and music therapy. 
"I can be part of something, part of a team. He (Anniken) makes me feel stronger," said Birdsong.
Sara Reams has been a longtime volunteer with the equestrian programs at the Calvin Center ranging from the summer children's camps to the equestrian therapy sessions. She says she has been surprised and grateful for the support of Horses & Warriors from the community and the state. "It's an all-veteran program with the right kind of understanding, the right kind of support," said Reams. 
Although, Reams admits the horses do most of the work.
"The horses know how to be there for their riders, whether it's a child with a mental handicap or an adult with PTSD."
'Still here for them'
Sigmund Bloom, another volunteer with Horses & Warriors, was a captain in the Army as a helicopter pilot in the Vietnam War. He says the most gratifying part is being able to show his continued support for the military.
"It's good for them to know we're still here for them and we're still supporting them," said Bloom. 
Volunteer Phil Hanna, another Vietnam veteran, agreed: "I get more out of the program than what I put into it."
Bonner, the veteran injured in Iraq, is now looking to the future. He is currently attending school to achieve a degree in Criminal Justice, a subject he studied before he went into the military.
He is grateful for the camaraderie he experienced at Horses & Warriors. Although he acknowledges he doesn't see his friend Buck as much as he'd like now, he's thankful to the program and the volunteers that he now calls friends. "They've got me through a lot."
For more information, go to the Calvin Center's web site.