BEIJING – As smog levels in northern China reach historic levels, millions are learning to live with what has been dubbed "airpocalypse."
"Physically, if I don't wear a [face] mask when I go out I feel dizzy and have problems breathing," Jiang Yuwei, 23, a student at Beijing Foreign Studies University told NBC News. "Even if I wear a mask, I still feel quite depressed. During smoggy days, my mood is ruined and that I don't want to go out or work."
As many as 32 cities in northern China were under "red alert," the most severe pollution warning in the country's four-tier system, earlier this week. Another 27 cities, including Beijing, were under "orange alert."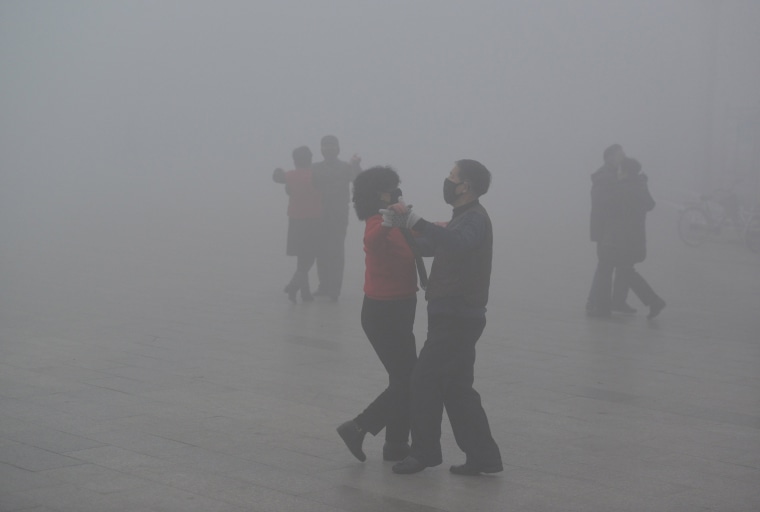 PHOTOS: China Issues Red Alert Amid Heavy Smog
China uses the Air Quality Index as a measuring stick for gauging the level of air pollution. The levels go from 0-500 and measure six atmospheric pollutants, including sulphur dioxide, carbon monoxide and ozone among others. Once the Air Quality Index surpasses 200 for three or more days, it's an "orange alert"; once it's surpassed 300 for two consecutive days or 500 for any one 24-hour period, a city is under "red alert" and Chinese authorities recommend all physical outdoor activity be suspended.
The United States' Environmental Protection Agency considers an Air Quality Index between 0-50 to be "Good."
Since the smog alert was raised on Dec. 31, Beijing has skirted on the edge of 300 and regularly surpassed it as it did on Jan. 3 when the Air Quality Index breached 700.
For comparison, the Air Quality Index measured by the U.S. Embassy in Beijing on Jan. 6 was at 298, considered "Very Unhealthy," on the same day in New York City the Air Quality Index measured 43 or "Good."
Winter is typically the most polluted season in China because the country burns more coal to power heaters. Manufacturers also often increase production ahead of the Chinese New Year, this year it will be on Jan. 28, also increasing pollution levels. Cold air inversions during the winter months can also trap smog lower to the surface.
Cities under red alert must take measures to limit pollution — like limiting the number of cars on the roads and halting construction and factory production. Schools are also closed while residents are urged to stay in-doors and avoid physical outdoor activity.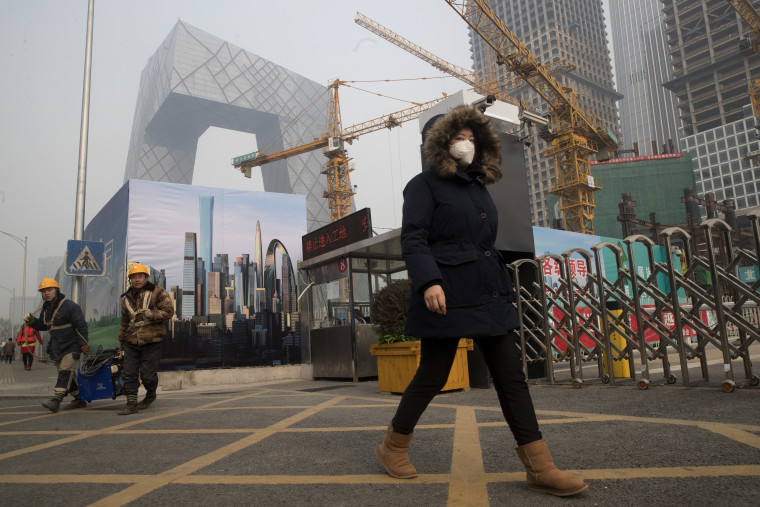 For Maggie Li, the mother of a 5-year-old kindergartner in Beijing, every morning in 2017 has started with the same question: How do I get my child safely to school?
"There is nothing else I can do, I put a mask on my boy, but he was so frustrated because he could hardly breathe," Li told NBC News.
Li bemoaned that the pollution has only grown worse over the years. "I've been living here in Beijing for 40 years, so it is really hard for me to leave. But I do miss the blue skies from when I was a kid, the blue sky that my kid barely sees."
Short, intense periods of bad air are commonplace in Beijing — but the fact that city has now been under "orange alert" since Dec. 31 is frustrating locals.
"I think it is pathetic that we have to purify the air with our own lungs, or wait for the wind," said Beijing resident Xu Huiren. "The smog has been here since October and nothing is really improved till now. I feel like nobody is working for environmental protection."
Even Chinese state media has been critical over the smog, with the reliably nationalist Global Times newspaper noting in an article on Jan. 4 that, "the heavy smog has also been corroding the government's credibility."
Beijing is well aware of the growing public backlash on air pollution. It is currently in the third year of a public campaign against smog as it tries to walk back environmental damage caused by three decades of breakneck economic development.
While organizations like Greenpeace report some progress has been made in cleaning up the air, China's own Ministry of Environmental Protection reports nearly 62% of Chinese cities are still coping with severe air pollution.
In a nod to the growing concerns of parents in the region and the outrage starting to spill into Chinese society, the Beijing city government announced Jan. 6 in local media that a new initiative was being started to fund the installation of air purifiers in kindergartens, primary and middle schools in the capital. The move will likely mollify families, many of whom have already invested thousands of dollars in their own home air purifying systems and masks to combat pollution at home.
Despite the air pollution and the need for extreme precautionary measures, many — like the student Jiang who wears a face mask — plan to stay in Beijing because job prospects are still good.
"Today I just want to work hard and have no intention of leaving Beijing," said Jiang. "But in the future when I have children if there is no sign of environment improvement here, I will consider moving somewhere else."
NBC News' Dawn Liu and Sami Tseng contributed to this report.