Land mines displaced by flooding in the wake of the Kakhovka dam collapse this week could pose a deadly threat to thousands of people as they evacuate and a grave danger to civilians in southern Ukraine for decades to come.
Warnings from leading charities and both sides of the war come as fears also rise about the risks from waterborne diseases and hazardous chemicals that could poison not just floodwaters, but also the Black Sea, a crucial waterway.
Thousands of unexploded mines could have been washed away from previously marked out areas, helping to make Ukraine the worst conflict for unexploded ordnance since 1945, according to one leading mine-clearing charity.
The Halo Trust, a Washington-based land mine clearance nongovernmental organization, has conducted mine clearance operations across the world — but for Mike Newton, head of its Europe operations, who has worked in Mozambique, Cambodia and Somalia, none of them compare to the current challenge.
"This is the biggest contamination anywhere since the Second World War, the Balkans pales in comparison," he told NBC News.
Halo has carried out extensive surveys of anti-tank mines in the region surrounding Mykolaiv — about 60 miles northwest of the city of Kherson and 30 miles from the Dnieper River. The city was liberated from Russian control in November.
In the last month alone, its teams found more than 5,000 anti-tank mines in the Mykolaiv region, 464 of them near riverbanks. Three of those minefields are now entirely underwater.
"That's just a snapshot of what we might find in other places," Newton said.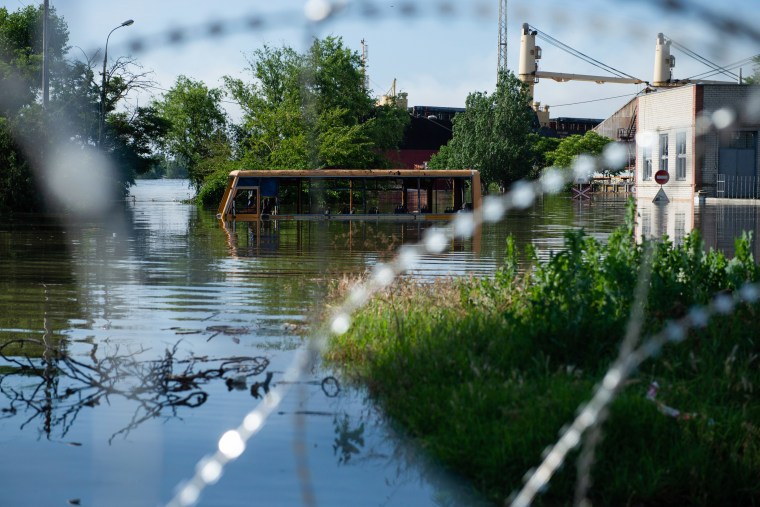 The dam's failure has been labeled a humanitarian and ecological disaster without precedent during Russia's 15-month invasion of Ukraine, with thousands evacuated so far amid pleas for international aid.
Oleksandr Prokudin, head of the Kherson regional military authority, said Friday that 2,300 people were rescued from 3,600 homes in 32 towns across the region. Emergency services were even able to save 550 "junior friends," he said on Telegram, using a Ukrainian phrase for animals.
Land mines could pose a particular threat to civilians on the Russian-controlled left or eastern bank of the river, where the Kremlin's military spent months building up defenses against the just-launched Ukrainian counteroffensive.
"Fearing a breakthrough of the Defense Forces across the Dnipro River, they formed very wide and multi-lane minefields there," Natalia Humeniuk, spokeswoman for Ukraine's southern military command, said on Ukrainian TV Thursday. Those mines being washed away has pushed back Russian defenses between 3 and 9 miles, she said.
Officials from both Ukraine and Russia have urged civilians to beware the risk of mines in the floodwaters as they evacuate.
But while events on the battlefield will draw the world's attention, Newton cautioned that mines will pose a serious challenge to the future of Ukraine once the war is over.
"What's really important for people to understand is that you cannot talk about rebuilding a country unless you address the issue of land mines first," he said.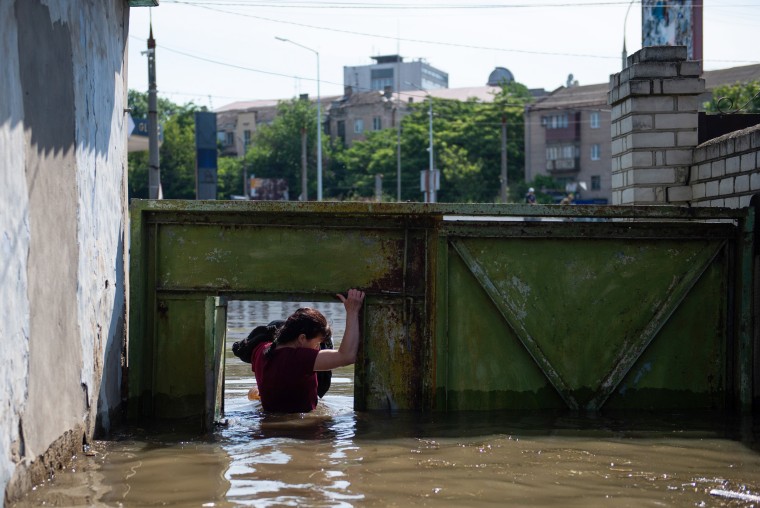 Erik Tollefsen, head of the weapon contamination unit at the International Committee of the Red Cross, echoed this warning.
"In the past, we knew where the hazards were. Now we don't know. All we know is that they are somewhere downstream," he told Reuters on Thursday.
And as for how long the threat might persist, land mines from World War II found in Denmark in 2015 were found to still be live and operational, Tollefsen said.
Greg Crowther, director of programs at the Mines Advisory Group, a British NGO, also stressed the long-term effects of mine subsidence and warned that the unexploded bombs could end up in homes and public spaces.
"Some of them could be damaged and unstable and they could be buried under silt or flood debris or have become lodged in homes, public spaces or gardens," he said in a statement.
"Some of them might be buried so deeply that detecting them in the future will be extremely challenging, but they might still pose a danger if, for instance, they are unearthed during post-conflict reconstruction work."
The dam collapse also poses health risks beyond the threat of mines.
Ukrainian President Volodymyr Zelenskyy said in an online briefing Thursday that as well as hindering water supplies, the dam breach meant warehouses containing hazardous chemicals, including fertilizer and what he called "anthrax burial" sites in Russian-controlled territory, were flooded. Animal burial sites were also flooded, he said, alongside sewage systems.
All of this, he added, is headed for the Black Sea, a crucial waterway for international shipping and food supplies.
Videos shared on social media by Ukrainian politicians and the country's military show debris including a roof washing up on the coast of Odesa, a Black Sea port city.
"Pollution and poison from the flooded area quickly gets into the groundwater, poisons the rivers, and from there it enters the Black Sea basin," Zelenskyy said.
"That is, there is no destruction of nature 'somewhere out there' — everything in the world is very interconnected."