BANGKOK — Twelve boys and their soccer coach were found alive more than a week after they went missing in a flooded cave complex in Thailand, a provincial governor said Monday.
The boys and their soccer coach were located nine days after first entering the Tham Luang Nang Non cave complex, Chiang Rai Gov. Narongsak Osatanakorn, said Monday night local time.
The governor said rescue teams will send doctors and food to help, but more water needed to be pumped out of the caves before those trapped can be rescued.
"We found them safe. But the operation isn't over," the governor said, according to The Associated Press.
Video showed the moment rescuers discovered the boys, who were huddled together with their coach in the dark.
"How many of you are there?" one of the rescuers asks. "13?"
"Yes, 13," one of them says.
"Brilliant," the rescuer replies.
Next, officials plan to send divers to stay with the team and medical doctors to monitor their conditions, according to a statement the Royal Thai Navy posted on social media.
The next phase involves sending food that can last months while teaching all 13 survivors how to dive. Rescuers also plan to continue pumping water out of the cave complex, the navy said.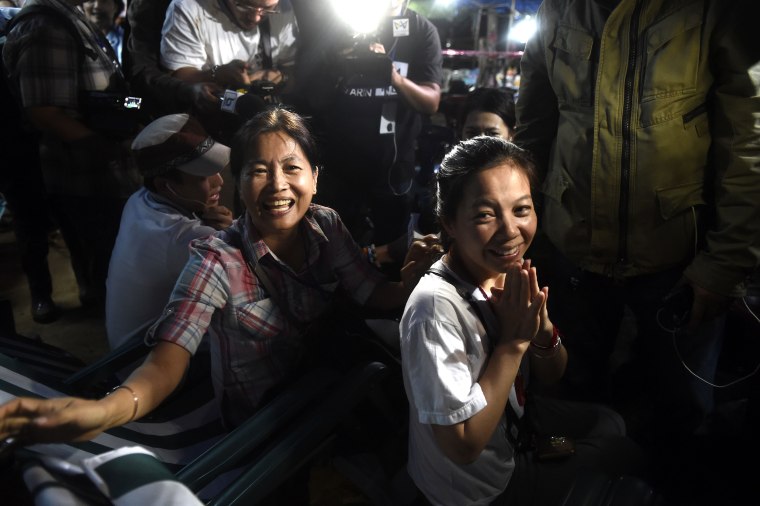 Steve Castonguay, a spokesperson for the U.S. Embassy in Bangkok, said in a statement that the embassy would continue assisting rescue efforts to bring home the boys and their coach safely.
"We are following events closely and are thrilled with the latest development in this Thai-led, multilateral effort," he said.
The boys, ages 11 to 16, and their coach had been stuck in the cave after a soccer game and near-constant rains since then have thwarted the search for them, according to the AP.
Thai navy SEAL divers and rescue workers from other countries made initial progress through the narrow passageway early Monday after passing through a key chamber on Sunday whose high, murky waters had previously blocked their progress, the AP reported.
Narongsak earlier said the passageway the divers made their way through goes upward in some places and downward in others and is extremely narrow, making it difficult for divers with all their gear to fit through, according to the AP.
The rescue mission had been hampered late last week after at least three rescuers near the efforts of the cave complex appeared to suffer electric shocks, according to the AP. The incident was most probably caused by jerry-rigged electrical lines that had been fed into the caverns to power lights and pumps, according to the AP.
Ambulances quickly arrived and witnesses saw three men being carried to them on stretchers. Police said their injuries were minor and the men were in stable condition, the AP reported.
Nat Sumon reported from Bangkok, and Daniella Silva from New York.