Republican presidential hopeful Mitt Romney has laid out a first term agenda that is nothing short of ambitious, outlining a list of priorities that would require him to marshal a near-impossible amount of political capital to achieve.
"What the court did not do on its last day in session, I will do on my first day if elected president of the United States. And that is I will act to repeal 'ObamaCare,'" Romney said Thursday in Washington, adding to his portfolio the politically thorny pledge to undo President Obama's health reform law.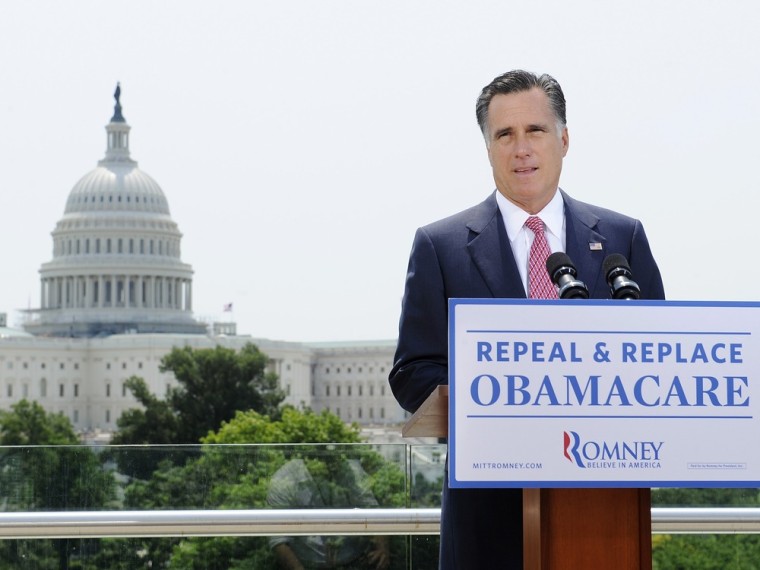 The list of promises Romney has made for his first term is extensive. His two "Day One" ads outline other policies the former Massachusetts governor would put in motion on his first day:
Seeking tax cuts and deficit reduction,
Approving the Keystone XL oil pipeline,
Issuing more aggressive strictures for trade with China,
And seeking the repeal of "job-killing regulations" (the financial regulatory reform bill, Dodd-Frank, is an example Romney mentions frequently on the campaign trail)
More substantially, Romney has promised to seek some type of comprehensive immigration reform – an accomplishment that has escaped both Obama and President George W. Bush – in his first year in office.
"In my first year I will make sure we actually do take on immigration, we secure our border, we make sure that we grow legal immigration in a way that provides people here with skill and expertise that we want," Romney said at a fundraiser earlier this week.
All this is on top of lofty expectations Romney's set for himself on the economy; he said in May that an unemployment rate above 4 percent is "not cause for celebration."
"It's going to be busy," deadpanned a House Republican leadership aide, speaking of Romney's agenda.
Presidential candidates are not typically modest in their election year promises.
Obama, as a candidate in 2008, made a number of promises that haven't made their way to fulfillment. Romney has been eager to highlight, for instance, the president's inability to accomplish comprehensive immigration reform.
And to Romney's credit, despite the criticism the presumptive Republican nominee has weathered for offering few specifics about his first-term agenda, his first term proposals seem to outpace Obama's ambitions for his second.
Romney, like Obama and any number of candidates entering their first term as president, might encounter a stark reality. Governing is about as easy as herding cats, and that process isn't helped by the glacial pace on Capitol Hill.
First Thoughts: Ending the month on a high note
Presidents often enjoy a "honeymoon" in which they're able to advance a major element of their platform. Bush got education reform and his signature tax cuts; Obama got his stimulus bill.
And that's to assume, the Republicans maintain control of the House and take over the Senate – in which case, prospective Majority Leader Mitch McConnell (R-KY) would be tasked with convincing a non-trivial number of Democrats to join the GOP in advancing Romney's agenda.
Romney could seek the repeal of health care as his first priority, something he might accomplish by using the process of budget reconciliation. House Majority Leader Eric Cantor (R-VA) suggested Friday on "Morning Joe" that Republicans could use this tactic, which allows the Senate to approve legislation with a simple majority of votes, to gut the heart of Obama's law.
But even if this were to be achievable practically, it would be a bloody fight on which Romney would have to spend considerable political capital.
"He comes into office, and Day One is getting your secretary of State or secretary of Treasury confirmed!" said former Delaware Sen. Ted Kaufman (D), who long served as an aide in the chamber before succeeding Joe Biden in the chamber, of a new president's traditional to-do list.
"You're just going to declare war on the Democrats from the first day you get into office?" Kaufman said. "Obama didn't do that, and he had 60 votes."
There are always foreign policy crises and the unexpected issues – like 2010's oil spill in the Gulf of Mexico – that can divert from the business of governing.
"If the Democratic leadership wants to criticize a President Romney for fulfilling his promises, it's not something that's going to play well with voters," said the House Republican aide, evaluating the broad range of issues Romney has promised to advance.
On some of those issues, too, Romney is boxed in politically. Republicans in Congress have so frequently voted to repeal the president's health care law – the next vote is set for July 11 – in part because they made it a cornerstone of their 2010 campaign.
"If Romney is to win, that's a major part of what he's run on," the GOP aide said of Romney's vow to repeal the law. "Despite protestations from Democrats, some of whom will vote for repeal, that A) depoliticizes it, but B) is also part of why he's running."
But Romney will also have to reckon with the so-called "fiscal cliff" – the cocktail of expiring tax cuts, automated spending cuts and necessary extension of the nation's debt ceiling – early in his term, unless Congress were to reach a deal in its lame-duck session, an unlikely prospect.
 "You may be critical of Obama – why'd he use up all of his mojo on health care reform?" Kaufman noted. "You're going to need mojo just to get a debt limit vote and figure out what we're doing on the Bush tax cut."
Even after all of this has been addressed, even in the best case scenario for Romney, in which the GOP controls both chambers, he'll be dealing with a Congress that prides itself on regular order. Romney has prepared few detailed plans or pieces of legislation to drop on Capitol Hill's doorstep; in fact, when asked earlier this month on CBS about which tax exemptions he'd kill to finance tax reform, Romney said he'd "go through that process with Congress."
That process can be lengthy, though, and force any president to prioritize agenda items. And congressional Republicans are cognizant of that.
"It's something that could be moved through a process," the GOP aide said of Romney's immigration reform plans. "Does it end up at a president's desk? That remains to be seen. Things that are comprehensive take a long time."