VATICAN CITY — Mother Teresa, the nun who devoted her life to the impoverished and one of the Catholic Church's most iconic figures, was canonized as a saint on Sunday.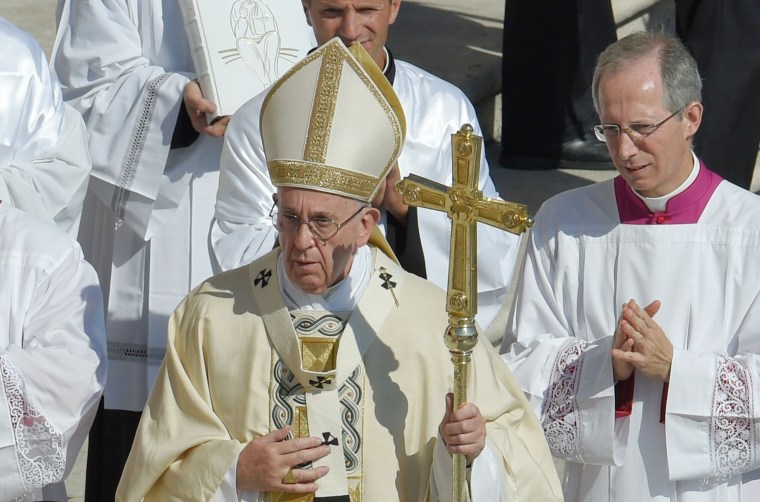 Saint Teresa of Kolkata, as she is now known, was canonized by Pope Francis in front of about 120,000 faithful at the Vatican.
The Nobel Peace Prize winner, who died in 1997 and was famed for her work with the poor in India — but fiercely criticized by some — was praised by Francis as a "generous dispenser of divine mercy."
"Her mission to the urban and existential peripheries remains for us today an eloquent witness to God's closeness to the poorest of the poor," the pope said.
"Today, I pass on this emblematic figure of womanhood and of consecrated life to the whole world of volunteers: may she be your model of holiness."
The Vatican handed out 100,000 tickets for the ceremony, but thousands more thronged to the Vatican.
Jeffrey Korczyk from Pittsburgh, Pennsylvania, was visiting the Vatican for a second time with his wife, Tracey. He said the pair had "lucked out" and that witnessing Teresa's canonization was "a once in a lifetime experience."
"Just how she helped everybody — she was so selfless," Tracey Korczyk said.
Jees Thomas, originally from the Kerala region in India, but now living in Italy, waved a large Indian flag with a group of friends on St. Peter's Square.
"This is a blessed day for me," Thomas, a Roman Catholic, said. "Mother Teresa was in India. She did lots of things — helped everyone."
The Vatican announced Sunday it would give Neapolitan pizza to 1,500 poor and homeless people cared for by Teresa's Missionaries of Charity in the Italian cities of Rome, Milan, Florence, Naples and Bologna to honor the occasion.
The Church opened the way for Mother Teresa's canonization last year after declaring the recovery of Brazilian Marcilio Haddad Andrino from a life-threatening brain infection a miracle.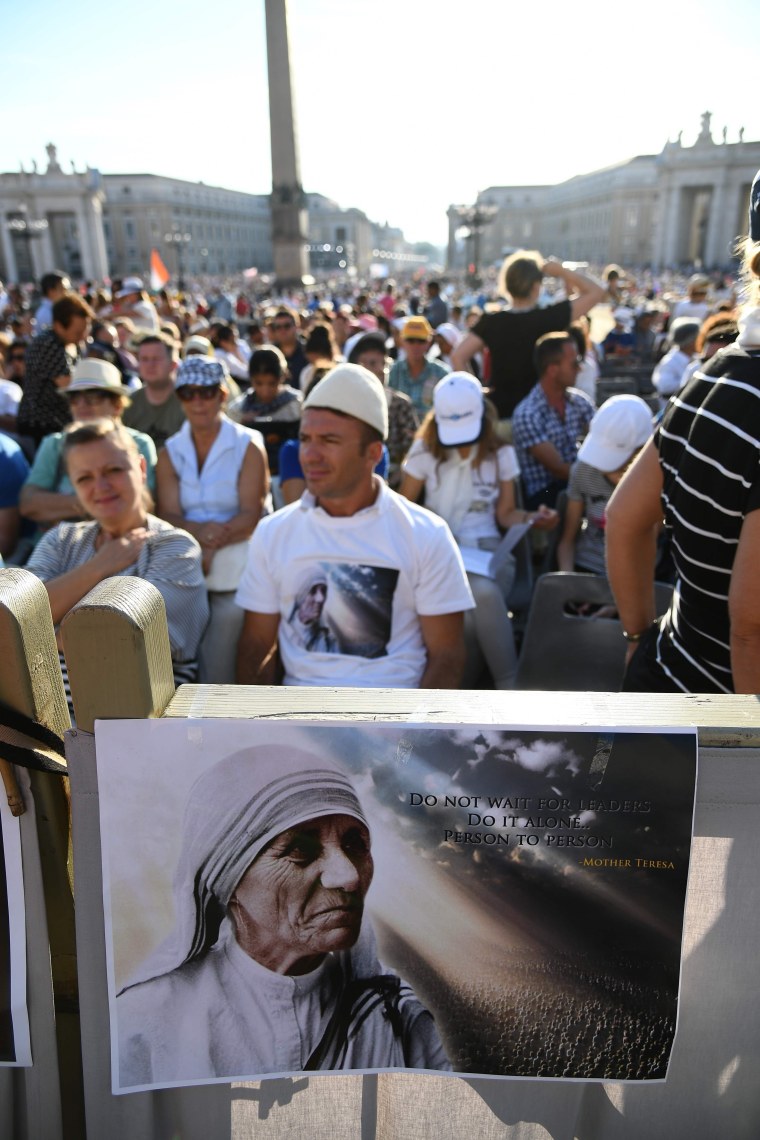 Andrino, who is 43 and lives in Rio de Janeiro, told a news conference at the Vatican on Friday he felt very grateful but thought anybody else could equally have benefited from her intervention.
"If it hadn't happened to me maybe there would be someone else tomorrow. She did not distinguish. I don't feel special," said Andrino, who was due to attend Sunday's ceremony with his wife Fernanda.
Related: This Is the Village Where Mother Teresa Found God
The Roman Catholic Church has more than 10,000 saints, many of whom were not elevated until centuries after their deaths.
The case for canonization is usually initiated five years after the candidate's death, but Pope John Paul II waived this for Teresa, putting her on a fast track to sainthood.
In 2002, the Vatican ruled that prayers to Mother Teresa had brought about an Indian woman's miraculous cure from stomach cancer, providing the first of the two miracles Catholic doctrine requires before conferring sainthood.
Born Agnese Gonxha Bojaxhiu of Albanian parents in 1910 in what is now Macedonia, she became a nun aged 16 and moved to India in 1929, creating her first mission in 1950.
Catholics revered Teresa for bringing relief to the sick and dying through chapters of her Missionaries of Charity order, whose sisters wear distinctive blue-trimmed white robes, established around the world.
Related: Why Teresa's Canonization Was Marred by Controversy
However, critics say she did little to alleviate the pain of the terminally ill and nothing to tackle the root causes of poverty.
She was also accused of trying to convert the destitute in predominantly Hindu India to Christianity, a charge her order has repeatedly denied.