LONDON -- Threats to use Molotov cocktails in Poland, a civil disobedience workshop in affluent rural England, and an Irish farmer with a sick child moved to become an eco-campaigner: these are just some of the ways in which Europeans have responded to the expansion of a much-debated oil industry practice.
Fracking has long been the source of heated debate in Pennsylvania and the controversy is now exploding in Europe, fueled by horror stories from across the Atlantic.
It is a debate that has created some unlikely alliances: The usual suspects of environmental campaigning have been joined by farmers and inhabitants of the so-called "stockbroker belt" concerned about house prices and "the industrialization of the countryside."
There are even suggestions that Russian money has been financing anti-fracking groups in Bulgaria – to help keep prices for its gas exports high. 
The U.K. has become the latest front line for fracking after the British government lifted a ban imposed when the procedure was linked to a series of earthquakes in northwest England.
For some, fracking – a process that involves forcing water and chemicals into the ground to shatter rocks like shale and release natural gas trapped inside – poses a risk to water supplies, causes air pollution and flies in the face of the fight against climate change, worse even than coal.
But supporters of the process say it is safe, has been carried out for decades largely without problems, and could actually help reduce carbon emissions.
Chris Peters, of the No Dash for Gas campaign group, took part in a five-day protest last week against exploratory drilling that might eventually lead to fracking at a site near the village of Balcombe, Sussex, in rural England.
He said the camp held workshops in "methods of civil disobedience, direct action and various campaign strategies" and attracted about 1,000 people, including some from Scotland, Wales, Ireland and Poland.
Peters said his main problem with fracking was that it was an attempt to get "the last dregs of the barrel" of fossil fuels "when really we need to be looking at clean, renewable sources for energy."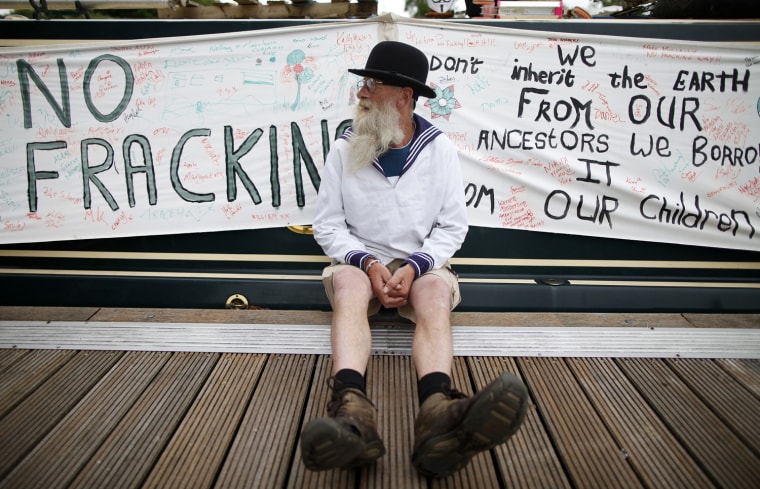 "The primary sources of oil and coal and gas are running out, so companies are looking to these more extreme, more risky methods," he said, citing oil exploration in the Arctic, exploitation of Canada's tar sands as well as fracking.
"It (fracking) has sort of really come to the attention now in the U.K. … With this camp it's become a very controversial issue," he added. "We've all been working together. There's an expectation that a lot is going to emerge from this campaign."
The Balcombe protest – a smaller camp of mainly local people remains – was undeniably controversial. The right-leaning Daily Mail newspaper put the story on its front page with the headline "Police cave in to mob rule over fracking" after drilling was temporarily halted at the site following advice from police.
A total of 29 people were arrested at Balcombe on Monday, including the U.K.'s only Green Party lawmaker, Caroline Lucas.
Polish filmmaker Lech Kowalski was also at the camp to make a follow-up to his film "Drill Baby Drill," which tells the story of the fracking experiences of farmers in Poland and Pennsylvania.
He said the protest at Balcombe, where oil firm trucks have been able to access the site, was tame by Polish standards.
Farmers at a Chevron site near Zurawlow have "totally blocked the entrances and they are hold fast there to the point they were prepared to throw Molotov cocktails," he said.
Kowalsi said the Polish farmers' families had lived there for generations.
"These farmers had to survive the Soviet period, the Communist period and the Nazis," he said. "They look at themselves as partisans fighting for the land."
Kowalski said he thought the anti-fracking campaign was beginning to snowball, noting the presence at Balcombe of "middle-class people who work in London, the kind of people who probably never considered protesting about anything."
Eddie Mitchell, a farmer and builder in Manorhamilton, northwest Ireland, said he feared fracking was about to be introduced into Ireland with hardly any public debate.
"We're opposed [to fracking] because the main reason is that we know that it's dangerous from America," he said. "The personal testimony from people in America seems to be there's a lot of concern."
"I have a child who has a heart problem. We understand the value of health. We're not going to allow our children to be put at risk," he said. "When you think about the risk for our children and the way the project is being driven, then you just have to stand your ground."
Mitchell, a leading member of anti-fracking group Good Energies Alliance Ireland and a local official for the center-right Fine Gael party, said many people did not understand just how severe "the industrialization of the landscape" could become if widespread fracking was allowed.
He claimed people in exploited areas of the countryside could potentially find themselves no more than about 800 yards from four drilling "pads" each several acres in size.
Richard Davies, professor of energy at Durham University who previously worked for major oil companies, said there was always a "small level of risk" in the energy industry.
But he said the fracking process was "very unlikely" to cause water contamination and said it had been linked to just three man-made earthquakes out of 198 since 1929 despite "hundreds of thousands of fracking operations."
Davies said some problems in the U.S. had been caused by "a small percentage of wells" that were leaking because they had not been sealed properly.
"The way that fracking could contribute to contamination is not the fracking process," he said. "It's the drilling process."
Related: