Family and friends of slain Australian baseball player Christopher Lane gathered at the suburban Melbourne ballpark where he learned to love the game on Sunday, sharing a moment of silence and memorial game in his honor
Lane, 22,  who attended East Central University in Ada, Okla., was fatally shot in the back while jogging in nearby Duncan, where he was visiting his girlfriend.
Three teens have been charged in connection with the killing, which fueled outrage on two continents and led to a call for a boycott on U.S. tourism by a former Australian deputy prime minister.
Investigators have said one of the teens admitted Lane was shot because the boys were "bored" and wanted to kill someone.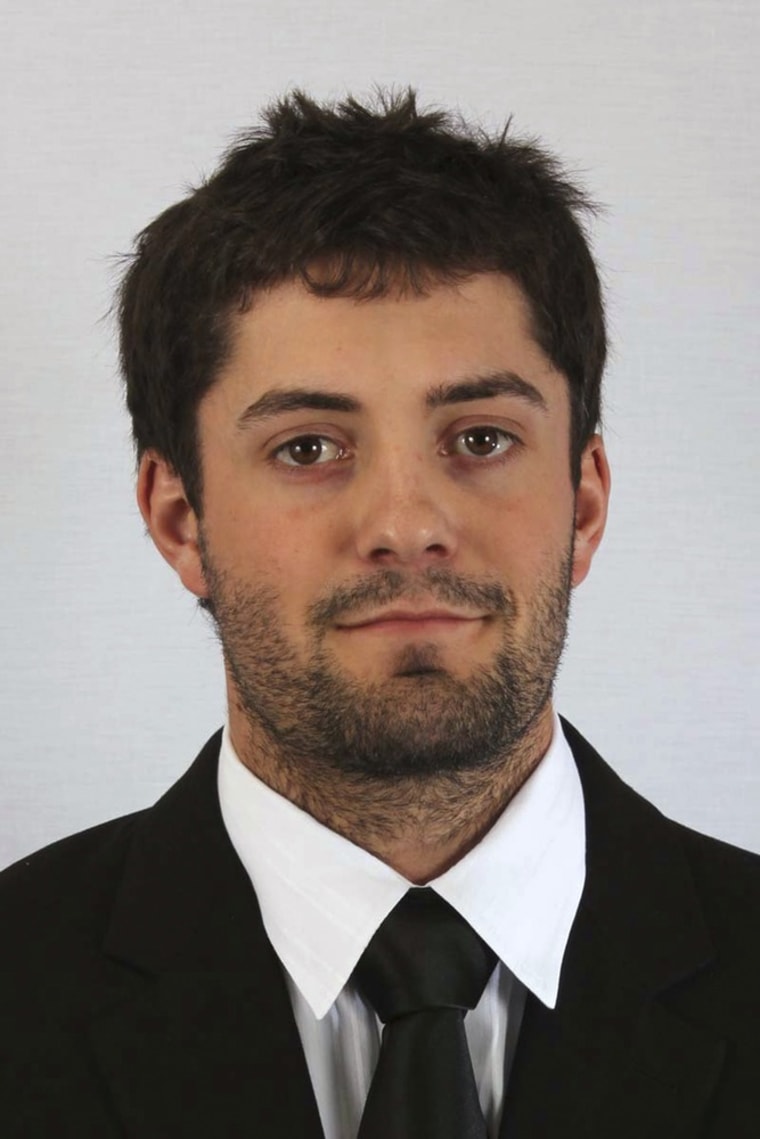 Back in Australia on Sunday, Lane's parents, Peter and Donna Lane, and his American girlfriend Sarah Harper stood at home plate and shared a moment of silence with the estimated 2,000 people assembled.  Harper had arrived in Australia with Lane's body on Saturday.
"We really appreciate the support from both her and in the states," said Peter Lane, The Associated Press reported. "We've had sensational support for our kids from family, extended family, from various communities we've been involved with and we're thankful for that."
Baseball players from the Essendon Bombers, Lane's former club, as well as Melbourne University, wore black arm bands during the memorial game. The United States and Australian national anthems were played before red and black balloons — the Bombers team colors — were released bearing Lane's jersey number 40.
Lane had left Australia to play catcher at East Central University, where he was on a baseball scholarship.
"It was tough standing on the field where he loved. At the ground where I spent hours in the car park [parking lot]," Donna Lane said, according to the AP. "Tough, but how lucky when I looked up and all these friends of Chris' and ours were there… all of the support and outpouring of love is helping. It's really, really helping."
By Sunday, a memorial fund set up to help Lane's parents had raised more than $150,000, the AP reported.
His parents told the Melbourne Herald Sun they weren't sure how their son would be permanently honored.
"As tragic as Chris' end was, he was on a very good life path," Pete Lane told the Herald Sun. "He made good choices and had made decisions about his future. I would love something set up that let other kids follow the same path."
Prosecutors say the three Duncan, Okla., teens, chose Lane as a target at random.
Chancey Allen Luna, 16, and James Francis Edwards Jr., 15, are charged with first-degree murder in Lane's death. Michael Dewayne Jones, 17, was charged as an accessory to murder and with using a vehicle to fire a weapon. All will be tried as adults, prosecutors said.
Australia's former deputy prime minister Tim Fischer on Friday blamed the "gun culture" in the United States for Lane's death, saying it was "corrupting the world."
"The U.S. has chosen the pathway of illogical policy with regard to guns," Fischer said Friday. "They cannot expect not to have any criticism of it worldwide."
Fischer also said Australians should "think twice" before visiting the U.S.
The Associated Press contributed to this report.
Related: