A month's worth of rain in a matter of hours caused chaos in Toronto on Monday, as flash flooding triggered widespread power outages, subway closures and left almost 1,500 people stranded on a commuter train filled with gushing water.
The deluge of more than 3.5 inches in just three-and-a-half hours forced motorists to abandon cars and left 400,000 homes without electricity late into the night.
Environment Canada officials said they expected the official tally to top 4 inches.
The city's police Marine Unit was called into action to rescue more than 1,400 people from a 10-car GO transit train that stalled as it tried to reverse away from the rising torrents.
After murky brown water spilled into the bottom floor of the carriages, passengers fled to the upper decks, where they waited for almost seven hours to be rescued.
"There's a full on river either side of us..." one passenger Jonah Cait, tweeted as the water rose. "We. Are. Stuck. Hard."
The evacuation of the train was complete by about 1 a.m. ET with only minor injuries to five or six passengers, who were treated on the scene, the CBC reported.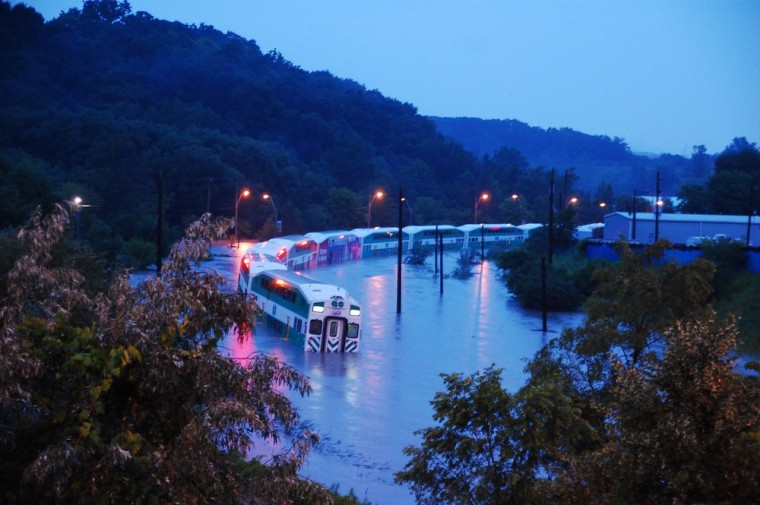 Inflatable boats were used to ferry passengers to higher ground.
Cars were also marooned as the rapidly rising waters forced many drivers to abandon their vehicles.
The Don Valley Parkway, one of the city's major north-south routes, was also closed by the water, but was reopened early Tuesday according to Global News.
Passengers on the city's subway system were affected when stations flooded.
As many as 300,000 Toronto Hydro customers lost power for most of the night. By 4 a.m. ET, the company tweeted that number was down to 35,000.
Another utility, Enersource, told the Toronto Star that about 80 percent of Mississauga, a suburb of 700,000 west of Toronto, were left in the dark. 
But by 10 p.m. ET, crews had restored all but 50,000 homes in the area.
The heavy downpour was "one of the wettest moments in Toronto's history," Environment Canada senior climatologist Dave Phillips told the Toronto Star.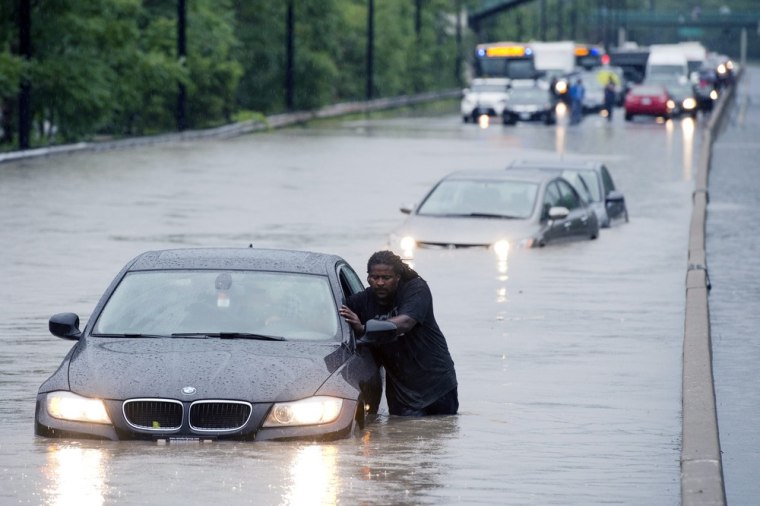 "We've had a month's worth of rain," he added.
The downpour didn't quite beat the city's wettest day on October 18, 1954, when Hurricane Hazel hit the city with 4.7 inches of rain, but that was over the course of 24 hours.
There was a 50 percent chance of more rain hitting the city Tuesday with scattered thunderstorms forecast, according to weather.com.
Reuters and The Associated Press contributed to this report
More photos: Stranded passengers rescued after 7 hours on flooded Toronto train