A young steer who broke out of a slaughterhouse in northern New Jersey, swam across a river and ran through city streets, was being taken Wednesday to an animal sanctuary in New York where a "comfy straw bed" awaited him.
The black-and-white steer was rescued by a volunteer with the Woodstock Farm Animal Sanctuary who picked him up Wednesday morning after tracking down the slaughterhouse, said Jenny Brown, a co-founder of the nonprofit center in south-central New York.
The animal appeared to be a cross between an Angus and a Holstein, and a veterinarian, who was required to inspect the steer so he could be legally transported across state lines, gave him antibiotics, she said. He  seemed to be shaken up and was pretty banged-up from his escape, including having a problem with his back leg.
"We can give him a comfy straw bed and put him in a safe place where he is going to be loved and respected," Brown said, noting that he was likely being used as a beef cow and would have ended up as steak on dinner plates.
The steer's adventure began late Tuesday night, when he fled the slaughterhouse and went careening through the streets of Paterson, said the city's chief animal control officer, John DeCando.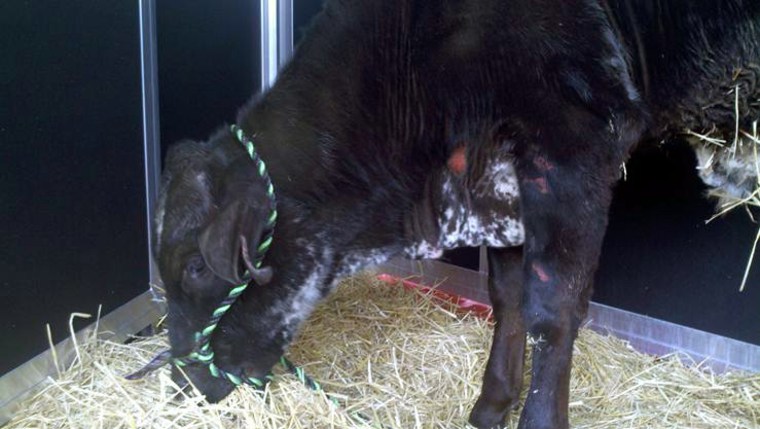 "It was unbelievable. It was like 'Dodge City,'" he said, noting that after escaping, the steer came across basketball courts, where he "stopped for a minute," then he jumped into the Passaic River and swam across to the other side.
"You had to see the spectators -- people were rooting for the cow," he said.
As police and animal control attempted to corral him, the steer escaped once more. At one point, he ran into a police car, but no one was injured in the escapade, DeCando said.
Finally, DeCando managed to tranquilize him, and within four minutes the animal was asleep and snoring like a "newborn."
It's not clear how the steer got out, but DeCando said he figured the animal knew what was in store for him.
But instead, the steer's "long run, long haul" had a "happy ending," DeCando said.
"The owner of the slaughterhouse guaranteed me, and also the officers, that that cow deserves to live, and, yes, he does. So the cow is going to a farm. He'll live out the rest of his life," he said, adding that was why the slaughterhouse owner was not charged in the incident.
Under an intense media spotlight, such escapees can often end up going to a farm only temporarily or even be sent off to another slaughterhouse, said Brown, noting that was why they wanted to reach out to make sure the animal has a good home.
"There is this phenomenon in our society when, where one gets away, everyone wants to cheer for that one animal, yet you might go home and eat … an animal just like that one that night and never put any thought to it," said Brown, whose group rescues animals that have escaped abuse, neglect or the food industry. "That's what's wrong with our industrialized food system, is that it's completely out of sight and out of mind."
The steer has been named Mike, after the volunteer who rescued him, Brown said.
More content from msnbc.com and NBC News: