GLASGOW, Scotland — Cultivating hops is a difficult business. Long before the little cone-shaped flowers are ready for harvest, days of gruelling groundwork must be laid. For hours on end, workers kneel as they intricately thread the infant shoots around lengths of string. "Training," as the process is known, takes skill, focus and patience. But most of all, it requires manpower — and that's why Ali Capper is worried.
"We've already recruited. We've got a team of people all hoping to come. They might be able to come, but they might not," said Capper, the co-owner of Stocks Farm, a family business that grows apples and hops in the West Midlands County of England.
At best, only one-fifth of the staff required by British fruit and vegetable producers is currently available, industry experts believe. The culprit, unsurprisingly, is the coronavirus.
As the specter of COVID-19 ground global travel to a halt, migrant labor — the backbone of Britain's food production sector — was suddenly inaccessible. The virus also precipitated frantic panic buying, piling pressure on farmers desperate to fill fast-emptying shelves.
Full coverage of the coronavirus outbreak
In normal times, their 80,000-strong workforce is mostly derived from Eastern Europe. By the planeload, seasonal staff arrive every year from the continent's post-Soviet periphery, prepared to do what Brits generally don't: get their hands dirty. The days are long, the hours erratic, the conditions arduous. But relative to wages back home, the pay is good.
Now, with an effective moratorium on international travel, British growers are being forced to source staff locally. In a bid to help, the government has called for a new "land army" to be assembled, akin to the one that fed Britain through the dark days of World War II.
On the face of it, the scheme appears to be succeeding, with over 36,000 people registering interest. But look below the surface and the numbers do not stack up. Scarcely one-sixth of applicants have come forward for an interview, with fewer than 1,000 being offered a job. Of those, only a little more than 100 have accepted.
The productivity of local workers also causes concern. In 2018, a televised experiment found that fresh-faced British pickers were 10 times slower than Eastern European counterparts — a huge shortfall in an industry where speed is critical, experts say.
"Getting food products from the ground quickly and with minimal waste, then to the marketplace — in order to maintain a constant supply [so] as not to bring about destabilization — is vital in feeding a nation," Jonathan Owens, a supply chain expert from the University of Salford, said.
While the United Kingdom could start sourcing more produce overseas, it is possible a slump in domestic productivity would "see some fluctuation in supply, and potential price increase for products on our shelves," he added.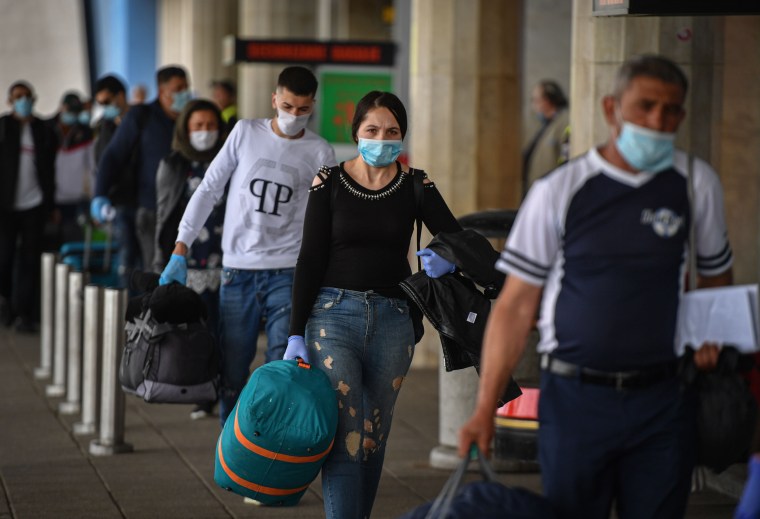 Driven by necessity, Stocks Farm is doing all it can to attract local labor. But it's an uphill battle.
"A lot of people are applying, but then when it gets down to the nitty gritty, this is quite hard work, it's quite repetitive, it means being on the farm at 5 or 5:30 in the morning and working until lunchtime to beat the heat of the afternoon," Capper said.
It's a point echoed by industry chiefs. The "all or nothing" nature of farm work doesn't much appeal to U.K. job seekers, Jack Ward, the CEO of the British Growers Association, said.
"Most of the people in the U.K. are looking for more regular type of work, because that's what they want. They either want a full-time job or a regular part-time job. This is seasonal work, so it's all or nothing."
There is also an issue of geography. England's fruit and vegetable sector is highly regional, mostly confined to pockets along the east coast, the south and the Midlands. With their abundance of farmland, these areas tend to be sparsely populated, and so struggle to provide the breadth of staff required by rural recruiters.
Conscious of these local limitations — and concerned for their fast-ripening early summer stock — some British producers have started flying in foreign laborers privately. Last week, 180 Romanian workers touched down at London's Stansted Airport, before being whisked by bus to farms around the country.
Hundreds more are expected in the coming weeks but the sector will still be desperately understaffed. Indeed, the chartered flights are likely only carrying a "nucleus" of experienced foreign workers to oversee the new crop of local recruits, Ward said.
And there's another issue: longevity. British farmers' migrant workforce is both skilled and dependable, with many returning season after season to the same employer (Capper has a Polish worker now in his 22nd year with the family). Local applicants — though enthusiastic — offer farm owners no such certainty.
"Where will we be in terms of lockdown by, say, the 1st of July or the 1st of August [when] we're still going flat out harvesting … and the people who volunteered at the start of the season have returned to their original jobs?" Ward asked.
Download the NBC News app for full coverage and alerts about the coronavirus outbreak
Even prior to COVID-19, the sector was facing serious recruitment challenges. With improving economic prospects back home, fewer Eastern Europeans — particularly young people, those best suited to agricultural work — were applying for seasonal labor in the U.K.
Brexit has also proved a hammer blow to the industry. Anti-immigration sentiment played a key role in the U.K.'s vote to leave the European Union, and officials have been under pressure to deliver a new, more stringent system for foreign workers. For British growers, this is bad news.
"[There's been] a lot of talk about no more unskilled workers, no more people coming unless they can earn 25,000 or 30,000 pounds. And that just simply doesn't work for this sector," Capper said.
So, it promises to be a tough year for the family business. Not only does Capper need post-Brexit clarity as she starts recruiting for 2021 but, by September, the orchards will be bearing fruit.
Without her trusted migrant workforce, that's a problem. Rather than reaching the supermarkets and breweries of Britain, millions of unpicked apples and hops might simply drop to the ground, left to rot where they lay.