DONNA, Texas — About 1,000 of the 5,600 troops that the Pentagon says it has deployed to the U.S.-Mexico border are in the McAllen area.
A camp filled with tents and military equipment in Donna is growing by the day. As some troops install barbed wire fencing, others prepare a medical tent.
"One of the most unique things, in my experience, has been the short notice of this," Cmdr. Sgt. Maj. Matt Howard told NBC News. "Most folks didn't even know this mission was going to exist."
Of the deployment ordered by President Donald Trump, 2,800 troops were sent to Texas, 1,500 to Arizona and 1,300 to California.
A day after the midterm elections, the Pentagon announced it was no longer calling the mission "Operation Faithful Patriot" — instead re-branding it as simply "border support." No reason was given. But that's given fuel to skeptics who say the deployment was a political ploy to stoke fears about immigration.
Last week, Defense Secretary Jim Mattis said: "We don't do stunts."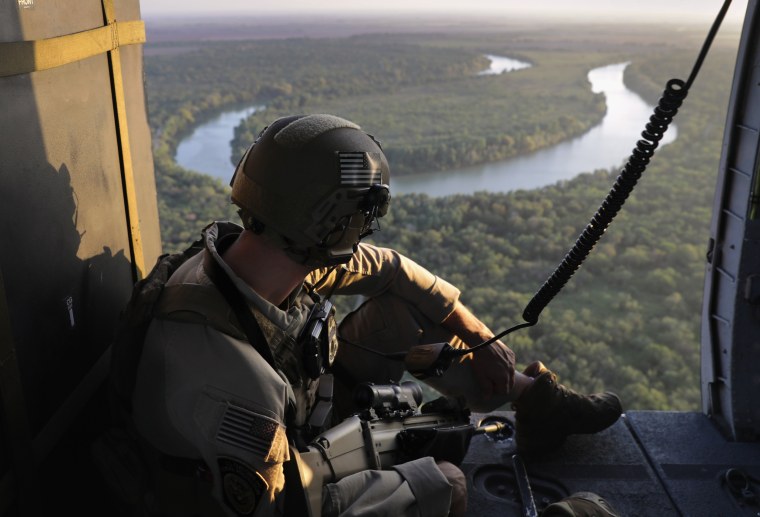 Rising cost
Earlier this year, 2,000 National Guard troops were sent to the border.
Citing two defense officials, CNBC reports the troop deployments could cost at least $220 million by the end of the year.
The troops won't be able to apprehend any undocumented immigrants. The military said the mission is mostly logistical support for Customs and Border Protection, which includes providing helicopters for transporting agents.
On Friday, the Border Patrol announced it had apprehended a group of almost 100 migrants.
Raul Ortiz, deputy chief of the Rio Grande sector, said his agents have seen more and more illegal crossings over the past few months and detention space in south Texas has been near capacity.
"We have had quite consistently about 3,000 people in custody," he said.
The troops who spoke to NBC News in Donna said they were focused on the mission, not politics.
"What I tell my soldiers is: We're soldiers," Howard said. "We follow orders. We were given lawful orders by the people above us. Let the folks up higher handle that."
The timetable for the deployment is up in the air.
"Honestly, a lot of it is subjective based on the caravan and everything like that," said Army Medic Mike Shaver from Florida.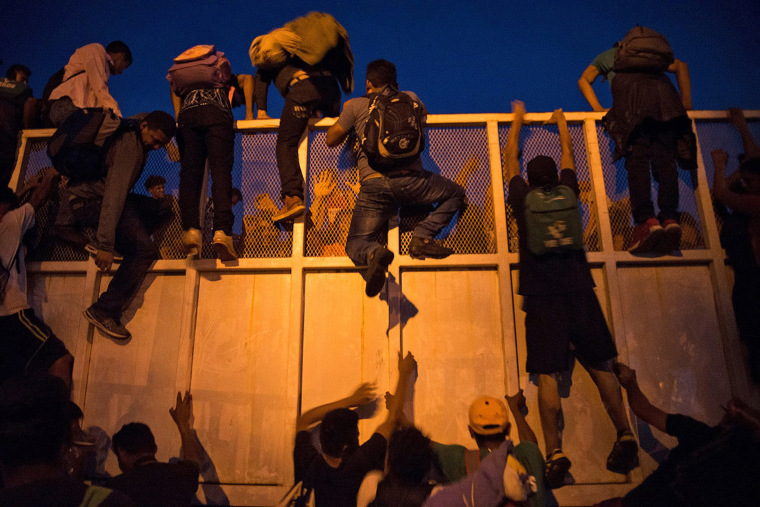 Caravans still hundreds of miles away
Right now, there are three caravans in Mexico with a total of about 10,000 people. The closest is still hundreds of miles from the United States.
Five days after authorities opened the Jesús Martínez "Palillo" Stadium in Mexico City, the venue is overflowing with more than 5,000 migrants, and thousands more are expected to arrive in the coming days.
Over six large tents are completely filled. People also spilled out of the stadium and into the parking lot, setting up camp in any spot they could find for themselves and their families.
It is a crucial stop for the migrants in this caravan. They're able to rest, get some desperately needed medical attention and figure out what's next.
Mexican officials have pledged to provide information to the migrants about seeking asylum in both Mexico and the United States. A majority of the migrants initially set out to reach the United States and continue to want to do so.
In between the medical tents and area serving meals is a small tent with a side outside of it that reads, "Informacion para pedir asilo en E.E.U.U." or, "Information about applying for asylum in the United States."
A group of migrants were listening to Anna Joseph, a volunteer with the Institute for Women in Migration. Joseph was explaining what the process of applying for asylum is like in the U.S.
"People have no idea what awaits them in the United States and how President Trump has politicized this caravan," said Joseph.
During her presentation about asylum that Joseph gives multiple times throughout the day, she shows photos of detention camps like the Tornillo Detention Facility, or the "tent city," in south Texas where the government is housing 1,500 unaccompanied minors.
Volunteers with the Institute for Women in Migration are also showing migrants photos of the troops deployed to the southern border.
"A lot of people hear rumors of what's happening in the U.S. and it sounds so bad that they think it's made up," Joseph said, "so sometimes we show photos to say, 'No, this is really happening, this is real,' trying to help people understand this is what the situation has become."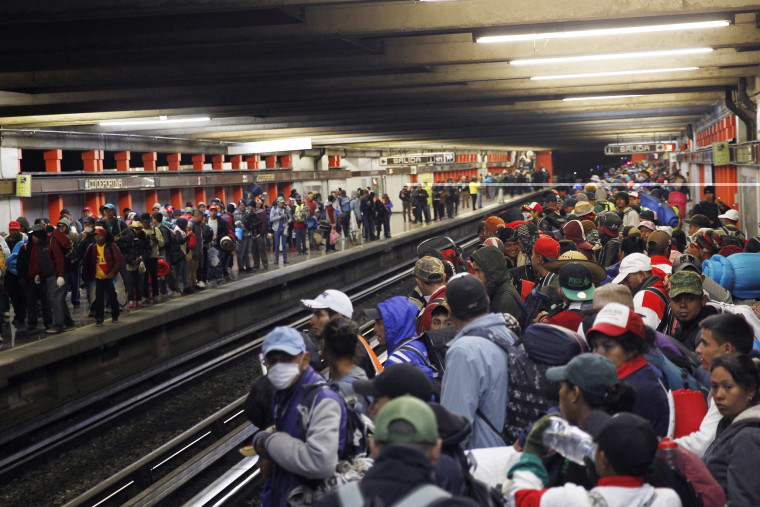 Heidy, 39, and her daughter Yuraini, 19, were one of the thousands camped outside of the stadium because there wasn't room inside for them. The mother and daughter say they were in too much danger living among the gang violence as women in Honduras.
Heidy, who did not want to disclose her last name, said she had heard of the family separations in the United States and fears, because her daughter is legally an adult, that officials will separate the two of them.
"But what other choice do we have but to move forward for the U.S. border?" Heidy asked. Her daughter, Yuraini, wants to study medicine and anthropology in America. "I'm smart," she said, "I can study both."
The two, who are both sick, will rest for the next five or six days in Mexico City and try to recover from the grueling journey before pressing on toward the United States.
They'll face more barriers.
On Friday, Trump signed a proclamation that will make it harder for them to claim asylum if they are caught crossing the border between designated ports of entry.
Asylum-seekers who do not go through ports of entry will be apprehended, detained and deported unless they can meet a higher bar, such as proving they would be tortured if they were sent home.
The American Civil Liberties Union quickly sued to block the new restrictions, calling it "the asylum ban."
Gabe Gutierrez and Bianca Seward reported from Donna, Texas; Annie Rose Ramos reported from Mexico City.