KUALA LUMPUR — Armed guards have begun 24-hour security around the Malaysian morgue where North Korean dictator Kim Jong Un's estranged half-brother Kim Jong Nam's body is being kept after an alleged break-in attempt, officials said Wednesday.
Special Forces were spotted around the Kuala Lumpur mortuary at approximately 2 a.m. local time on Tuesday, although it is unclear what time the break-in occurred.
Malaysian officials said they do not believe the North Koreans were behind the forced entering — a suspect has been identified but they didn't release any information about the person. It's also not clear what Malaysian officials classify as a "break-in."
Local news outlets reported that a South Korean cameraman was briefly detained outside the morgue at the Forensic Department of the Kuala Lumpur General Hospital after being stopped in the restricted zone. He allegedly had no identification on him, but a colleague confirmed his identity and he was released.
Related: North Korean Embassy Official Named as Person of Interest
Since Kim Jong Nam's death on Feb. 13, no claims have been made to the body, but police have asked for DNA samples from a relative to ensure that it is in fact Kim Jong Nam. Dental records and finger prints are currently being used to identify the corpse, the hospital carrying out the post-mortem examination confirmed to NBC News.
Investigators believe a toxic, liquid rubber was applied to Kim Jong Nam's face, which was lethal enough to kill him.
Royal Malaysia Police Inspector General Khalid Abu Bakar said the two women suspected of applying the deadly film to Kim Jong Nam's face knew they were handling a dangerous substance and took precautions not to poison themselves.
"You see the lady moving away with her hands like this toward the bathroom, to the washroom," Khalid said during a press conference. "So she knew very well that it is toxic and she needed to wash her hands."
North Korean officials, however, have disputed that conclusion, saying there's no way the women could have poisoned Kim Jong Nam without poisoning themselves.
Police are highly suspicious that the poisoning was planned.
Surveillance video shows the two women walking up to Kim Jong Nam at an airport kiosk, holding something over his face for a few seconds, and then walking away. Malaysian police say the two women, one Vietnamese and the other Indonesian, have since been arrested.
Related: Video Shows Moment Kim Jong Un's Brother is Attacked
Two other people have been arrested: a Malaysian man — believed to be the boyfriend of the Indonesian woman — whose court remand has now expired, and a North Korean man working at a Malaysian company.
Malaysian police said Wednesday they also were seeking the second secretary of North Korea's embassy in Kuala Lumpur, identified as Hyon Kwang Song, and an employee of North Korea's state-owned airline, Air Koryo. Four other suspects identified by police have left Kuala Lumpur and are now believed to be back in Pyongyang.
Khalid couldn't confirm whether North Korea's government was behind Kim Jong Nam's death but added, "What is clear is that those involved are North Koreans."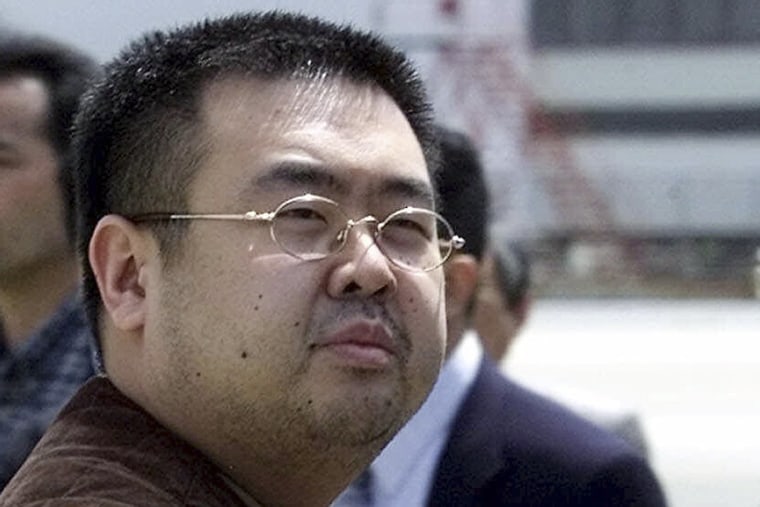 Police have sought cooperation from Pyongyang and the embassy in the investigation, but North Korea has accused Malaysia of working with South Korea. North Korea described the Malaysian investigation as politically motivated.
Although experts don't suspect the two countries will severe their diplomatic ties, it is possible Malaysia could withdraw it's Pyongyang embassy in retaliation for an apparent assassination attempt on its soil.
If a family member doesn't claim Kim Jong Nam's body, it is possible it will be released to the North Korean embassy and possibly returned to the North Korean capital city of Pyongyang.