They had just dropped off a fellow missionary at the Brussels Airport on Tuesday when an explosion ripped through the building.
In a sickening flash, three Mormon missionaries were badly hurt in the latest terror attack to hit Europe — a deadly attack that killed at least 31 and injured more than 200.
The three missionaries — all from Utah — were identified by the Church of Jesus Christ of Latter-day Saints as Elder Richard Norby, 66, of Lehi; Elder Joseph Empey, 20, of Santa Clara; and Elder Mason Wells, 19, of Sandy.
The fourth missionary, Sister Fanny Rachel Clain, 20, of Montélimar, France, was also hospitalized with what the church described as "minor injuries."
"He had only been in Brussels for six weeks," Wells' weeping mother, Kymberley Wells, told NBC News. "We found out when we were called early this morning. We don't know enough about his injuries yet."
In a later statement, the worried mom said Wells was undergoing an operation to repair damage to his foot.
This was not Wells' first brush with terror. He was in Boston to watch his mother run the marathon in 2013 when two Chechen immigrant brothers set off shrapnel-filled bombs that killed three and wounded scores more, his family said.
Wells was also in Paris this past November when the French capital was attacked by Belgium-based terrorists, the family said.
Empey's mother was relieved after she was able to speak with her son. "He is doing great," Amber Empey said.
The young missionary underwent surgery for shrapnel wounds to his legs and was treated for second degree burns to his hands, face and head, the Empey family said in a statement.
Wounded in the leg, Norby was able to call his wife in Brussels and let her know he was alive, his son-in-law told NBC News.

"She spoke to him once at the airport and he told her that he was hurt," Brian Allred told NBC. "His wife was on a mission with him but was attending to other things at the time."
The Norby family later said that Richard Norby, a missionary in Paris, suffered shrapnel wounds and second-degree burns in the blast. He underwent surgery and was placed in a medically-induced coma, where he is expected to remain for the next several days, and the family expects a "lengthy recovery."
"As his family, we wish to express our deep appreciation to his caring and competent medical staff and to all those who have expressed well-wishes and prayers on his behalf," the Norby family said in a statement.
"Our prayers go out to all those who were affected by this terrible tragedy and wish for the speedy recovery of all the wounded bystanders," the family said.
The trio were at Zaventem Airport escorting Clain, who was heading to a missionary assignment in Ohio and had already passed through airport security when the blast went off.
"Our prayers are with the families of the deceased and injured, including three of our missionaries who were injured and hospitalized," the church statement said. "We also pray for the people of Belgium and France as they continue to deal with the uncertainty and devastation caused by the recent terrorist attacks."
Also injured in the airport bombing was Brazilian-Belgian basketball player Seb Bellin, who had previously played hoops for Oakland University in Rochester Hills, Michigan, his team BC Telenet Oostende reported.
"Bellin played for us around the year 2000," university spokesman Brian Bierley told NBC News. "He stayed in touch with the program and has helped some of our former players get careers in Europe. He is from Belgium originally. I think he was being dropped off to the airport and was coming back to visit our coach on Friday when the bombing happened."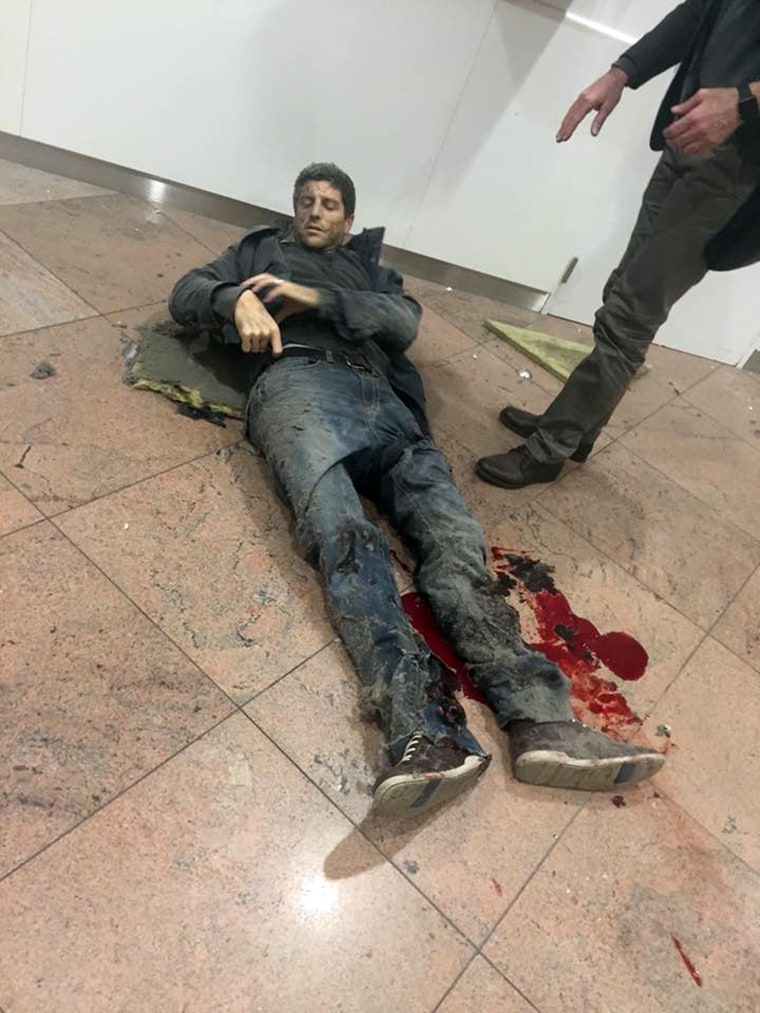 Texas-born Brad Waldow, who plays basketball in Belgium for the Port of Antwerp Giants, said he was was waiting in the terminal with a teammate for their flight to Italy when he got a "gut feeling" to get out of the area.
"He wanted food," Waldow told NBC News. "I had this gut feeling and I said, 'Let's got to our gate. I have a bad vibe. It just doesn't feel right out here'."
Five minutes later, Waldow said, he heard blasts and screaming.
"That's when everyone started running toward the back of the airport," he said. "Everyone was on their own trying to get out safely."
Waldow said as he fled he called him mother to let her know he was getting out of the airport.
"She said, 'Let me stay on the phone with you'," he said. "I said, 'Mom, if something happens I can't let you hear it. I can't put you through that'."
Meanwhile, the U.S. Air Force confirmed that a member of the Joint Force Command in Brunssum, the Netherlands, was injured along with several members of his family.
Officials did not release their names or conditions. But one U.S. military official told NBC News their injuries are not believed to be life-threatening.
In addition, a trio of Quinnipiac University students who were in the terminal at the time of the explosion were safe at the U.S. Embassy in Brussels, officials said.