Russian officials say they shot down three Ukrainian drones targeting Moscow early Sunday, hours before the start of a major military parade attended by President Vladimir Putin.
Images from a crash site in Moscow showed the façade of a skyscraper damaged on one floor, with glass shattered and structural beams snapped and deformed.
One person was injured in the strikes, which forced the closure of airspace over Moscow and outlying regions, and an hour's delay in takeoffs and and landings at Vnukovo International Airport, according to TASS. 
The incidents were the latest in a series of attempted drone assaults — including on the Kremlin and on Russian border towns — that Moscow has blamed on Kyiv. On Monday, a drone fell in the center of the capital near defense ministry headquarters, while another hit the south of the city, gutting several upper floors of a building.
The Russian defense ministry described Sunday's incident as an "attempt by the Kyiv regime to launch a terrorist attack by unmanned aerial vehicles" in a statement on Telegram, and said that three drones targeted the city.
Ukraine stopped short of taking responsibility for the latest attacks.
"There is always something flying in Russia, including in Moscow," Ukrainian air force spokesman Yurii Ihnat said on Ukrainian national television. "No matter how hard the Russian authorities want to turn a blind eye to this and say they have shot everything down, something is still arriving."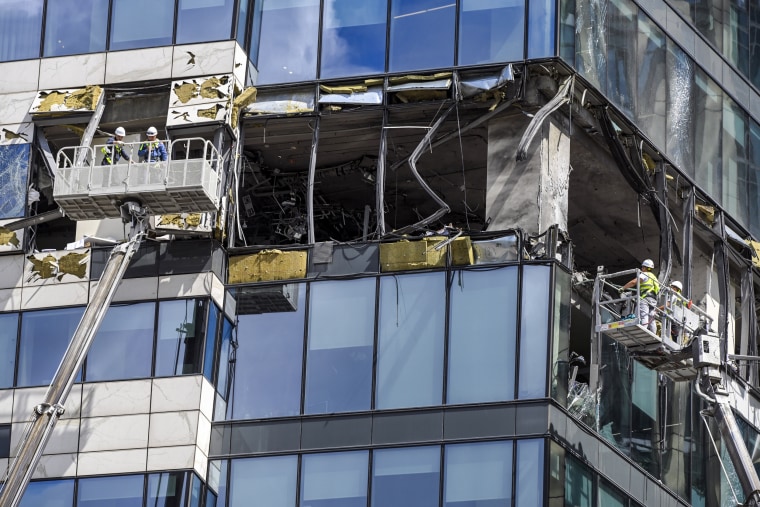 Later on Sunday in St. Petersburg, Putin presided over Navy Day celebrations, a national holiday which honors the military's sailors, celebrated on the last Sunday of July. St. Petersburg is around 400 miles northwest of Moscow.
Earlier in the month, a U.K. ministry of defense intelligence update posted said nuclear-powered submarines in Russia's northern fleet would not take part in its main review for the first time since the inauguration of the tradition in 2017, citing the need for "maintenance" as well as "internal security concerns." 
At the parade, the origins of which stretch back more than 300 years, Putin promised 30 new warships would join the nation's fleet, according to TASS. 
Iranian navy commander Rear Admiral Shahram Irani was among those at the ceremony. Iran also provided three naval vessels to participate in the parades, according to the Iranian state news agency IRNA. 
Since the invasion of Ukraine, Iran has become Russia's top military supporter, selling self-detonating "Shahed" drones and unmanned UAVs to Moscow. Russia has used these drones to attack Ukraine's energy and critical infrastructure in strikes that have killed civilians. 
Meanwhile, former Russian President Dmitry Medvedev again raised the prospect of nuclear war in the conflict.
In a post on Telegram, he said that if Ukrainian forces seized "part of our land," Russia would have to "opt for the use of nuclear weapons."
Medvedev, who is currently deputy chair of the country's Security Council, which is chaired by Putin, has periodically resorted to nuclear threats in the year-and-a-half since Russia invaded Ukraine.