LASHKAR GAH, Afghanistan — Ehsanullah, 14, was missing parts of his face and skull when he was rushed into the emergency room.
His left eyeball was crushed, his right eye missing, his forehead an open wound.
He cried out as a doctor pressed gauze over his head, the material quickly turning dark red.
"They wanted to hit the Taliban, but they bombed us instead," said the boy's mother, Qarara, who like many in Afghanistan goes by one name. "We are sinless people. How could this happen to us?"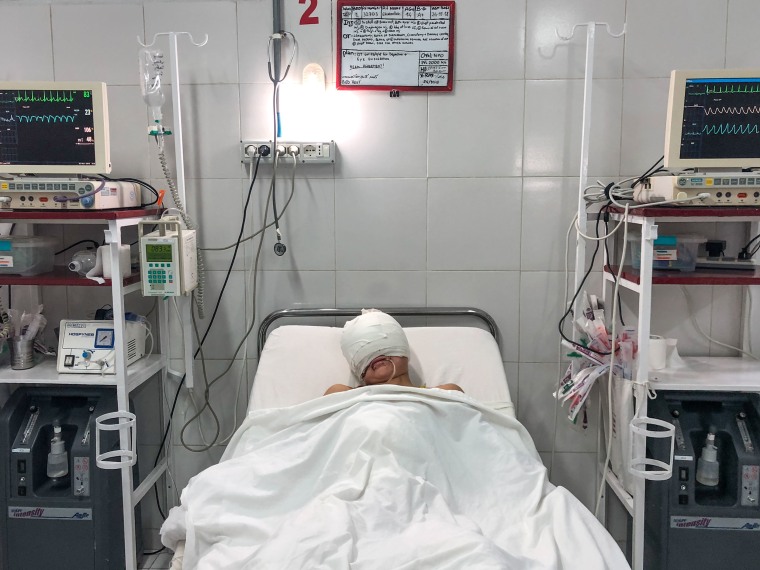 Most members of Qarara's extended family were killed or wounded on Nov. 24 when at least one airstrike called in by American forces slammed into their home in Nad-e-Ali, a village in Afghanistan's Helmand Province. Her husband, Obaidullah, and one of Ehsanullah's older brothers, Esmatullah, died, she said. Thirteen others were injured.
They are among the latest on a growing list of casualties amid an intensifying U.S. air operation aimed at forcing Taliban militants to agree to a peace deal and end America's longest war.
Qarara was hit by shrapnel and debris. Shortly after she arrived in the emergency room, doctors rolled in an ultrasound scanner to check that her unborn baby's heart was still beating. It was.
From a hospital bed, Qarara despairingly described how her family became swept up in the latest wave of violence. Near her home, Taliban militants fired at warplanes, then ran inside the house.
"My husband told them to get out," Qarara said, but a few of the fighters remained as the airstrikes hit, then fled.
NBC News could not confirm Qarara's account.
Sgt. 1st Class Debra Richardson, spokesperson for Resolute Support, the American-led NATO coalition in Afghanistan, said in a statement that the airstrike that killed and wounded members of the family was called in as self-defense, and that the Taliban had used civilians as human shields.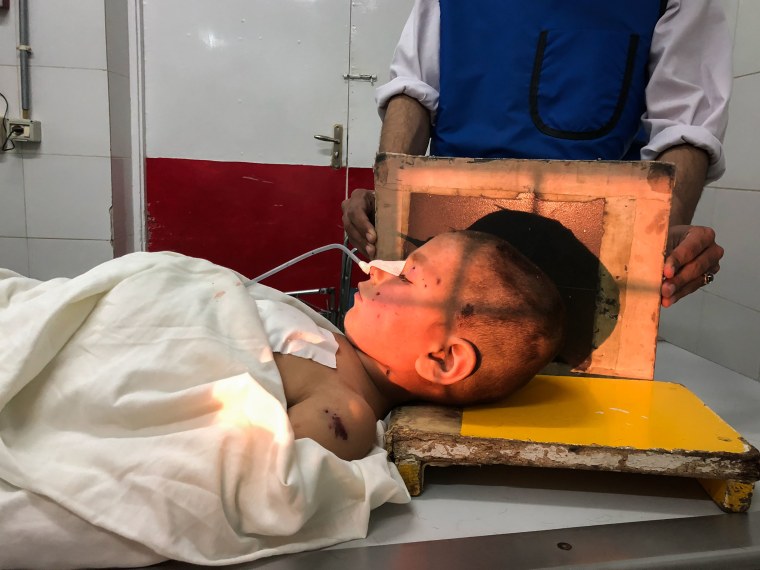 "It is often difficult to discern the presence of noncombatants inside structures when the Taliban are shooting from those locations, but we take every precaution possible," Richardson said. "We have the duty to be precise."
Resolute Support did not say exactly what was being done to avoid causing harm to civilians. Afghanistan's Ministry of Defense did not reply to inquiries. In May, Human Rights Watch criticized the U.S. and Afghan governments for not adequately investigating the civilian toll of the airstrikes.
In the first 10 months of 2018, U.S. military aircraft dropped 5,982 munitions on the country, surpassing the total for 2017, which stood at 4,361,according to U.S. Central Command data.
Meanwhile during the first nine months of 2018, the U.N. recorded 2,798 civilian deaths and 5,252 injured, a total of 8,050 casualties, the highest number in four years.
More civilians die at the hands of militants than in any otherattacks. Aerial operations, such as the one that devastated the family in Helmand, have accounted for less than 10 percent of the total casualties this year. That figure is a sharp 39 percent increase from 2017, a recent U.N. report found.
The war has also claimed thousands of American and Afghan security forces.
Close to 2,400 Americans have died since 2001 when the U.S. helped topple the Taliban government after it sheltered the mastermind of the 9/11 attacks, Osama bin Laden.
Since 2015, more than 28,000 Afghan security forces have been killed, President Ashraf Ghani recently said.
President Donald Trump's envoy to Afghanistan is reaching out to many top Taliban figures as he tries to launch peace talks and end the war before the president can pull the plug and order U.S. troops home, foreign diplomats have told NBC News.
'What will be his future?'
Survivors of the Nov. 24 airstrike were sprawled in the hospital run by Emergency, an Italian nongovernmental agency that treats those wounded in the war in Helmand's capital, Lashkar Gah.
Ehsanullah's brother, Hedayat, 4, lay covered in brown dust and blood on a stretcher. He stared blankly at the medical staff as they cut off his clothes to look at his body, which was riddled with shrapnel. His mouth curled down.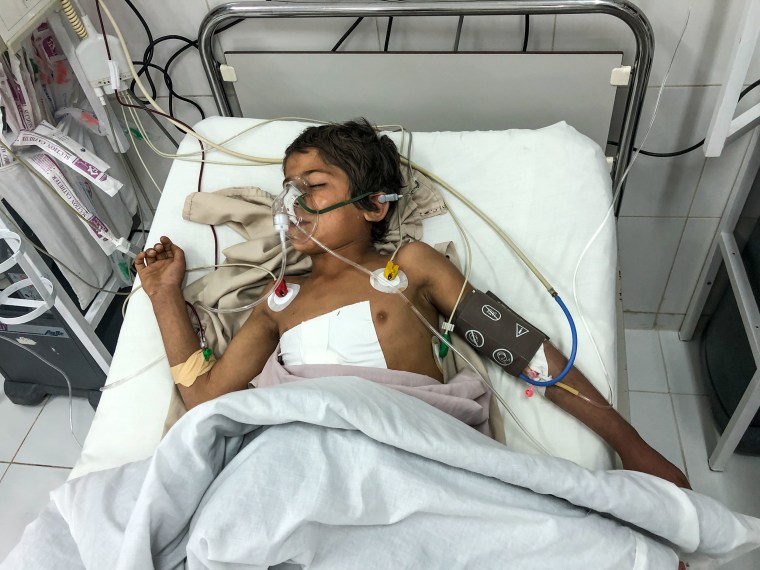 Nearby, the boys' nine-year-old sister sat in a wheelchair, a dried smear of blood staining her face. Alone and silent, she gazed distantly across the room. An older cousin told the nurses her name was Parwana.
A nurse guided Parwana on stiff, bent legs into a bathroom where the child was undressed and hosed down. The floor turned brown with dust and blood. There Parwana sat shivering on the edge of a toilet, a green towel over her shoulders. The nurse shaved Parwana's hair, revealing a bloody gash. Still the child said nothing.
Later in the evening, the girl lay with a white bandage around her head and gazed into the X-ray machine above her. She finally spoke in a whisper: "I want to go home."
Dr. Ibrahim Khushal, a senior trauma surgeon, cleaned Ehsanullah's head before wrapping a large bandage around it. After a two-hour operation, the doctor sat barefoot and cross-legged on a sofa, waiting for the next child to be brought in for surgery. He rubbed his eyes: It had been five hours since the family arrived at the hospital.
"What makes us tired is not the work. It's the thought of what will happen to the patients afterward," Khushal said. "What life will they return to? This is what makes us tired."
He added: "I am sad. A young boy with such big injuries. No eyes, brain out. What will be his future?"