American-backed forces are nearing the halfway point in their operation to liberate the ISIS stronghold of Mosul. Key to unlocking the rest of the Iraqi city are its five bridges.
The northern Iraq city is divided between east and west by the Tigris river which runs through its center.
Iraqi coalition forces, supported by the United States, say they have recaptured at least 70 percent of the eastern side during a months-long battle in the streets.
American airstrikes partially destroyed the five bridges crossing the river in order to cut supply lines to the jihadis.
Iraqi forces must now bridge these wrecked crossings and begin recapturing the western half of Mosul — all while under the gaze of ISIS snipers and rocket fire.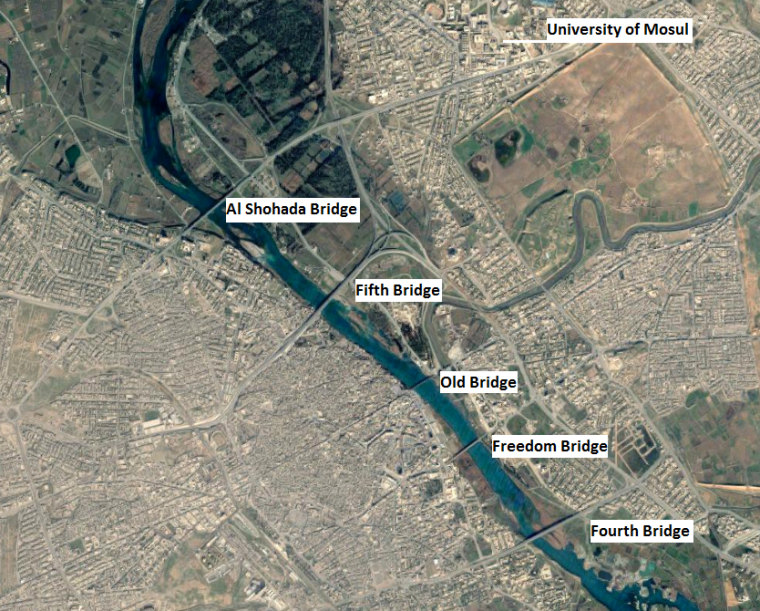 "It's going to be really tough no matter how you look at it," said Michael Stephens, a research fellow at London's Royal United Services Institute (RUSI). "ISIS have good snipers, so if you are bridging this river then you are not going to want to be stuck there for very long."
Iraqi officials announced Tuesday they had captured the middle of these five bridges, known as the Old Bridge, after reaching the southernmost Fourth Bridge and Freedom Bridge last week.
Meanwhile last week, around two-and-a-half miles to the north, Iraq's military said it recaptured Mosul's university which ISIS had been using as its area headquarters.
The capture represents a double-win as it provides a gateway to the other bridges and serves as a vantage point over the river, an Iraqi Counter Terrorism Service commander told Reuters.
Most of the militants have died or fled, and those who are left are looking increasingly ragged.
Iraqi forces "have in many cases broken the will of many of these [ISIS] fighters," U.S. Army Col. Brett Sylvia told a news conference Wednesday. "We hear a lot more and more about many of them running away."
They will likely finish clearing the eastern side before turning their attention to the bridges.
Already bombed by the U.S., these crossings have been further damaged by ISIS fighters attempting to delay the advance of the Iraqi-led coalition.
In an attempt to solve this problem ahead of time, American personnel have trained their Iraqi counterparts about how to bridge rivers, already constructing several crossings further down the Tigris.
"They've grown in their capability to do these things," Col. Sylvia told the press conference. "And I'm confident that they'll be able to continue to do that as they bring forces from the east side to the west side when they're ready to do that."
Furthermore, the "natural hiatus" provided by driving the ISIS fighters out of the eastern side of the city will give Iraqi forces breathing space to plan and complete their crossing, according to Stephens at RUSI.
"The idea was that once they took the eastern bank there would be a momentary pause," he said. "Once you have taken all that part of the city, ISIS cannot get across to you."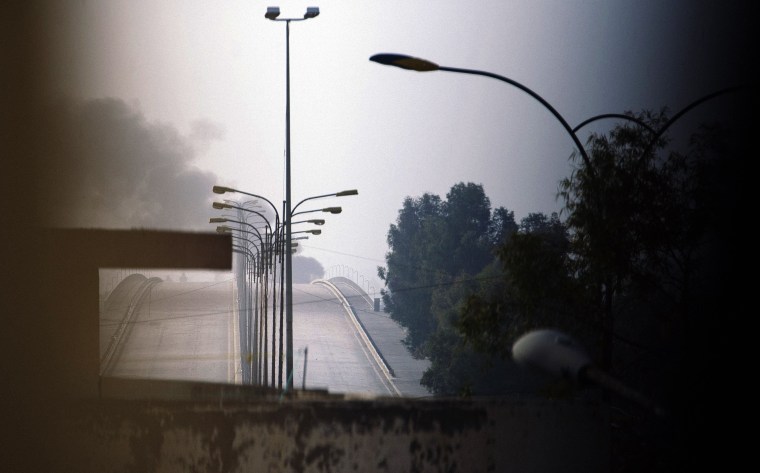 Nevertheless, getting across the Tigris river will be a daunting task.
Iraqi forces will likely use bridging vehicles to gap the partially-destroyed bridges because "there's no way that these things can be reconstructed in the time frame," Stephens said.
Setting up a temporary bridge takes up to 10 hours, according to a senior Iraqi security official speaking to NBC News on condition of anonymity.
That's a long time to be in the crosshairs of ISIS snipers.
"ISIS militants on the other side of the river will surely target those who are going to work on setting up those temporary bridges," the senior Iraqi official said.
And there are other challenges.
"Fixing these bridges would be easy if Iraqi forces controlled both sides and it was summer," the official added. "But working on these bridges now will take a long time because it is winter and the other side is not under the control of Iraqi forces."
Iraqi authorities have also received intelligence that ISIS plans to blow up what remains of the structures, according to the official, who appeared to concede there was no concrete plan for crossing the river. He said one option might be to send some forces to cross the river south of Mosul and work their way up to liberate the opposite side. Controlling both banks of the river would make it easier to establish temporary crossings.
Whatever the plan, "there's going to have to be some sort of complementary offensive from the south or the south west," according to Stephens at RUSI.
Although the operation has sped up in recent weeks, thanks in part to better tactics in dealing with car bombs, recapturing eastern Mosul has been a brutal effort.
The western side — with its older, narrower streets — is going to be even harder.
"The fight in the west part of Mosul is going to be more difficult because ISIS fighters has nowhere to go to go — they will have to fight until the end," the senior official said. "ISIS militants also moved hundreds of families from the east to western part of Mosul in order to use them as human shields."
Stephens estimated there are between 3,000 and 6,000 ISIS fighters in the western half of the city.
"It's going to be much more difficult logistically and topographically," he said.