As the annual climbing season on Mount Everest nears its peak, a price war among guiding outfits is adding to tensions between native Nepalese Sherpas and the Western guiding outfits that offer to take climbers to the world's highest point for a steep price.
The dispute has been building for several years, but it generated new acrimony this year after some operators went public with concerns that the newer cut-rate competitors are cutting corners on safety to keep prices low.
The issue often boils down to an East-vs.-West conflict, but some more established Nepalese guide service also are expressing concerns about the upstarts.
"There are definitely inexperienced guides taking people up the mountain," Pemba Sherpa, founder of Sherpa Ascent International, told NBC News. "I see it more and more recently."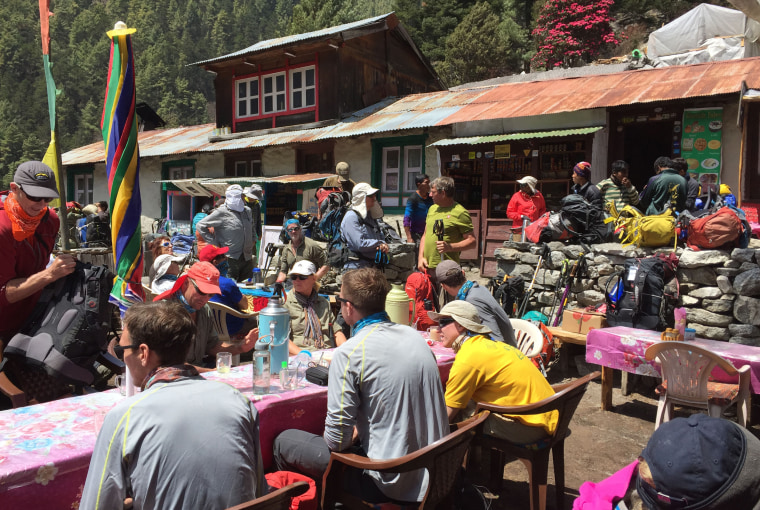 Willie Benegas, co-founder of Benegas Brothers Expeditions in Salt Lake City, said many of the low-cost operators also use old equipment to save money. That enables them to charge clients as little as $20,000 for an assault on the mountain, far less than the $40,000 to $60,000 that many established companies charge. (Some luxury outfits charge clients as much as $100,000).
Some of the newer operators also are employing Sherpas with no experience to carry loads up the mountain, Russell Brice, owner of top European expedition company Himex, recently told Agence France-Presse.
"The new lot, they hire these young boys who have never been on a mountain and their first trip is carrying loads to the South Col," he warned. "How is that fair? Who is looking after them?"
Adding to the concern is the growing popularity of Everest, which continues to draw climbers from all over the world bent on conquering the 29,029-foot-tall peak. That means more people venturing onto the higher reaches of the mountain who are not seasoned veterans of high-altitude climbing, Pemba Sherpa said.
"So many people want to climb the mountain," he said. "There are a lot of inexperienced climbers, too."
That only adds to the dangers of a mountain capable of killing even the most experienced mountaineers, say Sherpa and Western guides.
The safety worries come after several particularly deadly years on the mountain.
Two years ago, 16 Sherpas were killed when an avalanche swept down the Himalaya mountain and hit them as they fixed a route through the dangerous Khumba Icefall, putting a spotlight on the dangers the native guides face. In 2015, another avalanche hit Everest in the wake of a devastating 7.8-magnitude earthquake, killing 22 climbers.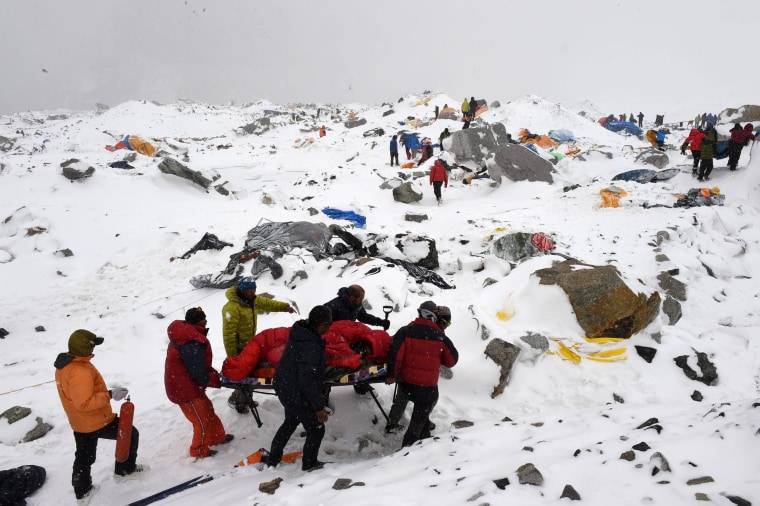 In many parts of the world, the word "Sherpa" is considered synonymous with mountain guide, but the Sherpa people do myriad other jobs, from farming in the countryside to working in offices in Nepal's capital, Kathmandu. In a country where the average annual income is around $730, however, many are persuaded to face the dangers of being a guide or a supply climber for the chance to make thousands of dollars in only a few months.
But the uneven way that the guiding service clients' cash is divided, and incidents where the Sherpas say they have been disrespected and endangered by Westerners have been increasing tensions. The divide between foreigners and locals boiled over into a violent confrontation in 2012 involving three Europeans and around 100 Sherpas.
"Nepal is very important to me. I don't want it to be us versus them."
It's a sensitive situation that Benegas, who was born in Argentina but now lives in Salt Lake City, said he doesn't want to inflame.
"Nepal is very important to me," he told NBC News. "I don't want it to be us versus them."
Climbing Mount Everest is a high-risk endeavor in the best of conditions. There are narrow paths and falling ice chunks, as well as deep crevasses and steep cliffs that have to be crossed with ropes and ladders. A good guiding outfit will have an experienced base camp manager, quality equipment, carefully planned safety protocols and guides willing to cut a climb short if conditions become dangerous, even if that means less trips and less money, Benegas said. According to Benegas, top Sherpa guides hired by companies like his can take anywhere from $4,000 to $12,000 home for a season of work.
Low-cost operations, on the other hand, try to make money with a high volume of clients, but can't afford to pay for experienced help and buy good equipment, he said.
For example, Benegas said, companies that charge clients $20,000 are operating on thin margins to begin with after paying the $11,000 permit fee that the Nepalese government collects from every foreign climber.
That means they sometimes pay as little as $800 to Sherpas with little climbing experience — still a good haul compared to the average pay in Nepal. And while some guides go to climbing schools and become certified by groups such as the International Federated Mountain Guides Associations, no certification is necessary to take people up Mount Everest and clients often may not know how well-trained their guide is.
"From the comfort of home, the differences in services and support might not seem too great. But when things go awry, the differences can quickly become priceless."
Todd Rutledge, director of Mountain Trip, told NBC News that he isn't worried about competition from budget operations, since his company caters to a small group of experienced, returning climbers. But he said he can see how cheap packages would be tempting.
"From the comfort of home, the differences in services and support might not seem too great," he said. "But when things go awry, the differences can quickly become priceless."
Benegas said that the low-cost operators also can impact other climbing operations because they sometimes have to rescue people who become stranded on Mount Everest. The problem is exacerbated when too many climbers are sent up at one time instead of in staggered groups, he said.
Solving the problem will take government action, according to Benegas and Dennis Broadwell, director of Mountain Gurus, which offers trips to Everest.
"We'd like to see wages and insurance standards for local workers go up," Broadwell told NBC News.
NBC News reached out to Nepal's Ministry of Culture, Tourism and Civil Aviation to ask if it believed that inexperienced guides could pose a safety problem on the mountain and whether stricter regulations could improve safety, but the agency did not respond.
With few legal restrictions, low-cost operations are able to charge less and attract customers who might not know better, according to Broadwell. That could force higher-end outfits to either hire cheaper labor or go out of business.
"We care about local workers and their communities," Broadwell said, "but like any business we need to compete, so it's difficult to provide a higher standard with downward pressure."