Fancy recliners with pillows and blankets. Portobello sliders with truffle fries. Food and drink that appears as if by magic, delivered by "ninjas." This is not your grandfather's moviegoing experience.
As services such as Netflix and video on demand make watching movies at home more appealing, movie theaters are fighting back, taking the benefits of the at-home experience and even upping the ante. Hate stumbling for a seat in the dark and ending up craning your neck from the front row? Some chains now allow you to reserve seats in advance -- and those seats are often upgraded and roomier. (Of course, they may also come at a premium price.)
And forget popcorn, Sour Patch Kids, and those hot dogs that have been spinning around on those rollers since George Clooney was Batman. Think upscale eats, the kind you'd get in a restaurant.
"Studies we did showed that 78% of people eat before or after the movie," said Hamid Hashemi, president and CEO of iPic Entertainment, which offers luxury theaters with dinner service. "It was a natural to bring that experience within the same facility. In doing that you give back to people some of their time, which is the most precious commodity we have."
Buy a premium movie ticket in one of iPic's nine locations spread across seven states and expect to spoil yourself during the show: every seat is a plush leather recliner with complimentary pillow, blanket and popcorn. Additional menu items (including portobello or Angus beef sliders and shrimp or chicken flatbreads, truffle fries, salads transformed into finger food and a variety of cocktails and drinks) are available at the touch of a button. 
While not every film fan will be equally excited about the idea of watching a movie while noshing near strangers, Hashemi says iPic does everything possible to limit noise and distractions during the film. They've dubbed their black-clad servers "ninjas" for the way they're trained to crouch along each theater's ample aisles (seats are separated into pairs) and deliver and retrieve plates without notice. Judging by enthusiastic user comments on consumer review sites like Yelp, iPic leads the pack in their field. They're scheduled to expand into six additional markets -- including New York, New Jersey and Philadelphia.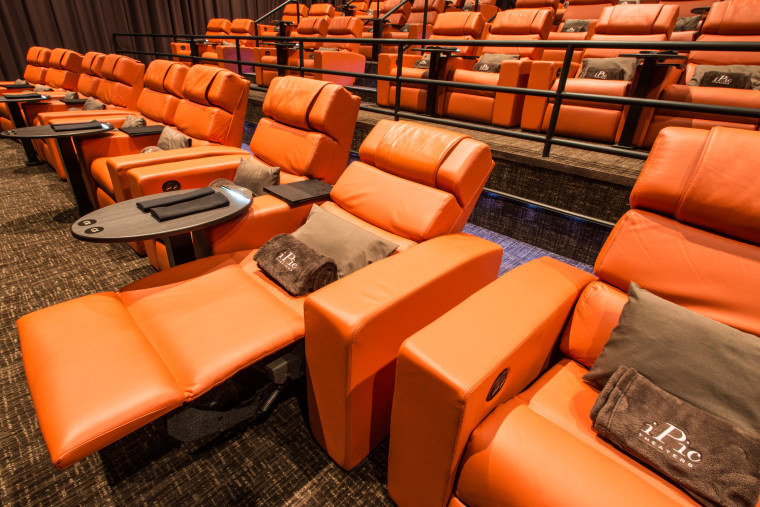 The Alamo Drafthouse in Austin, Texas was founded in 1997 and quickly became a trailblazer, distinguishing itself as not just a unique place to hang out and see a film, but a spot to sample a variety of beers and a full meal during screenings. Alamo Drafthouse has since grown into a franchise, including six other Texas locations plus theaters in six additional states.

And they're not alone. AMC, the nation's second-largest theater chain, has also entered the fray with two concepts: the family-friendly Fork & Screen; and Cinema Suites, exclusively for adults 21 and over. Currently offered in 11 theaters across nine states, all venues include alcohol and a variety of menu items ranging from fish and chips or burgers to full blown entrees like blackened salmon or chicken alfredo.
For a hipster alternative, Brooklyn's Nitehawk Cinema creates themed menus for the major movies it screens. Sample items include the recent spicy shrimp and grits tied to "Django Unchained" and "This Happens in Texas Frito Pie" inspired by the Casey Affleck Texas-set indie "Ain't Them Bodies Saints." There's also a year-round regular menu and de rigueur cocktails and drinks. Owner Matthew Viragh believed so strongly in the concept he successfully fought to overturn an arcane Prohibition-era law that barred the sale and consumption of alcohol in movie theaters in New York state up until 2011.
Similarly trendy Living Room Theaters has locations in Portland, Ore., and Boca Raton, Fla., and lives up to its name by providing a cozy, intimate viewing experience and food service up to 30 minutes before showtime (they prefer not to serve during the screenings). Other newcomers to the scene include the Cinepolis luxury chain in California and LOOK Theater in Dallas.
Of course, all the perks in the world won't do much good without the most important product in any theater: a movie people want to see. And with some of 2013's predicted blockbusters ending up as bombs -- we're looking at you, Johnny Depp's "Lone Ranger" -- moviegoers may want to turn those premium-theater drinks into doubles.