At least seven people were killed Monday after what Doctors Without Borders called a "deliberate" airstrike on one of the hospitals they support in Syria.
The aid group, also known as MSF, said eight staff members were missing and presumed dead following the aerial assault on the facility in Idlib province's town of Maaret al-Numan.
Five patients, a caretaker and a guard were among the dead, MSF added. Other patients were still missing, but their numbers were not currently known, the group said.
"This appears to be a deliberate attack on a health structure," the group's head of mission, Massimiliano Rebaudengo, said in a statement. "We condemn this attack in the strongest possible terms."
The hospital — which had 54 staff, two operating theaters, an outpatient department and an emergency room — was reportedly hit by four missiles in two attacks within a few minutes of each other, according to MSF.
MSF did not suggest who may have been behind the attack, although the Britain-based Syrian Observatory for Human Rights blamed Russian warplanes.
The State Department blamed the despotic Bashar Assad regime and his Russian backers for the carnage.
"That the Assad regime and its supporters would continue these attacks, without cause and without sufficient regard for international obligations to safeguard innocent lives, flies in the face of the unanimous calls" by the International Syria Support Group to protect civilians, State Department spokesman John Kirby said in a statement.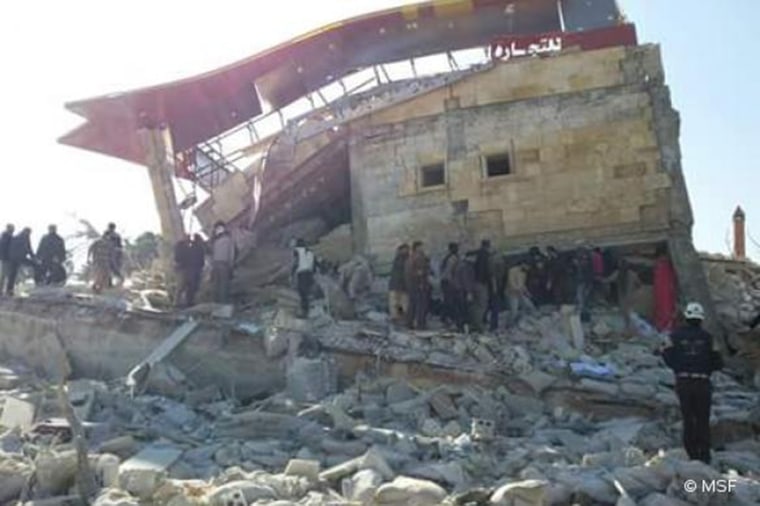 Alaaeddin Alzaeem went to help with the rescue efforts after rockets hit the hospital for women and children in Azaz city.
"It's broken in the hospital — everything," he told NBC News by Skype.
He, too, blamed Russian warplanes for dropping the rockets Monday.
"The streets, all, it's empty because Russians target Azaz," he said. "Russia and the regime killing us every day, and nobody do anything."
Moscow says its airstrikes in Syria target terrorist groups — including ISIS — but Western officials have accused Russia of launching strikes in support of Syrian government forces.
Amnesty International said Monday's airstrikes were "just the latest" in "scores of apparently deliberate attacks" on hospitals and medical facilities.
"Russian and Syrian forces know full well that deliberate attacks on medical facilities are war crimes," the rights group said in a statement. "All parties to the conflict must cease such horrific attacks, stop destroying medical facilities and allow medical workers to carry out their life-saving work without fear of being killed or injured in the line of duty."