A vehicle containing U.S. personnel "destroyed potential evidence" on Thursday by forcing its way onto the ruined site of a hospitalbombed by American forces in Afghanistan, the charity said.
Doctors Without Borders, which ran the facility in Kunduz, initially said the vehicle was a "U.S. tank," but later corrected its statement and said it was an armored vehicle without specifying a country.
The charity, which is also known as Médecins Sans Frontières (MSF), said in an emailed statement to NBC News that it had been informed the vehicle contained a delegation from a "U.S./NATO/Afghan investigation team" looking into the incident. It did not say who provided that information.
The charity said the vehicle's "unannounced and forced entry" through the gates had also frightened staff and damaged property.
Three U.S. military officials confirmed to NBC News that an investigative team traveled to the site, but none could say for sure what type of vehicle was used.
The officials, who spoke on condition of anonymity, speculated that it was an APC (armored personnel carrier), and one official said it was likely German, given the area.
Gallery: Inside Doctors Without Borders Hospital Bombed by U.S.
The incident comes almost two weeks after a U.S. AC-130 gunship bombed the compound, killing at least 22 people including 12 members of staff.
The facility was helping treat casualties from Taliban-related violence that had swept the city.
After the U.S. gave shifting explanations for the incident — which MSF has called a war crime — President Barack Obama apologized to the charity last week. The U.S. and Afghan governments have launched three separate investigations but MSF is calling for an international inquiry.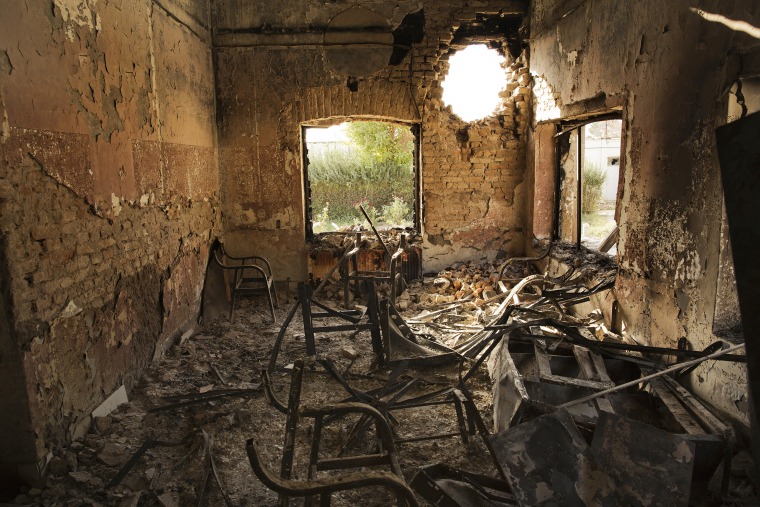 The vehicle forced its way through the closed main gate of the bombed-out compound at 1:30 p.m. on Thursday (5 a.m. ET), according to the charity. MSF has since pulled out of the derelict site, but said one of its teams arrived earlier on Thursday to visit the crumbling building.
It said the "intrusion" contravened an agreement between MSF and the joint investigation team that the charity would be "given notice before each step of the procedure involving the organization's personnel and assets."
It added: "Their unannounced and forced entry damaged property, destroyed potential evidence and caused stress and fear for the MSF team."
MSF said that since the announcement of the triple investigations, it has made it clear it would cooperate, "insofar as procedural standards are respected and other security or logistical constraints allow."
In a statement issued to NBC News on Friday, coalition spokesman Col. Brian Tribus said: "We are aware of the incident and are looking into what happened."