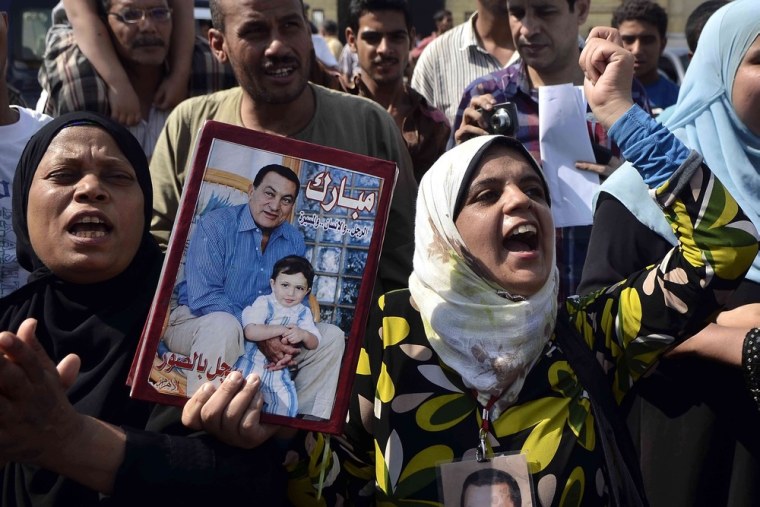 CAIRO – The release from prison of Egypt's deposed autocrat Hosni Mubarak is the latest sign that the troubled country has rolled back to its pre-Arab Spring order – a shift that some conflict-weary Egyptians might even welcome.
The military man, who ruled Egypt for 30 years with an iron fist until he was overthrown in the 2011 uprising that shook the Arab world, was flown from jail Thursday afternoon after more than two years in detention.
He will remain under house arrest, and faces other cases that could see him back behind bars. But for now, he's out.
His release from prison was inconceivable less than two years ago, when he was toppled by angry Egyptians seeking freedom from his army-backed regime.
Autocratic, but stable
Despite widespread dismay at Wednesday's court's ruling that Mubarak should be released, some Egyptians – worn down by a stalling economy and the missteps of the democratically elected Islamist government of Mohammed Morsi – are softening their opinion of him.
"I'm happy he will get out," said unemployed 28-year-old Nadia Saad on Wednesday. "He was a good man. In his last speech, he said there would be chaos, and there was. In his time, it was secure and we could eat. Not like now."
With Egypt now mired in a deadly conflict between Morsi's Muslim Brotherhood and supporters of the security forces, Mubarak's era of stability – and support from the United States – looks to many as a better time.
Still, despite a spoof election campaign poster circulating on social media calling for Mubarak to run Egypt once more, there is no real chance of a political comeback for the 85-year-old.
Return of the old guard?
But Mubarak's military friends and judicial allies are in power, and the opposition Muslim Brotherhood has been pinned back by the arrest of its leadership. A new constitution could see it outlawed altogether.
"Most of the current ministers, and many of the judges, are from the Mubarak era – the old guard is still around," said Shadi Hamid, director of research for the Brookings Doha Center.
"The situation is much worse now than before the Arab Spring," Hamid said. "There was repression under Mubarak but people were able to speak out openly and there was never this notion of eradicating Islamists completely from politics. The military is much more at the heart of things now than under Mubarak."
However, leading figures in Egypt's judiciary, who publicly opposed Morsi's presidency, deny that Mubarak's release will lead to a return of his style of autocratic rule. 
Tahani Al Gibali, a former judge in Egypt's Supreme Constitutional Court, told the Wall Street Journal that suggestions of such were "an insult to the Egyptian legal system that is just implementing the law."
"Mubarak is being treated just like any other ordinary citizen under criminal law," he said.
From 'good' to 'unfair'
Egyptians offer mixed views on what Mubarak's release means for the legacy of the Arab Spring and the future of the country.
"Of course it will be unfair, after all that happened, to see someone in authority going free," said Morad Girgis, a 33-year-old pharmacist, standing on the streets of the upscale neighborhood of Zamalek. "We know he was corrupt ... Even if he was involved in killing protesters, he was charged, so then he should be punished."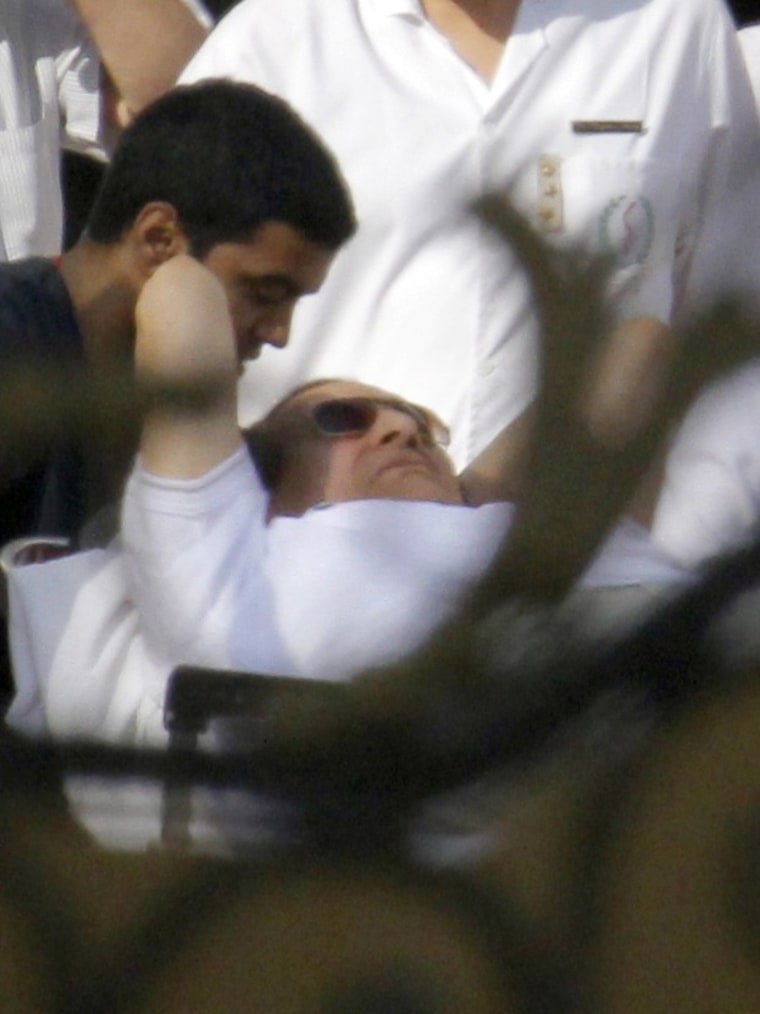 Maged Gamal, a 26-year-old lawyer, felt differently. "It's good and bad. What is good is that in Mubarak's era there was security. But what was bad was that there was thuggery in the army and police."
Others remain optimistic the military leaders will usher in a civilian government.
"I want a statesman who can take us out of this dark tunnel and gain control over terrorism," said Sabry Abdel Hamid, a young lawyer who was outside Tora prison when Mubarak was taken out Thursday. "And provide social justice, a good standard of living for people and human rights." 
As Mubarak's helicopter hovered over the military prison Thursday, a few supporters on the ground waved pre-2011 pictures of the former leader.
"People talk about the dangers of fascism in Europe but that intolerance – the desire to completely eradicate the opposition – is precisely what we are seeing in Egypt at the moment," said Hamid.
Related: