MAINZ, Germany — Provocative labels featuring 1950s-style pin-up models on milk bottles have triggered an online storm, with critics condemning the designs as sexist and racist.
The Christmas special edition containers of "Müllermilch" in Germany and Austria feature cartoon women wearing little clothing and striking provocative poses.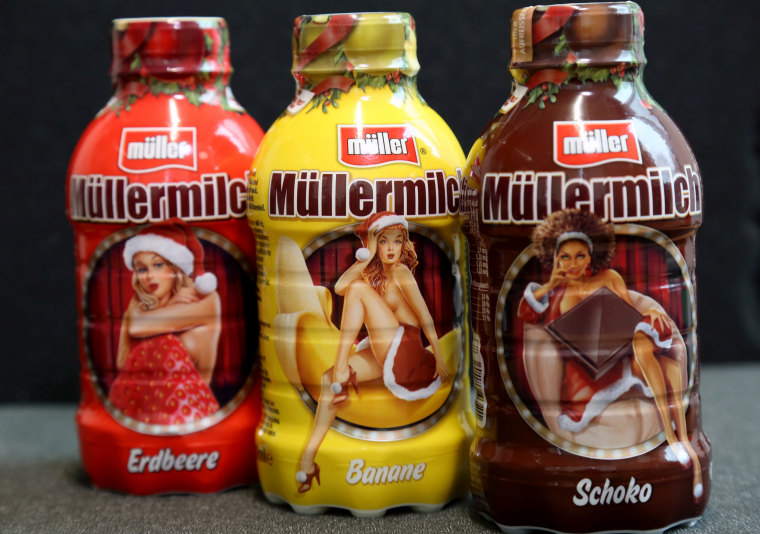 The designs have not gone down well on social media, with users posting under the #ichkaufdasnicht — or "I am not buying that" — hashtag.
"The layout of the #muellermilch makes seriously makes me want to punch someone," Twitter user Rike Wunsch wrote.
A German feminist group called Pink Stinks posted an online petition that has already been signed by more than 13,000 users and urged German advertising regulators to take action over the bottles.
The group said the problem was not with the cartoons' lack of clothing but the depiction of women "as a decoration" and a regression to the gender politics of a bygone era.
"Müller is presenting a 1950s perception of women — weak and subservient — which does not at all reflect the modern image," Pink Stinks campaigner Jacob Fricke told NBC News.
The cartoons also provoked allegations of racism. The chocolate-flavored version of the milk drink was adorned with the depiction of a dark-skinned woman named "Sharon Sheila Schoko" — schoko is German for chocolate — whereas other flavors featured white women.
The woman appears to be covering up her naked body with a large piece of dark chocolate.
Müller said in a statement that "racism in any form is not at all our intention." It added: "We would have faced exactly the same wrong accusation, if we hadn't chosen Sharon Sheila Schoko but had instead gone with exclusively white motifs."
It defended against the allegations of sexism by saying that the "1950s pin-up poses" featured on the bottles "are much less revealing than what has become the daily standard in terms of naked flesh on TV and in advertisements in recent years."
The Christmas edition of the drink features the message "Happy Holidays of Love" and will be available until December. It follows other special labels, which in the past have included the soccer World Cup in Brazil, a "WhatsApp" edition, and most recently one for Halloween.
A spokesperson for Müller told NBC News that the company had also "had some very positive consumer feedback" about the Christmas product.