LONDON — Four people have died and another was injured after a large explosion took place at a water recycling center in southwestern England, local police said Thursday.
Avon and Somerset Police earlier declared the explosion a "major incident" and said it was believed to have involved one of the chemical tanks at Wessex Water's Bristol water recycling center in Avonmouth, a port and outer suburb of the city of Bristol on the Severn Estuary.
Three of the deceased were employees of Wessex Water and one was a contractor, Chief Inspector Mark Runacres of Avon and Somerset Police said in a press conference. The fifth person's injuries are not believed to be life threatening, he added.
Download the NBC News app for breaking news and politics
The explosion happened in a silo that holds treated biosolids before they are recycled to land as an organic soil conditioner, Runacres said. He declined to speculate on the cause of the explosion and said a full investigation into the incident will be conducted.
He said the explosion was not being treated as a terrorist incident and police believed there was no further risk to members of the public.
The police earlier said in a statement that fire, ambulance and police services were called to the site of a large explosion at around 11:20 a.m. local time (6:20 a.m. ET.) A rescue operation was subsequently led by the fire service, police said. Runacres said the search of the site was now complete and that police believe everyone has been accounted for.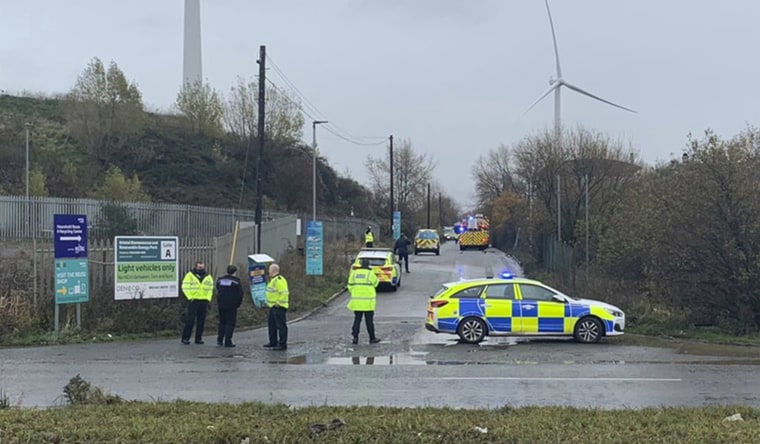 A spokeswoman for the police earlier told NBC News that a national police air service helicopter and a police drone were used in the operation, as well as fire and police crews on the ground.
Wessex Water Chief Executive Colin Skellett said in a statement put out by the police that "we are absolutely devastated that the tragic incident at our site earlier today has resulted in four fatalities."
Skellett said Wessex Water was working to understand what happened and why.
Bristol City Mayor Marvin Rees, said that the thoughts of the city were with the families of the deceased at this "heart-breaking time."
Prime Minister Boris Johnson also offered his condolences, tweeting that he was "deeply saddened" to learn of the four deaths.
Avon Fire and Rescue Service initially said in a statement that they were called to a large explosion in a warehouse in Avonmouth at 11:22 a.m. local time (6:22 a.m. ET). A spokeswoman for the service later told NBC News that the site was a water waste treatment works.
Bristol Waste, which runs the Avonmouth recycling center, said it had closed the center due to an incident at a nearby site but did not give further details.