Witnesses to a shooting spree in Munich, Germany, that killed nine people recalled harrowing scenes of terror and panic Saturday as a memorial grew outside the shopping center where the attack took place the day before.
Huseyin Bayri, 29, who was at the Olympia Einkaufszentrum when an 18-year-old gunman opened fire Friday evening, told reporters that he held a teenager who was shot and comforted him as the victim succumbed to his wounds. All the while, Bayri was thinking he would be next as the shooter came closer.
"I saw the boy beside me — I didn't know him but I took him straight to my heart — had fallen down," Bayri said. The boy was shot three times, he said.
"I tried to keep his wounds shut while the attacker was still shooting. The shots were getting closer. And I thought to myself: 'This is it. Now you're next, Huseyin,'" Bayri said.
Related: 'No Indications' Munich Shooting Rampage Linked to Terror Groups, Police Say
Bayri said he tried to comfort the boy, asking him his name, where he lived, and whether he had a girlfriend.
"'Your injuries aren't that bad, brother,' I said to him. 'The ambulance is already on its way. Don't worry, everything will work out.' Then he died in my arms," Bayri said.
Bayri is haunted by the boy's final words. "I can't get those words out of my head: 'Please help me, please help me.'"
Bayri said he heard the shooter yell "I will kill you all" and "I am German" before the first shots rang out.
The gunman fatally shot himself in the head after police made contact with him, authorities said.
The rampage paralyzed Munich, and authorities shut down all mass transit and some highways as police conducted a manhunt for what was initially to believed to be multiple gunmen. Police later said the shooter acted alone.
Searches revealed that the 18-year-old shooter, who was described as a German-Iranian born and raised in the Bavarian capital, had "looked intensively" at the subject of "shooting rampages," Police Chief Hubertus Andrae told reporters Saturday.
"There is no indication that there is a link to ISIS," Andrae said.
Germany's top security official Interior Minister Thomas de Maiziere said other information showed the shooter, whom he identified only as David, had researched a 2009 school shooting in Germany, and the bomb and gun attacks in Norway by Anders Behring Breivik, who killed 77 people exactly five years ago Friday.
Andrae said seven of the victims were teenagers; a 20-year-old man and a 45-year-old woman were also killed. All were residents of Munich, he said. One of the those killed was a Greek citizen, that country's foreign ministry said Saturday.
Twenty-seven people were hospitalized, including four with gunshot wounds, Andrae said.
"I saw a bloodbath, with the bodies lying on the ground," said another witness, Dardan Hassan. He said he spoke to the mother of a wounded victim, and told her the young man would make it, "but he was saying to me 'I don't want to die but I am dying.'"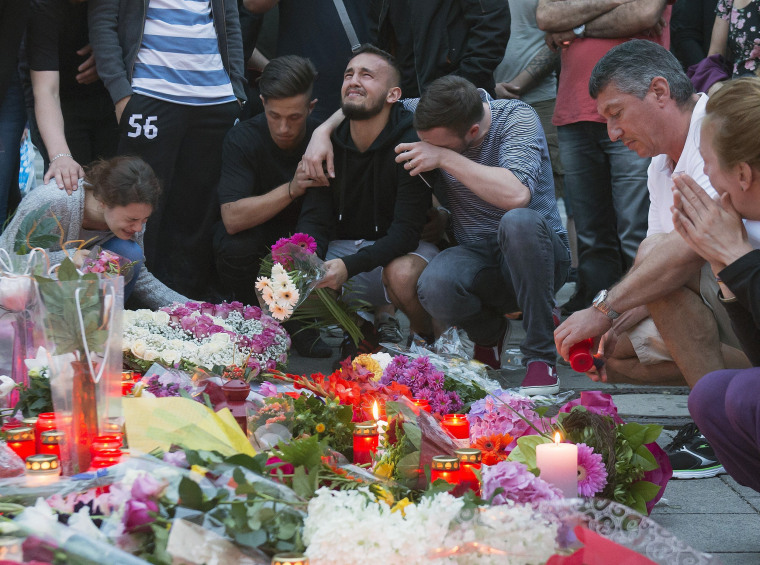 Another man's son told him not to come into the mall. "My son was there and when he told me he was fine, I didn't believe it and came immediately because I live here. Then I saw the terrible things that had happened. Bodies on the ground ... unbelievable," said Bayri Hidayet. He said he saw eight bodies on the ground, and all of the victims appeared to be "young people."
Franco Augustini, who lives near the mall, said his daughter hid in the shopping center during the attack.
"Next to our flat was a woman who was full of blood," Augustini said. "My wife had a bottle of water. Then we helped to wash her. It was horrible and made me speechless."
Munich's mayor, Dieter Reiter, declared a day of mourning Saturday for the victims of "this terrible act."
German Chancellor Angela Merkel called a special meeting of her government's security Cabinet, meeting Saturday with de Maziere, other ministers and the head of the country's security agencies.
After the meeting, she pledged that Germany would "do everything possible to protect the security and freedom of all people," saying that in the wake of an attack earlier in the week near Wuerzburg and the deadly attack in Nice, she understood Germans are wondering "where is safe?"
"Such an evening and such a night is difficult to bear," she said of the Munich attack. "And it's even more difficult to bear because we have had so much terrible news in so few days."