Pakistan's military intelligence agencies will investigate the murder of a human rights activist, shot after she hosted a talk on disappearances and killings in Baluchistan province where the army is fighting separatists, the military said on Saturday.
Sabeen Mahmud was leaving her Karachi cafe, where she holds art exhibitions and talks, when gunman on a motorcycle attacked her on Friday evening. Her mother, who was with her, was wounded, police said. Military spokesman Asim Bajwal condemned the killing in a message on his Twitter feed and said the intelligence agencies had been tasked to help investigators apprehend the perpetrators.
Nobel Prize winner and Pakistani activist Malala Yousafzai, who survived a Taliban attack in 2012, called Mahmud a "courageous human rights activist."
"I call on authorities to arrest the perpetrators of this crime and to protect Pakistan's human rights and peace activists, especially those facing death threats," she said in a statement.
Prime Minister Nawaz Sharif and the U.S. embassy in Islamabad also condemned the killing. Mahmud had just hosted a seminar called "Unsilencing Baluchistan", focusing on the disappearance of political activists in the southwestern province.
Rights activists accuse the military security agencies of carrying out extra-judicial killings of separatists in the province. Hundreds of people have disappeared and later been found dead in recent years. The military denies any role in the killings. Mahmud was also a prominent critic of Islamist militant violence.
The army has vowed to end the Baluchistan insurgency being waged by separatists who say their province's mineral and gas resources are unfairly exploited by Pakistan's richer provinces.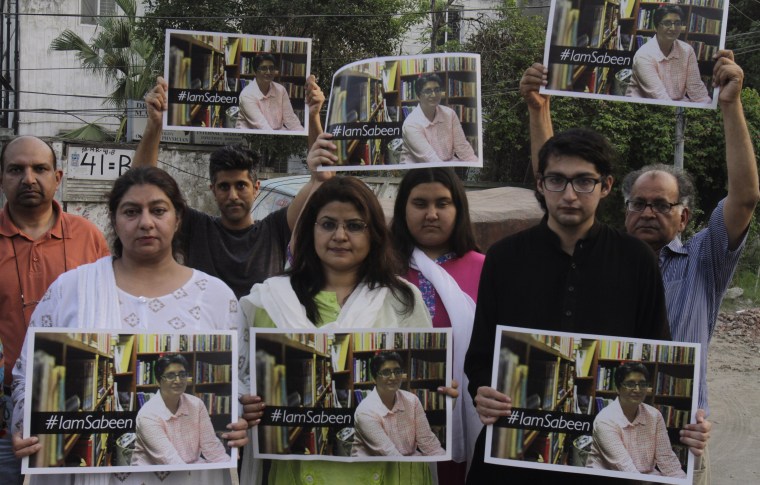 IN-DEPTH
SOCIAL
— Reuters and NBC News