As thousands of people danced at a music festival in an Israeli desert area in the early hours of Saturday, Hamas militants from Gaza descended upon the revelry.
Videos show young Israelis dancing to trance music under a giant Buddha statue and prayer flags around dawn — right around when festivalgoer Eliav Klein said he saw rockets launched from Gaza, startling everyone.
A total of 260 people were killed at the event, according to a spokesperson for ZAKA, an Israeli nongovernmental rescue and recovery organization.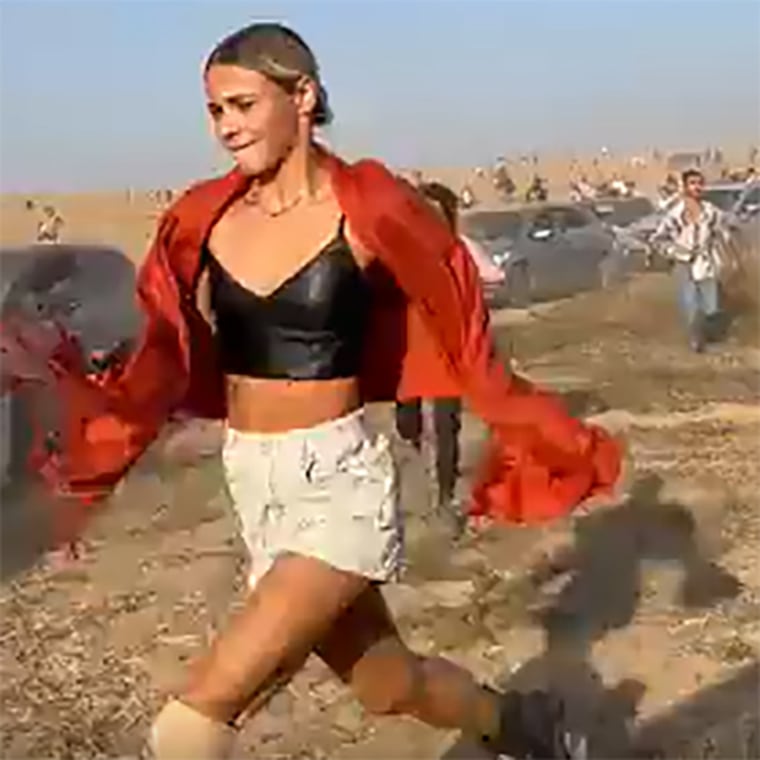 Klein said, "There was a traffic jam of cars trying to escape."
Then gunshots rang out. Amid the chaos, Klein and hundreds of young people began to run on the dry brown earth, out of breath and clutching bags, desperate to reach safety.
The Supernova festival, held in the Negev region, had been planned for weeks.
"Everyone just started running in all directions. Nobody knew where to go," Klein said. He said he believed festivalgoers totaled in the thousands.
"My friend had to jump off a cliff that was 25 feet high as he was running away from terrorists to save his life," he added, saying another friend witnessed victims on their knees at gunpoint.
Some people appeared to have been abducted, leaving loved ones unsure of their fates. American and British festivalgoers were also in the crowd, according to Israeli officials and the accounts of family members in the media.
The Israeli ambassador to the United Nations, Gilad Erdan, told NBC News "a few" Americans were at the festival.
Noa Argamani, 25, was there with her boyfriend, Avinatan Or. The two appear to have been abducted by Hamas soldiers. She is seen in a video pleading for mercy as she's taken hostage. In the same video, her boyfriend is restrained by another group of militants, helplessly looking at Argamani as she is dragged away.
Music festivals are common in Israel, drawing young people from around the country, as well as travelers from abroad.  
The pressures of Israeli life, including the constant tensions with Gaza and the West Bank and the mandatory military service, have marked the collective character of young Israelis since the founding of the state in 1948. The festivals often reflect the influence of destinations like India and Nepal, where many young Israelis visit after their military service. 
Blowing off steam and dancing all night with friends is a cultural right of passage in Israel, a tragic foil to the brutal hostage-taking and murder that took place Saturday. 
Klein said he took his friend who was injured from jumping off the cliff to a nearby hospital that was overwhelmed with casualties. As the trauma set in, Klein said, he was still distraught knowing that some of his fellow festivalgoers didn't make it out. He said he's still trying to find friends who are missing.
Shoam Gueta said he ran away from the barrage with a group of 20 people and hid in the bushes for nearly six hours as the onslaught unfolded around them. He used his mandatory military training experience to stay camouflaged and urged everyone in the group to remain silent and not to run away even when militants came within several feet.
He saw Israelis gunned down as they tried to take cover and watched as a woman was cut with a knife. One friend hid in a portable toilet.
"We saw terrorists killing people, burning cars, shouting everywhere," Gueta said. "If you just say something, if you make any noise, you'll be murdered."
Quietly, he said, Gueta called his mother to reassure he was safe despite the surrounding carnage.
Gili Yoskovich, another attendee, told the BBC that he saw militants coming from several different directions and didn't know where to go. He described getting shot at as he was driving until he left the car and began to run.
"I saw the place with many pomelo trees … and I was lying on the floor, so it was the second hiding [place] that I found, and they were just all around me," he said. "They were going tree by tree and shooting — pha, pha, pha — everywhere from two sides. And I saw many people, like, people were dying, like, all around."
Jake Marlowe, 26, a British man who was working as part of a security team, is among those believed to be missing, friends and family members said. His mother told The Jewish Chronicle that she hasn't heard from her son since early Saturday, when he texted her to say that he had a bad signal and that he loves her.
Daniel Aboudy, a friend of Marlowe's, told Sky News that his former friends and classmates in London, where he spent most of his life, are rallying around the family as officials work to confirm what became of potential hostages. 
"We are all just trying to show an immense amount of love and support and hope that he will return to us," Aboudy said. "We miss you, Jakey."
Jonathan Polin said Hersh Goldberg-Polin, his 23-year-old son, was at the festival and had been missing for 36 hours. The last messages he sent his family read "I love you" and "I'm sorry." Polin has filed a police report and submitted DNA samples.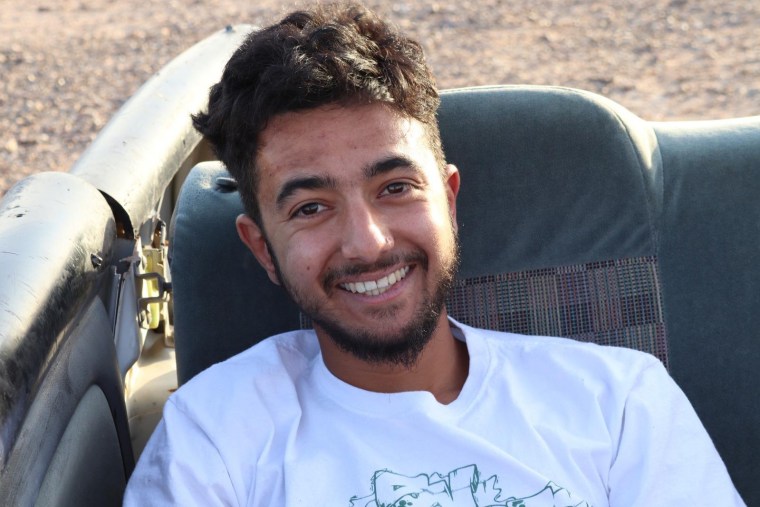 "The terrible irony in his case, and in the case of many of the others who were there, was they made it through their mandatory military service," Polin said. "They served their country. They did what they were asked to do for the country, and they were simply enjoying a holiday in nature, listening to music, and terror ensued."