LONDON - Two radicalized British Muslim converts were sentenced to life imprisonment Wednesday for hacking a soldier to death on a street in broad daylight, making a "serious and almost successful attempt to decapitate him."
"You butchered Lee Rigby," the judge at London's Old Bailey told Michael Adebolajo, 29, and Michael Adebowale, 22, as he sentenced them for the murder of Lee Rigby. "You gloried in the attack."
Adebolajo will serve his entire sentence in jail because he has no prospect of rehabilitation, while Adebowale will have to serve a minimum of 45-years before he can be released.
Both men were dragged from the courtroom after shouting "Allah akhbar" at the judge, Mr Justice Sweeney, and struggling violently with guards.
The pair who described themselves as "soldiers of Allah" struck Fusilier Lee Rigby with a car and then attacked his unconscious body with knives and a meat cleaver, trying to behead him on the afternoon of May 22, 2013.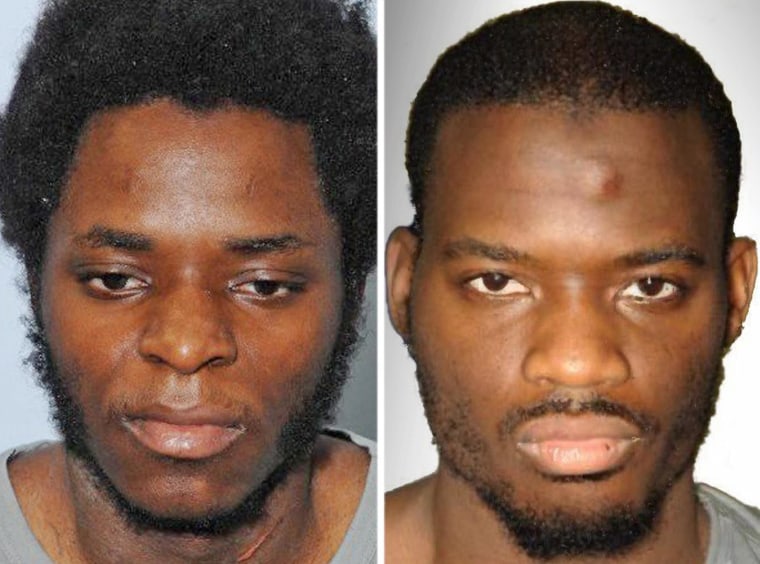 In front of horrified passers-by, they dragged Rigby's corpse into the middle of the street near Woolwich Barracks, in south-east London. Adebolajo asked a bystander to video them. With hands covered blood, he calmly explained what he had done.
"We swear by almighty Allah we will never stop fighting you. The only reason we've killed this man today is because Muslims are dying daily by British soldiers," Adebolajo told the camera. "He is an eye for an eye, a tooth for a tooth."
They had been searching London's streets for a soldier to kill, and spotted Rigby who was not in military uniform but was wearing a shirt bearing the name of prominent British veterans' charity, Help for Heroes.
At his trial, Adebolajo claimed the killing was part of a war for Allah in response to Western wars in nations such as Iraq and Afghanistan.
Prosecutors told told the jury he "made a serious and almost successful attempt to decapitate" Rigby, but had been stopped when by police arrived at the scene.
Reading her victim's impact statement, Lee Rigby's wife Rebecca told the court that after his death she felt like she didn't want to go on, adding that she feared for their son's future.
"I know my son will grow up and see images of his dad that no son would have to endure and there is nothing I can do to change that," she said.
Prior to the sentencing protesters carrying gallows gathered outside the court to demand capital punishment for the killers. Britain does not have the death penalty.
Both men, who were born in Britain and raised as Christians before converting to Islam as teenagers, had denied murder but a jury found them guilty in December.