WASHINGTON — The United States declared the ongoing violence against Rohingya Muslims in Myanmar to be "ethnic cleansing" on Wednesday, threatening penalties for military officials engaged in a brutal crackdown that has sent more than 600,000 refugees flooding over the border to Bangladesh.
Secretary of State Rex Tillerson blamed Myanmar's security forces and "local vigilantes" for what he called "intolerable suffering" by the Rohingya. Although the military has accused Rohingya insurgents of triggering the crisis, Tillerson said that "no provocation can justify the horrendous atrocities that have ensued."
"After a careful and thorough analysis of available facts, it is clear that the situation in northern Rakhine state constitutes ethnic cleansing against the Rohingya," Tillerson said in a statement.
Although the designation carries no legal obligations for the U.S. to act, Tillerson said those who perpetrated the atrocities "must be held accountable." He added that the U.S. wanted a full investigation and was considering "targeted sanctions" against those responsible — but not broader sanctions against the nation.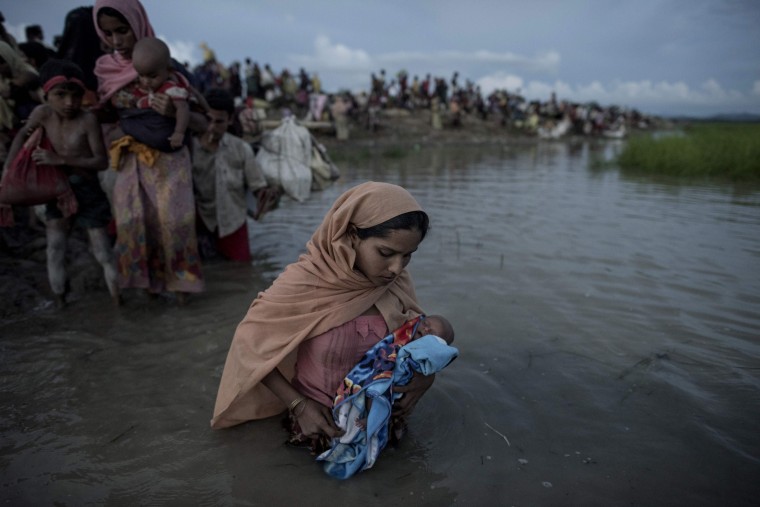 Rohingya from Myanmar's Rakhine state have been fleeing to neighboring Bangladesh, seeking refuge from what Myanmar's military has called "clearance operations." The crisis started in August, when Rohingya insurgents attacked Myanmar security forces, leading to a brutal crackdown in which soldiers and Buddhist mobs have killed men, raped woman and burned homes and property to force the Rohingya to leave.
Related: Rohingya Crisis: 370,000 refugees flee Myanmar to Bangladesh
The declaration followed a lengthy review process by President Donald Trump's administration to determine whether the violence met the threshold to be considered ethnic cleansing. The United Nations came to that conclusion in September, but the U.S. had held off, with Tillerson saying he needed more information even as he expressed deep concern about the crisis.
Last week, Tillerson traveled to Myanmar in the highest level visit by a U.S. official since Trump took office. U.S. officials dangled the possibility of an "ethnic cleansing" designation ahead of Tillerson's trip, potentially giving him more leverage as he met with officials in Myanmar. In the capital of Naypitaw, Tillerson met with the country's civilian leader, Aung San Suu Kyi, as well as Myanmar's powerful military chief, Min Aung Hlaing, who is in charge of operations in Rakhine state, home to Myanmar's Rohingya population.
Senior State Department officials said the determination was intended to ramp up pressure on the military and others in Myanmar to resolve the conflict and repatriate refugees who have fled to Bangladesh. Yet it was also likely to intensify calls for the Trump administration and Congress to move toward new sanctions. Earlier this month, a House committee passed a nonbinding resolution condemning "murderous ethnic cleansing and atrocities" and calling on Trump to impose sanctions on those responsible for abuses.
Yet sweeping sanctions targeting Myanmar's economy or its military as a whole are off the table, officials said, adding that the Trump administration had determined they would not be productive either for ensuring accountability or for promoting broader U.S. goals in Myanmar. Instead, the U.S. is considering sanctions against individuals only, said the officials, who weren't authorized to comment by name and briefed reporters on a conference call on condition of anonymity.
Related: Rohingya Crisis: Aung San Suu Kyi breaks silence on Myanmar violence
Broad-based U.S. sanctions on Myanmar were eased under former President Barack Obama as the Southeast Asian nation inched toward democracy. U.S. officials have been concerned that slapping back sanctions or pushing Myanmar's leaders too hard on the Rohingya violence could undermine the country's civilian government, led for the last 18 months by Suu Kyi. That could slow or reverse the country's delicate transition away from decades of harsh military rule and risks pushing Myanmar away from the U.S. and closer to China.
The State Department has also examined whether the violence in Rakhine meets the definitions for crimes against humanity or genocide, but have so far made no such determinations. Both designations carry significant legal consequences.
Ethnic cleansing, on the other hand, isn't recognized as an independent crime under international law, according to the United Nations Office on Genocide Prevention. The ethnic cleansing term surfaced in the context of the 1990s conflict in the former Yugoslavia, when a U.N. commission defined it as "rendering an area ethnically homogeneous by using force or intimidation to remove persons of given groups from the area."
Human rights groups accuse the military of a scorched-earth campaign against the Rohinyga, who numbered roughly 1 million in Myanmar before the latest exodus. The Buddhist majority in Myanmar believes they migrated illegally from Bangladesh, but many Rohingya families have lived for generations in Myanmar. In 1982, they were stripped of their citizenship.
Already, the United States has curtailed its ties to Myanmar's military over the violence. Earlier this year, the U.S. restored restrictions on granting visas to members of Myanmar's military, and the State Department has deemed units and officers involved in operations in Rakhine state ineligible for U.S. assistance.
Associated Press writer Matthew Pennington contributed to this report.
This story has been corrected to show that a House committee, not the full House, passed a nonbinding resolution this month condemning ethnic cleansing.