Myanmar's ruling party conceded defeat in the country's general election on Monday as the opposition led by democracy figurehead Aung San Suu Kyi appeared on course for a landslide victory.
"We lost," Union Solidarity and Development Party (USDP) acting chairman Htay Oo told Reuters in an interview a day after the Southeast Asian country's first free nationwide election in quarter of a century.
By late afternoon, vendors outside the headquarters of the National League for Democracy (NLD) in Yangon were selling red T-shirts with Suu Kyi's face and the words "We won."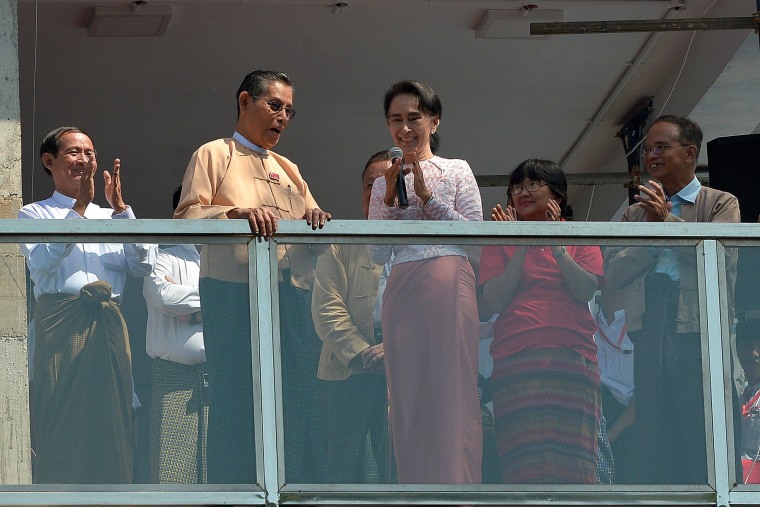 The election commission later began announcing constituency-by-constituency results from Sunday's poll. All of the first 12 parliamentary seats announced were won by Suu Kyi's party.
The NLD said its own tally of results posted at polling stations around the country showed it was on track to win more than 70 percent of the seats being contested in parliament, above the two-thirds threshold it needs to form Myanmar's first democratically elected government since the early 1960s. Reuters was not able to independently verify the party's own estimates of its performance.
The election was a landmark in the country's unsteady journey to democracy from the military dictatorship that made it a pariah state for so long. It is also a moment that Suu Kyi will relish after spending years under house arrest following the country's 1990 election, when the NLD won a landslide victory that was ignored by the junta.
Khin Myo Thidar, a 36-year-old retailer, told NBC News she woke up to go vote at 5 a.m. on Sunday. "I am very excited for this election is very different from the past and the whole world is watching," she said, adding that "the country could use some changes."
Whatever the result, Myanmar is heading into a period of uncertainty over how Suu Kyi and other ascendant parties negotiate sharing power with the still-dominant military.
Suu Kyi started the contest with a sizable handicap. The military-drafted constitution guarantees one-quarter of parliament's seats to unelected members of the armed forces.
Even if she gets the majority she needs, Suu Kyi is barred from taking the presidency herself under the constitution written by the junta to preserve its power. Suu Kyi has said she would be the power behind the new president regardless of a constitution she has derided as "very silly."
The military will, however, retain significant power.
It is guaranteed key ministerial positions, the constitution gives it the right to take over the government under certain circumstances, and it also has a grip on the economy through holding companies.