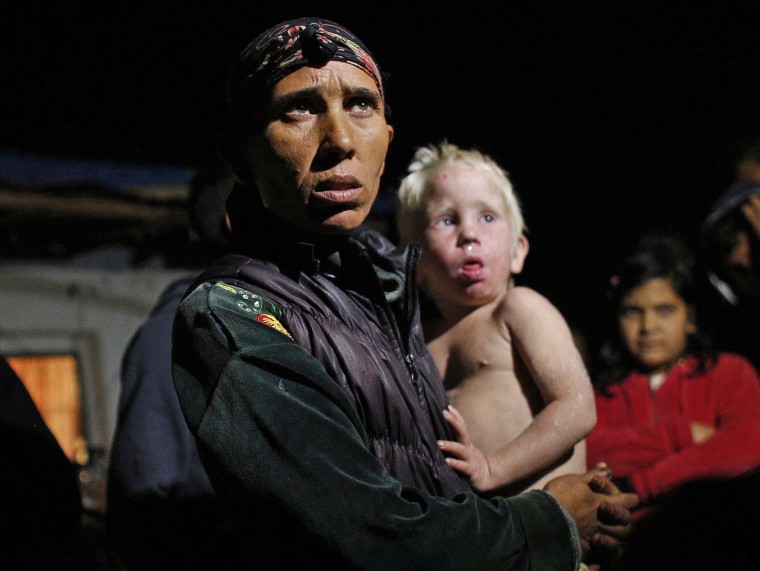 The real mother of  "Maria" — the little girl who sparked a Europe-wide search when she was found living with a couple who were not her parents — told Bulgarian TV on Thursday that she "will go hang herself" if social workers take away her other children.  
"I cannot live without them," Sasha Ruseva told state broadcaster Bulgarian National TV (BNT) at her mud-floored dwelling in Nikolaevo. "I will go hang myself. I will take the rope and I will go."
"This is hard for me," she added. "How will they take my children? I have been looking after them for so many years, they have grown already, and now they will take them. How is that possible?"
DNA samples taken from Ruseva and her husband Atanas Rusev, 36, last week proved they were the real parents of the 4-year-old girl found living with another Roma couple in a settlement near Farsala, Greece.
Bulgarian authorities have now decided to remove seven of their other nine children, BNT reported. Four will be placed with foster families, two at a state institution and one will stay with relatives, the station said.
The other two are over the age of 18 and therefore not subject to state protection.
Pretrial proceedings were initiated last week to discover whether Ruseva had given her consent for her daughter to be sold abroad.
Meanwhile, in Greece, a spokesman for the Smile of a Child charity that is looking after Maria in one of its foster homes, said she was doing "very well."
"We have social workers and psychologists monitoring her but it seems like she is coming on in leaps and bounds" said Panagiotis Pardalis. "She is doing very well." 
He added that her future will be decided by Greek prosecutors, who charged Christos Salis, 39, and Eleftheria Dimopoulou, 40, with abduction and procuring false documents. The couple was found living with the girl last week.
Their lawyer, Marietta Palavra, told NBC News last week that Maria's real mother is a Bulgarian Roma prostitute who was looking for a home for the unwanted baby among local Roma families in Greece.
Related: