BEIJING – It was her third public appearance by the side of North Korea's new leader Kim Jong Un. This time the "mystery woman" was wearing a striking yellow polka-dot dress, with a chic Chanel-style white tweed jacket and matching ivory toe-open high heels, in state television footage of a recent visit by Kim to a preschool in Pyongyang.
Her appearance in public again – she is thought to be the same woman who recently appeared with Kim at a Disney-inspired concert – was a rare spectacle, stirring up speculation that changes are coming to the isolated nation.
The "mystery woman," coupled with the surprise announcement by the country's official news media on Monday that North Korea's veteran army chief was relieved of all his posts, apparently due to illness, also stoked suspicion. It was the first major purge under the seven-month-old regime of Kim Jong Un, who inherited leadership of the authoritarian regime after his father died last December.
The intriguing combination of fashion display and military purge is fueling debate among North Korea watchers in Beijing and Seoul on whether or not the moves signal a new policy direction from the Pyongyang regime. Some argue the 29-year-old new leader may be trying to remove old guards from his regime who could stand in the way of a reform program to revitalize the impoverished country.
A wife, a sister?
But back to the mystery woman: who is she? 
There has been no official confirmation of the identity of the glamorous woman who appeared at Kim's side at three recent public events. She first attracted global curiosity when she was shown watching a July 7 cultural performance with Kim that featured Minnie Mouse and other Disney characters, the theme song from "Rocky 4"and groups of female singers dressed in mini-skirts, high-heeled shoes and off-the-shoulder tops.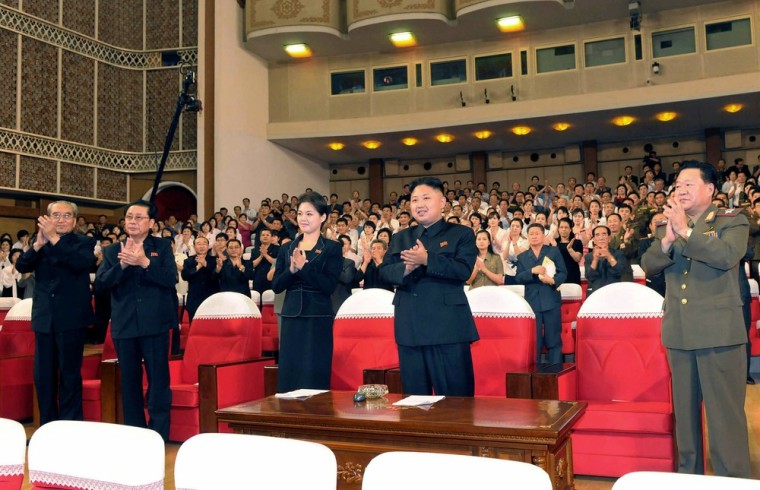 Other top officials who watched the show included Kim's uncle Jan Song-Taek, widely seen as the power behind the throne. The concert itself, shown to the public by North Korean TV, tended to play up Kim's reputation as avid fan of Western pop culture. He was reportedly fond of American basketball when he was studying in Switzerland during the 1990s, wore Nike sneakers and drove Harley Davidson motorcycles.
Some South Korean observers said that the woman could be Kim's sister, Kim Yeo-Jong. But his sister later appeared on state TV during a mourning event for Kim Jong Il, their father, and she looked unmistakably slimmer and different from the "mystery woman."
Others pointed to a popular singer Hyon Song Wol, with hits like "I Love Pyongyang" and "Excellent Horse-like Lady."
But more recent reports from Seoul say that she is Kim's wife.  She is reported to be a 27-year-old graduate from Kim Il-Sung University. So far, however, there hasn't been any official confirmation from North Korea on the woman's identity. 
The buzz about the glamorous "mystery woman" comes amid increasing reports, noted in South Korea and China's blogosphere, of more entertainment and choices in the daily lives of the North Koreans.
Visitors to the isolated country report more women wearing fashionable outfits, young men using hair gels in the style of South Korean actors and private markets in Pyongyang operating more flexible hours.
Kim has lifted the ban on women wearing trousers in public which has proved extremely popular. North Korean TV has also shown images of Kim visiting amusement parks and fast food restaurants that sell pizza, hamburgers and French fries, Western delights once banned in the country.
High-heel shoes rank second among the 10 most popular consumer items for North Korean women, according to an analysis by the Samsung Economic Research Institute.  
Close eye from China
North Korea watchers in China are keeping a close eye on developments for any signs of real change in the "Hermit Kingdom."
The idea of "opening up" the long reclusive country should be encouraged, according to a commentary in China's state-run Global Times newspaper.   
"Northeast Asia's geopolitical development should encourage North Korea's opening up instead of repeatedly creating tensions that will only intensify Pyongyang's caution and vigilance," argued Global Times commentator Shen Renping.
In one sign of economic change, there have been reports that 20,000 workers from North Korea will be sent to China to work in manufacturing sectors. According to Chinese analysts, Kim is set to declare a comprehensive economic reform program "in August or September." 
Referring to the recent ouster of Kim's former mentor and North Korean army chief Ri Yong Ho, a Chinese North Korea expert told AP Television that Kim was signaling "North Korea is going to slowly change the policy of putting the military first" and to experiment with "economic reform."
The Chinese scholar Wang Junsheng called on the international community to "wait for the next steps" and to give Kim "time and a comfortable environment."
However, another leading Chinese foreign policy scholar urged caution in drawing any conclusions about a North Korean reform program.
"I think North Korea has changed a lot already since Kim Jong Il died. But in terms of policy and diplomacy, I see little indication of change," Professor Shi Yinhong, who teaches international relations at Beijing's Renmin University, told NBC News.
Referring to North Korea's nuclear and security policies, Shi Yinhong cautioned that "it is too early tell" whether North Korea will change. 
"I see no substantial indication of opening up…Bringing some women along is very normal and doesn't have much critical meaning," he added.
Researcher Tianzhou Ye contributed to this report in Beijing.