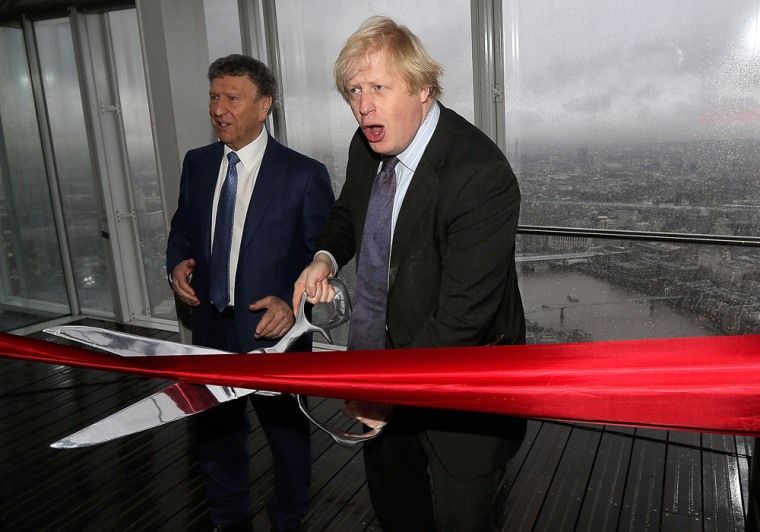 LONDON -- He is the goofy London mayor whose jovial self-deprecation and quick intellect have rescued him from a string of political missteps and personal indignities. But floppy-haired Boris Johnson's happy-go-lucky reputation took a battering this week, just as he revealed his ambition to one day become Britain's prime minister.
New York-born Johnson -- memorably caught on camera dangling from a broken zip-wire during the London Olympics -- was accused of being a "nasty piece of work" in a train-wreck television interview that surfaced a darker side to his persona.
The mayor was asked about a number of embarrassing episodes in his past including being fired from his former job as a reporter with The Times newspaper for making up a quote, losing his opposition cabinet role after lying to his Conservative party leader about an affair and the accusation that he agreed to provide a reporter's address to his friend, a convicted fraudster, so the journalist could be beaten up.
There were no new revelations in Sunday's interview, which was hardly in the mold of Frost vs Nixon. But the feline approach of BBC presenter Eddie Mair exposed a testy, evasive side to Johnson that observers say has undermined his affable public image.
"What's remarkable is not that the interview happened but the fact that it hasn't happened before," said Johnson's biographer, Sonia Purnell.
"He has always used his jovial fellow act and has never really been challenged like that in an interview until now.
"It is true that he is very charismatic, very clever and engaging. But there is a dark side to his character. He has a ferocious temper and he bears grudges."
The clash was in stark contrast to Johnson's winning encounter on "Late Show with David Letterman" last year, when he entertained the studio audience and shrugged the gibe that he cut his own hair.
It has sparked a debate in Britain about whether the mayor, a keen cyclist and classical scholar whose full name is Alexander Boris de Pfeffel Johnson -- can still be taken seriously as a contender to replace David Cameron as prime minister and leader of his Conservative party.
Mair teased Johnson about his repeated refusal to admit that he harbors ambitions to replace Cameron, with whom he has a mild personal rivalry that dates back to their shared time at Eton, Britain's most elite private school.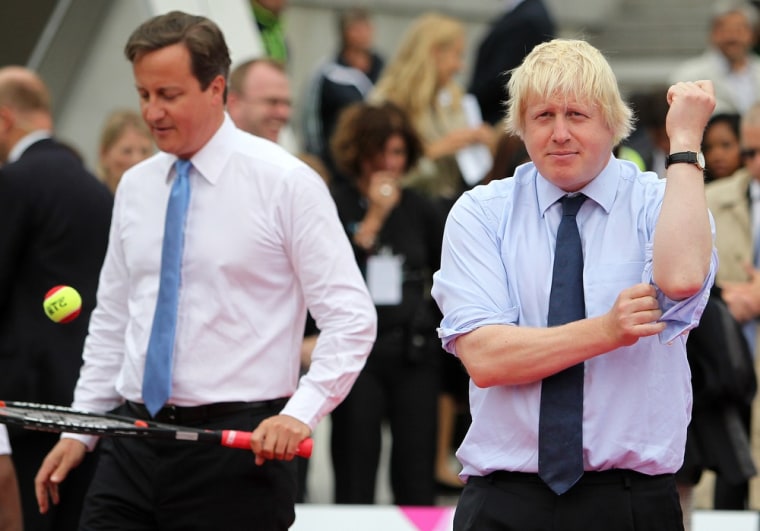 "What should viewers make of your inability to give a straight answer to a straight question?" asked Mair, adding: "You're a nasty piece of work, aren't you?"
An online Guardian newspaper poll found 62 percent of its readers thought Johnson could no longer be considered a candidate for Britain's top job. The interview "was inevitably described as a car crash, but in the case of Johnson, it was more of a bicycle crash: spokes all over the road, wheels mangled and a reputation badly dented," wrote the newspaper's veteran political editor, Patrick Wintour.
Purnell added: "I think it left a tidemark in people's minds about Boris's character."
However, conservative commentator Toby Young said Johnson's leadership prospects remain unchanged. "It's an elementary rule of politics that if you have any skeletons lurking in your closet that are likely to make an appearance during an election campaign, better to get them out in the open now," he wrote in the Daily Telegraph. "Not only will it rob them of their bad juju, it will enable his supporters to claim -- yet again -- that he's popular in spite of his character flaws, not because the public isn't aware of them."
Matthew Norman, in The Independent, asked: "Boris would be a disastrous PM. So why do I quite like the idea?" He wrote: "Life for diarists and political pundits would improve immeasurably, which strikes me as a very reasonable price to pay for the national shame of having Boris Johnson as prime minister."
Johnson, 48, has long been a grassroots favorite to lead the Conservatives if Cameron stood down or lost office. However, to be prime minister he would first need to stand again for election to the House of Commons, which he quit in 2008 to run to be mayor of London. He is currently serving his second four-year term and has remained coy about whether he will quit early and return to parliament.
His mix of conservative economics and liberal social values -- he supports gay marriage and an amnesty for immigrants -- helped secure his election in a city long dominated by left-of-center politics, but it may not sit well with the U.K.-wide Conservative party.
His personal morality may also hinder his progress: He has acknowledged a number of affairs and has been likened to Italy's serial philanderer and former prime minister Silvio Berlusconi by satirical magazine editor Ian Hislop.
Then there is Johnson's apparent lack of attention to detail. Purnell, who worked alongside him in the Brussels bureau of the Daily Telegraph, said: "Some of the things he wrote were on the limits of the truth. He was, at best, creative."
Max Hastings, a former editor of Johnson's during his time as a journalist, described Johnson as "utterly chaotic," adding: "Supposing he became prime minister, the idea of Boris Johnson's finger on the nuclear button ... one day he would get it mixed up with the one to call the maid."
However, there remains a lot of affection for a man whose unvarnished approach is a breath of political fresh air.
"He is a sunshine politician and people like that," said Ross Lydall, chief news correspondent of London's Evening Standard newspaper, which supports Johnson.
"The way he has improved life for cyclists in London is remarkable -- as a cyclist myself, it certainly puts a smile on my face. He represents a sense of optimism compared to the old, miserable municipal politics of London."