The world's largest democracy and staunch American ally India looks set to elect a new prime minister who has been barred from entering the U.S. over deadly religious riots.
About 815 million people are expected to cast their votes in India's general election that begins Monday. With so many voters, the election is phased over several weeks, ending on May 12. Results are due to be announced on May 16.
Narendra Modi, 63, a controversial figure who rose through the ranks of an Hindu nationalist organization that some have compared with the Hitler Youth, now leads the mainstream Bharatiya Janata Party (BJP) which opinion polls show maintaining a strong lead ahead of the election.
Many hold him responsible for Hindu-Muslim clashes in his home state of Gujurat that left more than 1,000 dead and hundreds more injured.
"In a country where up to a third of politicians are the relatives of previous members of parliament, Modi can come across as an outsider that can shake up the system"
"A number of independent observers felt that Modi as chief minister of the state had failed to exercise all the powers of the state to protect his citizens," said Dr. Robert Hathaway, the director of the Asia program at Washington D.C.'s Wilson Center think tank. "The U.S. has implicitly endorsed that assessment by refusing to grant Modi a visa for over 10 years."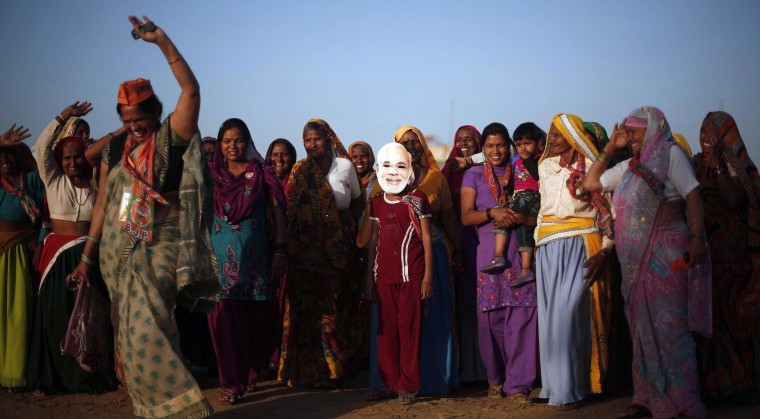 Others see the unmarried Modi as a development man who as leader of the state of Gujurat transformed the economy, encouraged investment and brought 24-hour electricity.
"He is seen as having been a very competent, even successful chief minister in Gujurat with the one major exception of the 2002 riots," Hathaway said. "The economy there has grown remarkably well and he is regarded as the atypical Indian politician in the sense that he is not surrounded by allegations of corruption or enriching himself personally."
Humble beginning
Were he to get the top job, it would mark an astonishing rise for the man who began life in September 1950 as the third of six children born to Damodardas Mulchand Modi and his wife, Heeraben.
The lower middle class family's business was pressing and selling vegetable oil, according to journalist Nilanjan Mukhopadhyay, who interviewed Modi a number of times, along with a number of people connected to him for his unofficial biography, "Naredra Modi: The Man, The Times."
To supplement their income, Modi's father also ran a teashop at the railway station in their hometown of Vadnagar in what was then Bombay State, now Gujarat, where Modi is currently the chief minister.
At the end of the school day Modi would help his dad out, Mukhopadhyay said.
At school Prahlad Patel, Modi's Sanskrit teacher, told Caravan, India's equivalent of "The New Yorker," that Modi was "only an average student" but even then he showed early signs of a political future.
"He showed keen interest in debates and theater," Patel told the magazine. "I set up the debating club at the school, and I remember Narendra was among the regular students in the club."
It's these humble origins that might just help him win the election, according to Dr. Gareth Price, a senior research fellow at British think tank Chatham House.
"In a country where up to a third of politicians are the relatives of previous members of parliament, Modi can come across as an outsider that can shake up the system," he said.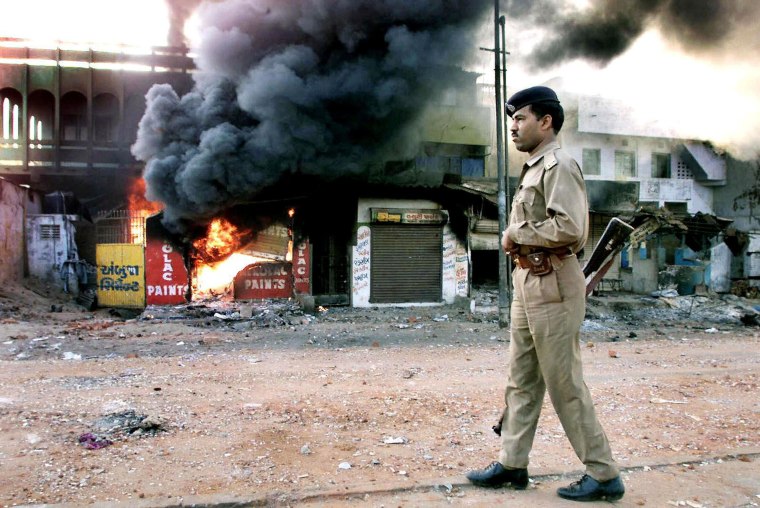 Railing against the system became Modi's habit after he joined the Rashtriya Swayamsevak Sangh, (RSS) referred to as either the National Volunteer Organization or the National Patriotic Organization, a right-wing Hindu nationalist group.
"They are a disciplined ideological group of people who strongly believe that the Hindu majority in India is being persecuted and unfairly treated. And they have been prepared over the years to use pretty rough tactics to safeguard the community by using violence," said Hathaway.
The 2002 Gujurat riots were one of many examples of violent actions inspired by, and in many cases carried out by, members of the RSS, he said.
Members of the group also assassinated Indian icon Mahatma Gandhi, accusing him of overlooking Hindu interests and for giving too many concessions to Muslims.
While Modi was never implicated in any violence, after receiving training he became a campaigner for the RSS, distributing pamphlets and organizing protests.
Despite their political differences, as a young activist Mukhopadhyay said Modi showed a great admiration for the Cuban leader Fidel Castro.
"Even today, if you watch his stance when he speaks, he stands with his chest wide open, which he picked up from Castro," he said.
Right-wing beginnings
Studying for his Masters Degree in Political Science from Gujurat University, he took charge of the right-wing student council known as the Akhil Bharatiya Vidyarthi Parishad.
Then he put his studies to good use after he joined the BJP five years after its foundation in 1980.
Like the RSS, that party has "used virulently anti-Muslim language and have led large and sometimes violent protests to assert the rights of the Hindu majority," according to Hathaway.
Modi was nonetheless credited for his campaign strategy at both the state and national level, particularly in 1998 when the BJP won the most seats in the lower parliament, according to India's Frontline magazine.
Such was his success that despite his inexperience in political office and objections from within the party, he was picked to become chief minister of Gujurat in October 2001.
The moment that would dog his political career came just four-months later, when three days of rioting exploded across the state.
Rumors that Muslim arsonists had burned a train and killed 60 Hindu pilgrims sparked the violence and Modi's government was accused of both not taking enough action and in some cases condoning the violence.
Responding to intense pressure to resign, Modi quit the post, but he was subsequently re-elected to the position and has held the post ever since.
'Not a team man'
As a leader Modi is authoritarian and adverse to scrutiny, his biographer Mukhopadhyay said.
"He's not a team man, he is not very good at sharing responsibility and he's not very good at delegating to people," he added.
Nonetheless, "his star is still rising," according to a recent report by William Antholis at the Brookings Institution research center.
"Modi has helped Gujarat become India's leader in manufacturing and exports. Domestic and foreign corporations have flocked to Gujarat because of the business-friendly environment Modi cultivated," he wrote.
Leading his party into the 2014 election, Modi has said that he will achieve with India what he has at the state level, said Dr. Subir Sinha, a senior lecturer in Institutions and Development at SOAS, University of London.
"He's a very efficient administrator, a very fine CEO for this country but he would not be a good chairman"
"However, Gujurat was a very well-to-do state and very business orientated. So transferring that to other parts of the country that are very poor or very agricultural will be very difficult," he said.
If his party does win the general election and he becomes prime minister, he will bring a muscular presence to the top, Sinha said. And based on his record in Gujurat, he will view the leadership as something you hold a personal monopoly over rather than something you distribute across your political party or coalition, Sinha added.
While the party has toned down its anti-Muslim rhetoric, Modi has nonetheless described the country's current leaders as the "Dehli Sultanate," a reference to the period of history when the city was ruled by an Islamic kingdom.
"He still maintains the RSS philosophy," said his biographer Mukhopadhyay.
Faced with the prospect of him leading the world's tenth largest economy and a nuclear power, a recent meeting with the U.S. ambassador to India Nancy Powell suggests a softening of the U.S. stance towards him, according to the Wilson Center's Hathaway.
However Mukhopadhyay said his foreign policy will more likely focus on Pakistan, Bangladesh and China, adding that he was still unsure about Modi's credentials for the top job.
"He's a very efficient administrator, a very fine CEO for this country, but he would not be a good chairman," he said.
- Sohel Uddin contributed to this report.