ABOARD THE USS VICKSBURG IN THE BLACK SEA — "Shimmy" is not a word one might automatically associate with the U.S. Navy, but it's something that Seaman Treyvon Stuppard has to do every day.
At 6 feet in height, he's mastered the nocturnal art of "kneeling down, then shimmying" into his ultra-cramped bottom-level rack, or bunk, which also serves as his personal storage space, closet, and towel and flip-flop holder. Two sailors sleep above him. Three more snooze about two feet across the way.
Straps prevent him and colleagues on the USS Vicksburg from rolling out of bed in rough seas and teeny curtains block out the red lights that illuminate cabins at night. Nothing shuts out the sound of snorers, though.
"We've got one over on the other side," the Augusta, Georgia-born Stuppard said, doing an impression of his noisy neighbor. "I hear it and it's like, 'Whoa, here we go again!'"
Life aboard a guided missile cruiser is not for the claustrophobic. It is also not for the faint of heart.
President Vladimir Putin's Black Sea Fleet warships and fighter jets are closely watching "the Vic" and five other multinational warships as they conduct rapid reaction force drills some 300 miles south of the Crimean Peninsula, which Russia annexed last year.
Rear Adm. Brad Williamson, who commands the NATO fleet, said that Russian warships were spotted on the horizon as Putin's fighter jets monitored from overhead when the vessels entered the Black Sea.
The multinational fleet's exercises, which include simulated anti-air and anti-submarine warfare drills come at a low point in relations between Russia and the U.S.-dominated military alliance.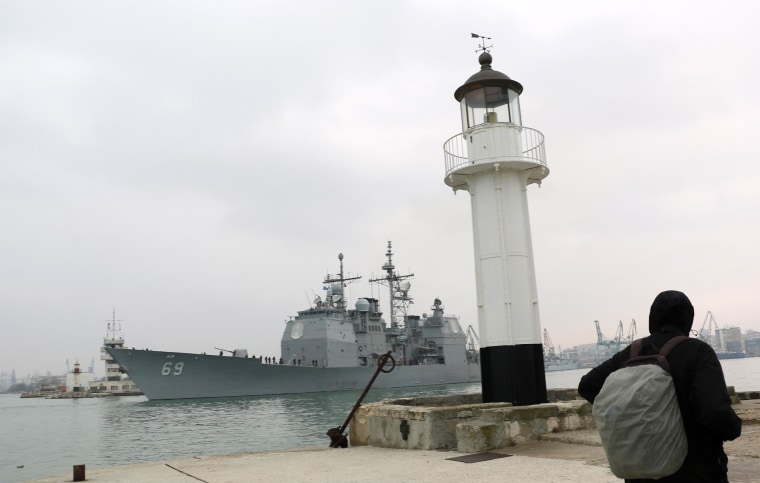 The exercises and training are meant to reassure neighboring allies as they nervously watch the fighting between Ukrainian forces and pro-Moscow separatists.
"We're going to ensure the defense of the alliance is rock solid," Williamson told NBC News.
Being smack in the middle of what is being called a new Cold War is not comfortable. But the ingenuity and adaptability of the more than 400 crew aboard means they've found ways to make the spaces home during deployments like this one.
The quarters are so tight that any spare space is used. Throughout the ship's narrow network of maze-like hallways, nooks and crannies are packed with random stationary bikes and other machines. Tiny enclaves serve as makeshift gyms, the smallest at the bottom of a steep staircase is dubbed "the Dungeon."
The largest exercise space is in an engine fan room. Still, it is so cramped that sailors have to squeeze sideways between equipment and pipes just to get from one machine to another. A heavy weight lift is strapped down for safety in these heavy seas, and the bench press and stair stepper are stuffed around a crouched corner.
"They're very good at adapting ... They're America's finest"
Rare downtime aboard the USS Vicksburg is filled with Xbox competitions and card tournaments.
An honor library also has a small selection ranging from war correspondent Peter Arnett's autobiography, to "Eat, Pray, Love" by Liz Gilbert. The in-house channel movies in heaviest rotation are Jennifer Aniston's "Picture Perfect" and "Frozen."
Small comforts of home like these make a world of difference to these sailors while they're at sea, a world away.
"They're very good at adapting," USS Vicksburg's Commanding Officer Captain Lyle Hall said. "They're America's finest."
Sharing confined space for months at a time can take its toll on the sailors, but "you simply have to" get along, Senior Chief Petty Officer Don Sawyer said.
The Louisiana native playfully admitted that sailors jockey for things like haircuts, though. Some let others go first in the line outside the barber, and decide whether to get a cut themselves based on how good or bad their shipmates look when they come out.
"The barbers only get about five days of training so we have to pick and choose," he said, smiling.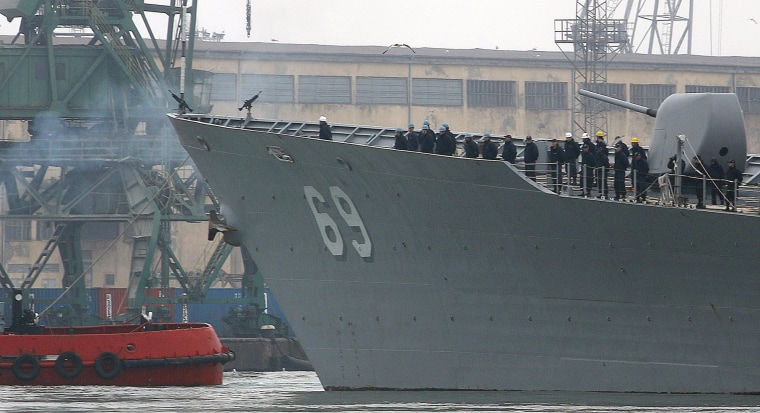 When it comes down to it, everybody knows the business of sailing this ship with its sophisticated anti-submarine, anti-surface and anti-aircraft weapons systems is deadly serious.
A clear sign of this is the new MH-60R Seahawk helicopter that sits on the Vick's flight deck.
Inspired by the biopic of U.S. Navy Seal Chris Kyle, "American Sniper," the crew nicknamed it "Taya" in honor of his widow.
Lt. Jessica Phenning is one of Taya's pilots, and one of only six women on the USS Vicksburg. While she says they are treated as equals, membership to their exclusive club may carry one small privilege. "I get invited to a lot of stuff," she joked.
The 28-year-old from Newbury Park, California, serves as the crew's Detachment Operations Officer. When she's flying, the cockpit serves as her "little escape pod" from the pressures that come with this leadership position, Phenning said.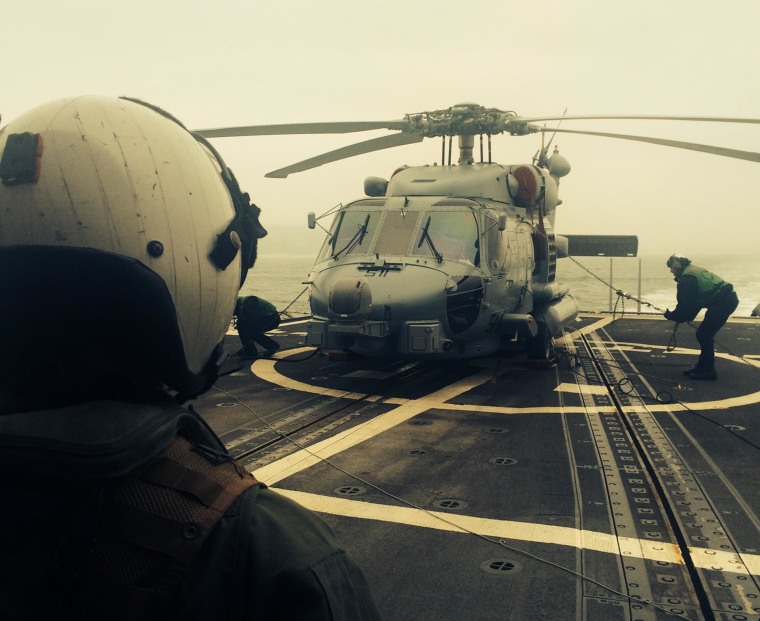 The intense mental and physical demands of piloting a $42.9 million aircraft come with strict rules: All pilots are required to sleep a minimum of eight hours a night and have limits on how much caffeine they can consume.
That means Red Bull — liquid gold for much of the rest of the crew — is off-limits to them. Long lines form each morning for the energy drink, as well as other fast-sellers like chicken-flavored ramen noodles and M&M's.
The ship's shop sales are rationed daily in order to keep supplies on board for the long haul.
"It's the little things in life," when you're on board that make the difference, according to Stuppard. Things most people take for granted are the stuff of daydreams for the seamen. Normal-sized beds are a top fantasy.
On every port visit, the very first thing he does is stop to thoroughly admire his hotel bed for a moment, he says.
"Oh, it's unbelievable. It's like paradise!" Stuppard added with a wide grin. "It's so much room, you just don't know what to do with it! And there's like four pillows and I'm just like, 'yeah I've got to enjoy this for a quick second.' Just because I know what I'm going back to."