Secretary of State Rex Tillerson issued U.S. allies a deadline Friday: come up with a plan within the next two months to increase military spending.
Speaking ahead of his first talks with the alliance Friday, Tillerson said it was "no longer sustainable" for the U.S. to pay for a "disproportionate share" of NATO's budget. America's top diplomat said fellow NATO members had until their summit on May 25 to formulate this road map.
The North Atlantic Treaty Organization, better known as NATO, advises all its members to spend 2 percent of their GDP on defense. But most countries — all except United States, Britain, Estonia, Greece and Poland —fall short of this target.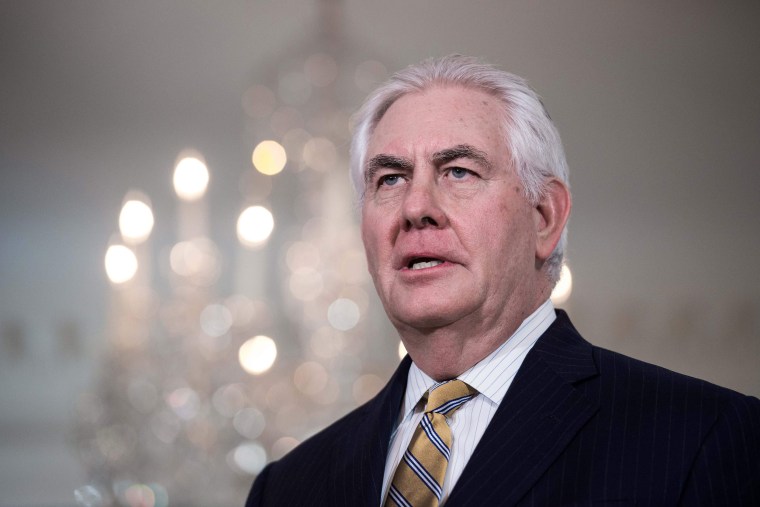 Tillerson said these countries had until May 25 to deliver the plan. He said that by the end of this year they should be meeting this 2-percent target already, or have at least developed a detailed plan to do so.
He didn't say what would happen if leaders failed to meet his demand.
Previous U.S. presidents have complained about European allies not pulling their weight, but President Donald Trump has gone even further by suggesting he would not protect smaller allies unless they upped their game. Trump's tweets saying that "Germany owes vast sums of money to NATO and the United States" led many to question whether he understood the alliance's funding model.
While making his point on spending, Tillerson sought to quell these fears by stressing Washington was committed to NATO's central principle of collective defense.
"We will uphold the agreements we have made to defend our allies," he said. "These are not just words. Tomorrow, a U.S. enhanced, forward presence battalion will be deployed in Poland."
The Poland deployment forms part of what has become the largest military presence in Eastern Europe since the end of the Cold War. The U.S. and its NATO allies have put thousands of troops just miles from Russia, and Moscow has done the same on its side of the border.
Tillerson also took a hard line on Russia over Ukraine, saying the U.S. would not waver on sanctions unless the Kremlin lived up to its commitments for a cease fire and withdrawal of heavy weapons from front lines. On Thursday, NATO Secretary General Jens Stoltenberg said Russian-backed forces were interfering with international monitors in Ukraine — and violations of a ceasefire there had reached record levels.
Tillerson added that "the United States sanctions will remain until Moscow reverses the actions that triggered our sanctions."
He added that separate sanctions imposed over Russia's annexation of Ukraine's Crimean Peninsula "must remain in place until Russia returns control of the peninsula to Ukraine."
Tillerson and the other foreign ministers spent a little over four hours in meetings at NATO. The original NATO Foreign Ministerial was scheduled for two days.
Meanwhile on Friday, Defense Secretary James Mattis echoed Tillerson's comments on NATO's collective defense.
"NATO stands united, the transatlantic bond is united," he told a joint press conference in London with British Defense Secretary Michael Fallon. "We are going to maintain article 5 the absolute bedrock of NATO alliance."
Editor's Note: A previous version of this story noted that Tillerson would not be attending the Secretary General's press conference. Foreign ministers do not traditionally attend the Secretary General's press conference.