ZAGAN, Poland — On a snowy Polish plain dominated by Russian forces for decades, American tanks and troops sent a message to Moscow and demonstrated the firepower of the NATO alliance on Monday.
Amid concerns that President Donald Trump's commitment to NATO is wavering, the tanks fired salvos that declared the 28-nation alliance a vital deterrent in a dangerous new world.
The tank rounds of "The Iron Brigade" of the 4th Infantry Division were not directed towards Russia, but the signal to the Kremlin was clear: "Don't mess with Poland, or any other NATO member — an attack on one, is an attack on all."
The 87 tanks, 144 armored vehicle and 3,500 troops represent the biggest U.S. deployment in Europe since the end of the Cold War.
Three years ago, when separatists loyal to Russian President Vladimir Putin invaded Ukraine eventually leading to its annexation, the U.S. didn't have a single tank in Europe.
That's what brought this force to Poland; to bolster the defense of Eastern Europe against any further incursions by Putin.
"This is the largest ever U.S. deployment in Poland and it's about deterrence," Gen. Ben Hodges, the commander of the U.S. Army in Europe, told NBC News. "An outright attack by Russia is unlikely, but the best way to keep it unlikely is to do what we're doing here today."
He watched the half-hour live-fire exercise with Polish President Andrzej Duda and many lawmakers who've been campaigning for years for a permanent U.S. presence to deter Russian troops on their border.
Russia sees the deployment very differently; not as a warning, but as a provocation, a "security threat," according to Putin's spokesman Dmitry Peskov.
But in the past year, Russian forces have carried out massive military exercises and deployed missiles capable of carrying nuclear weapons on the Polish border.
Tensions are rising between a resurgent Russia and a nervous NATO, including some members which were once part of the Soviet Union.
Former Soviet leader Mikhail Gorbachev even warned Friday that "it all looks as if the world is preparing for war."
"More troops, tanks and armored personnel carriers are being brought to Europe," the 85-year-old wrote in Time magazine. "NATO and Russian forces and weapons that used to be deployed at a distance are now placed closer to each other, as if to shoot point-blank."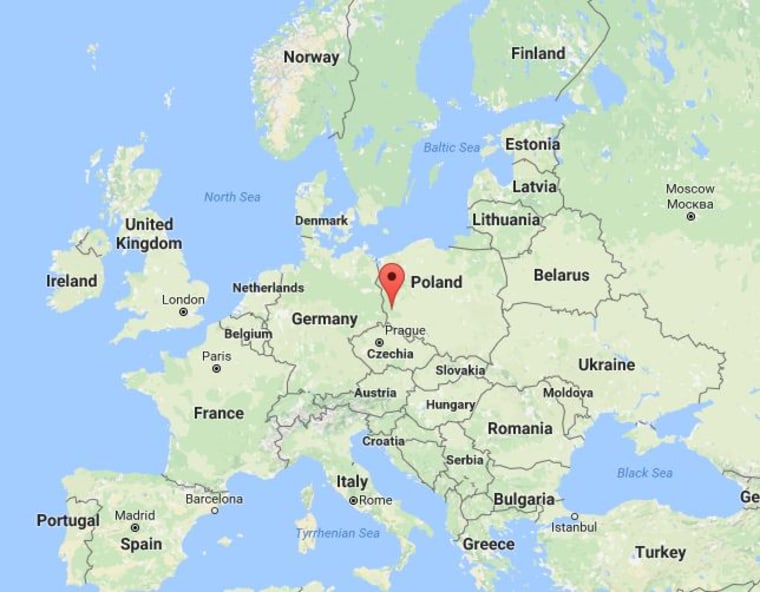 Hodges made clear NATO believes the threat from Russia is real.
"Russian aggression takes many forms," he said. "Cyber, misinformation, threatening other countries, Russian snap exercises. We're serious — this is not just a training exercise. It's to demonstrate a strategic message that you cannot violate the sovereignty of members of NATO ... Moscow will get the message — I'm confident of it. "
The alliance's troops have been deployed across several NATO states in recent weeks; with German troops arriving in Lithuania — which was part of the Soviet Union a quarter century ago and occupied by German Nazi troops during World War Two.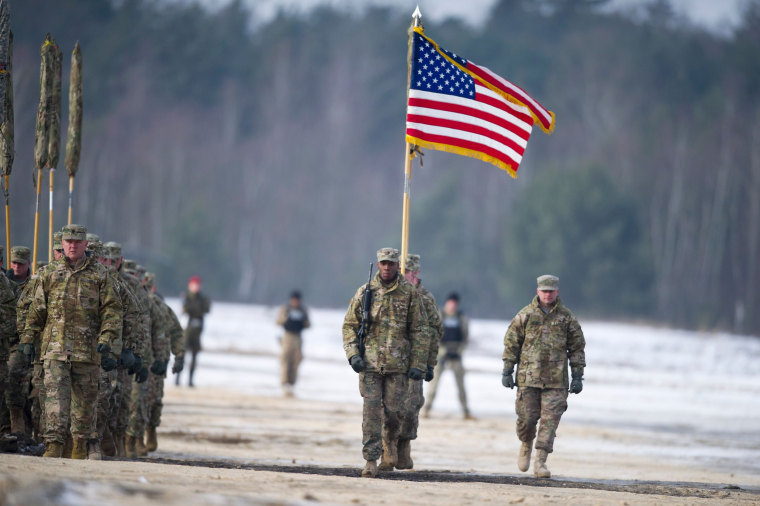 British troops are reinforcing Estonia and Canadian troops have been sent to the third Baltic state, Latvia.
The message from all these vulnerable countries to Russia is the same; think twice before you make a move here; either by sending troops across the border (the ultimate red line for NATO), by cyber warfare or by inciting ethnic Russians against the Baltic governments.
At least two large NATO exercises, involving tens of thousands of troops, are planned for the summer.
Last year there were more than 150 exercises in Europe, an escalation over other years.
One of President Barack Obama's last acts was to quadruple the funding of American forces in Europe to $3.5 billion in 2017.